Sunflowers by Shutterstock
A guide to Marche, Italy…
By Julia Zaremba
We all have dreams of the ideal Italian getaway: towns seeped in history, terracotta roofs glistening in the sun, pasta shapes molded by hand, cerulean seas fading into the horizon, and wine grown in the backyard. There's Leopardi's hills to wander through, Caravaggio's dramatic light to admire, and famous fountains to throw coins into.
However, as temperatures rise, so do the number of tourists traveling to this popular country. Before long, la dolce vita is lost among the crowds, trampled and forgotten. Instead, there's tour itineraries and endless lines to star attractions. But where is the appeal in spending hours stuck in air-conditioned buses, checking into hotel chains, or getting herded through a Sistine Chapel so packed that you don't even have room to look up?
For those that would rather connect with locals over homemade tiramisu this summer vacation, allow me to let you in on a little secret:
It's possible. And you're not going to find it under the Tuscan sun.
Hugging the central Adriatic coast, Marche is one of Italy's most easily-accessible, yet least-visited regions. Saying that there's a little bit of everything in this area isn't too big of an exaggeration.
True to picturesque Italian stereotypes are the infinite fields of vines and sunflowers. Then, step it up a notch with hillside towns, such as El Cito, or hiking opportunities at Gola della Rossa national park. The later also boasts the Grotte di Frassassi, an extensive karst cave system with impressive sanctuary-chapels chiseled into the side of the rocky facades. For more underground fun, there's the underground city of Camerano, complete with real-life ghost stories. And let's not forget the 180 kilometers of coastline, which has 17 bandiere blu beaches (Europe's top ranking for clean and accessible seasides). In the middle of the coastline is the region's capital, Ancona, and its iconic Monte Conero. Other than this cliffy intermission, it's a long stretch of red-and-white umbrellas perfect for sunbathing.
Seaside by Shutterstock
Wine here is delicious, and costs half (or less!) of the price found in Tuscany. As far as reds go, there is Lacrima di Morro d'Alba (translating to "tear" in English; you'll be weeping with pleasure in no time) and a line of Rosso Conero's ruby varieties. To complement the summer heat, white wines are aplenty. The most notable of these is Jesi's Verdicchio, but the Pecorino of the south is also worth a mention. As a bonus, indulge in the Vernaccia of Serrapetrona, Italy's only DOCG sparkling red wine. Wine tasting pours in this region's vineyards are plentiful and free, no reservations required.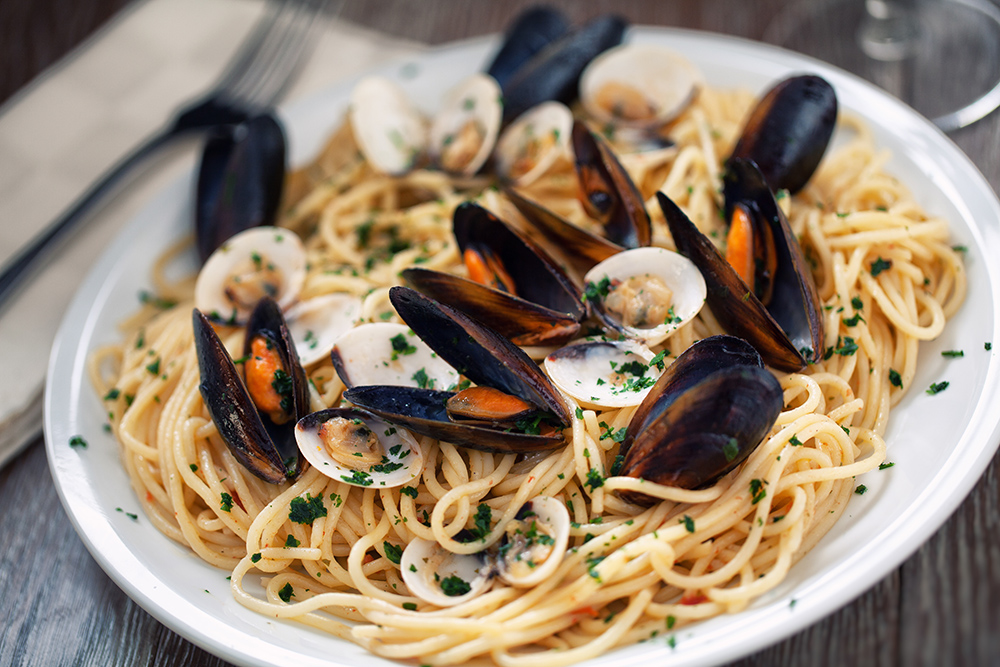 Spaghetti con cozze by Shutterstock
Since the best food pairings for wine should be produced from the same soil, dig into this region's culinary treats. With its diverse geographic layout, the marchigiana kitchen encompasses both hearty mountain food and lighter seafood dishes. As an appetizer, start with olive ascolane (stuffed, fried olives), then nibble on some ciauscolo (a type of spreadable salami) and pecorino cheese made from sheep's milk. The local take on lasagna is vincisgrassi, and seaside meals come adorned with plenty of vongole (clams) and cozze (mussels). During summer months, there's a festival devoted to a regional dish practically every day. How can you go wrong with a celebration dedicated entirely to pappardelle al cinghiale (wide, flat noodles with wild boar ragù)?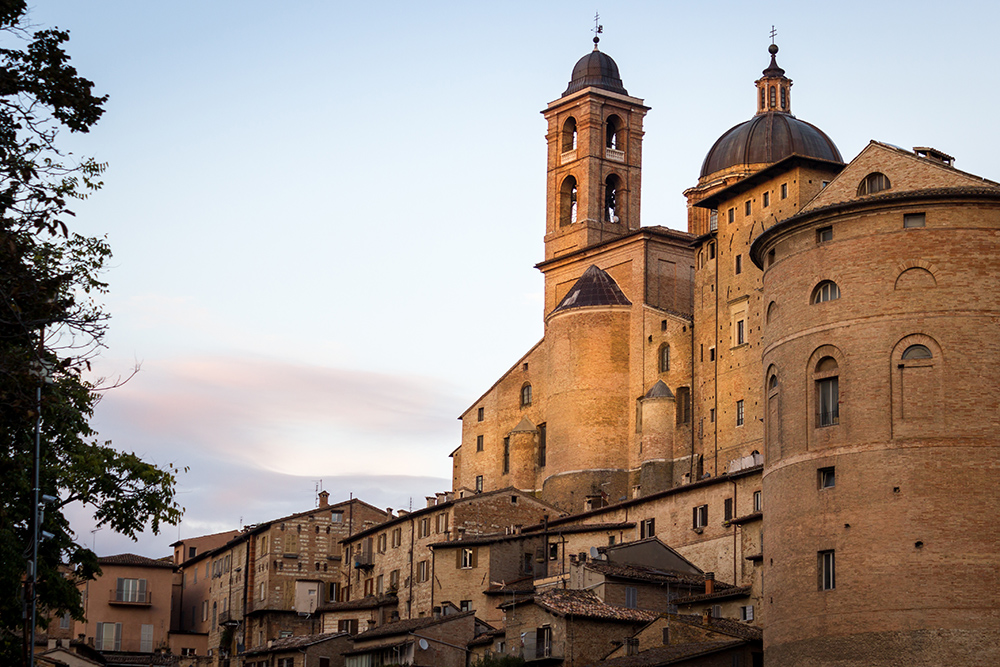 Urbino by Shutterstock
In terms of entertainment, there's no shortage of cultural events, especially in the summer. For the opera buffs, there is the annual Rossini Opera Festival in Pesaro, the composer's hometown, and Macerata's Sferisterio, an open-air opera festival that puts Verona's productions to shame. Those that want to dress up in poodle skirts and lindy hop the night away can do so at the Summer Jamboree in Senigallia, at which Gaynel Hodge is opening the festivities this year. If burlesque shows from the '50's aren't your thing, Offagna's Medieval Festival rewinds time a few hundred years more, offering wine in goblets, archery tournaments, and choir shows late into the night.
When your feet can't explore any more and your stomach is full of bordetto, there's plenty of B&B's to continue your immersion into Italian culture. Base yourself in the quiet countryside between Fabriano and Camerino, or make yourself at home at one of Marche's cobblestoned towns, such as Ascoli Piceno or Urbino. There's many agriturismos that offer much more than a roof; dive into pantomime dinners and learn how to boil that espresso just the right way.
When planning a European vacation during summer's high season, keep Italy on the list. However, discover la grande belleza of this country on the opposite coast from Rome. Instead, experience the authentic Italian life in Marche.
ABOUT THE AUTHOR: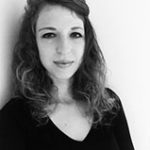 Julia is an artist, avid traveler, theater geek, future bestselling author, and language teacher. Born in Germany to a Polish family, she grew up in Texas and has spent the last six years living out of her suitcase. Most of her travels revolve around Europe and the Americas, chasing the next adventure. Follow her @jgzaremba.