By Jason Savio
I spend most weekends working and at home. No, I'm not anti-social. And, yes, I do have friends. But most of them have left. At 28, I'm a member of a vanishing breed in my hometown, Falmouth, Mass., where the millennial population gets smaller and smaller every year.
Located on Cape Cod, Falmouth is what most towns on the Cape have become—retirement communities. Sure, during the summer there's an influx of younger people thanks to tourism, but for the majority of the year you're more likely to run into your grandparents downtown than your peers. The median age on Cape Cod is just over 50, and that number has been steadily rising over the past few decades as the younger population continues to leave.
Other reg
ions face a similar situation. Florida's Sumter County, west of Orlando, has the highest median age in the nation: 65.9. Older folks make up a significant part of the population in several areas in the Sunshine State, as well as in Arizona. Looking around the globe, you'll find a median age of 40 or more in Japan and many European countries. In contrast, the median age in Uganda and Gaza Strip is about 15.
According to a report by the Huffington Post, the 10 best U.S. cities for millennials to live in all have something in common: They offer a combination of good opportunities in jobs, housing, and nightlife. Unfortunately for the younger generation on Cape Cod, there is a lack in all the above, as Mike Trovato, economic development specialist in the town of Barnstable on Cape Cod, can attest to.
"There's several things going on here. The lack of good paying jobs for [millennials] in the areas that they're most interested in. We're in a resort market and our job sectors may not correlate with what they're learning in school. A lot of [millennials] want to be living in a more urban environment like the big cities, which we offer a mini version [of] in a place like Hyannis, but they may want to be in an even bigger urban environment like a Boston or a New York," said Trovato. "Some of it may be lack of good affordable housing for them here. The Cape is predominantly single-family detached housing, so we don't have a lot of apartments or condos."
Leah Gillespie is among the millennials on Cape Cod who know far too well about the need for more amenities for their generation. A 24-year-old Falmouth native, Leah works as a baker and lives with her mother.
"We could build more apartments and condominiums for young professionals instead of building more and more retired living communities," she said when asked what could be done to get her to stay here on her own. "The Cape could also build up its nightlife more and have more restaurants and bars open later. If these changes were made I would definitely be more likely to stay."
While some like Leah might try to make it work and find a way to continue to call Cape Cod home, others have had enough and are packing their bags.
"To be honest, in my mind there really isn't much that can be done," said Randy Rose, 29, a parking attendant at the Steamship Authority in Woods Hole, Mass. "Cape Cod is either a love-it-or-hate-it deal. In the summers I love it. Massive population surge, [and] the young crowd is back in town. But winter months are just a drag, same faces at the same places."
A native of Sacramento, Calif., Rose is thinking about moving to Boston or back home. "I have been debating moving into or closer to Boston, or move back west where I'm from," he said. "I'd just like to live anywhere that has more people. I grew up in a city and the small town-feel that the Cape has, coupled with the lack of young people, makes it difficult to find reasons to stay."
A Cape Cod native and mille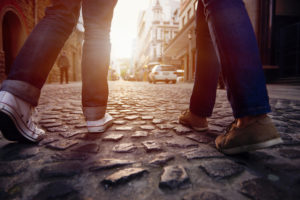 nnial who did leave is Nicholas Santos, 28. Nicholas departed the Cape for Brooklyn to pursue a career in film. Right now he is an administrative assistant at a national nonprofit and is enrolling in film grad school later this year. "I felt that there were more opportunities for me outside of the Cape," said Santos. "Especially with being interested in working in the film industry, I felt like New York City was my best option."
While Santos may have left, he does believe Cape Cod could attract the younger generation–and himself–to one day come back. "I think if there were more thriving, innovative businesses coming to the Cape that are attractive to millennials, then that could bring in a much larger young population," he said. "If I saw more interesting job opportunities on the Cape, like the film or tech industry, then I'd be more open to moving back."
Sooner or later something will have to be done if Cape Cod is to keep from losing all of its millennials. Travoto understands the pressure to keep the community young. "Obviously that's a long-term concern here on the Cape, there's no doubt about that. We are an aging population here and eventually that could catch up to us and we recognize that," said Travoto. "It's just a question of how do you impact the market to change that. It's not something that can happen overnight [but] certainly over time we can work towards these goals."
ABOUT THE AUTHOR
Jason Savio is studying journalism in the graduate program at Emerson College in Boston. He enjoys writing about the arts and entertainment, and also contributes to Pulse Magazine, for which he has his own video game column and reviews music. Follow him @TheRealJSavio.

Tumbleweed photo by Maceij Bledowski/Shutterfly; hands photo by Kristo Gothard Hunor/Shutterfly; feet photo by Daxiao Productions/Shutterfly