By Christopher Binns
"It takes a revolution to make a solution." – Nesta Robert (Bob) Marley
We all know far too well the disastrous effects of modern day tourism. Perhaps most vivid is the image of apparently prosperous visitors passing dilapitated shacks and shanties on airconditioned luxury buses on their way to all inclusive hotels; visiting a country they never really see. These hotels, set apart from the local people, owned by foreign multinational corporations, funnel profits outside the country leaving crumbs behind for locals. All along the roadways these locals look and see US dollars passing them by while the illusive Jamaican dollar they sweat so hard to earn takes $120.41 to equal $1 USD.
Amidst this dismal picture, a quiet revolution is happening. A group of young people of Jamaican parentage are leaving their corporate jobs in America, Canada and the U.K., and coming to Jamaica to start families and run businesses with a conscience. Here you have these well educated and corporate savvy men and women who are artists, chefs, foodies, entrepreneurs, educators, marketers, designers, and farmers bringing their talents and attributes to the Jamaican landscape. That landscape that is a rich history. That island that looks like a curvaceous emerald as you descend from the sky.
In the east, in St. Thomas is The Source Farm Foundation and Ecovillage, a 67 acre coconut farm perched majestically  overlooking the beautiful shoreline. Here an extended family utilizes innovative and ancient building techniques to erect earth-bag structures, naturally temperature controlled and powered by solar and wind. Rainwater harvesting and permaculture techniques feed both their domestic needs as well as a thriving organic farm. Natural fabric dyeing is done by a ladies cooperative, and the Jamaican arm of Rae Marie Fine Soaps and Textiles innovatively produces eco friendly natural soaps and cleaning agents at The Source. Bountiful produce and more is featured biweekly at the Ujima Natural Farmers market in Kingston where many come to ply their wares to eager and loyal customers.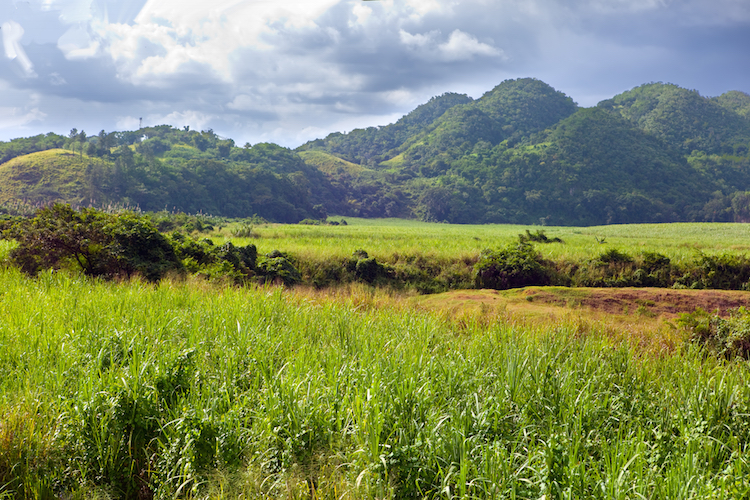 Woodford Market Garden, Jamaica's premier JOAM certified organic farm has been supplying the Kingston market with amazing organic mixed greens with signature nasturtiums and mixed herbs over the last 20 years. The owner, Donna Noble, is a dedicated JOAM volunteer and farmer.
Heading west along the coast weaving into St. Mary at a seaside town, Robbins Bay, you may hear the buzzing of the bees long before you meet Agape and Kwao Adams, husband and wife team and their beauty full army of seven boys. Agape the Queen bee sets about caring for her hive, literally, amidst the many top bar hives, banana and other fruit trees providing a lush backdrop where natural honey is cultivated, bee pollen collected, and honey soaps created. Kwao is an experienced carpenter, meticulously expanding rustic cottages on their rare property leading to a most secluded beach.
The next stop on the journey is the lush garden parish of St. Ann. The north coast tourist Mecca is home to some of Jamaica's most famous tourist attractions, Dunn's River Falls and Dolphin Cove. The cruise ship pier is one of the busiest on the island with millions of visitors arriving every year. For many years hotels like The Jamaica Inn have provided idyllic backdrops for beautiful memories. A new highway linking country and town, that is Ocho Rios and the capital city of Kingston, is set to open reducing the winding and tedious two and a half hour journey to just about an hour. Herein lies the headquarters for The Quiet Revolution.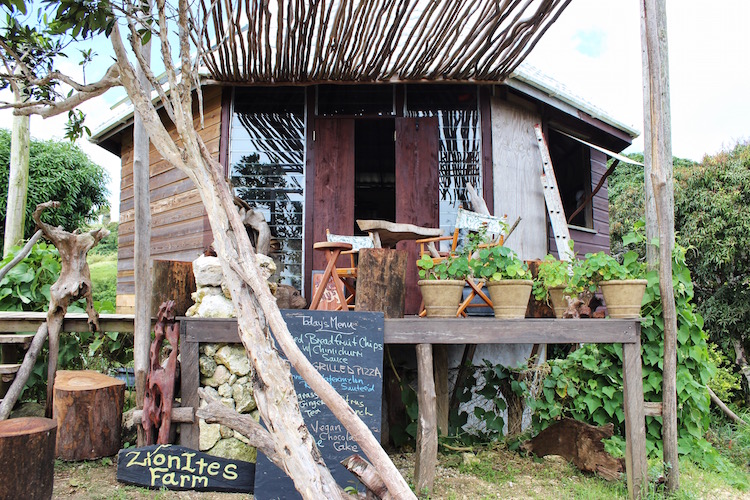 Amidst the history of New Seville, the first Spanish capital of Jamaica, Marcus Garvey's birth place, and Bob Marley's birthplace, a movement is quietly taking place.  2000 feet up in the mountains overlooking lush greenery down to the rugged coastline as it melts into the sea, far into the distance where the azure blue of the ocean vanishes into the Caribbean sky is STUSH in the BUSH. The 15 acre certified organic/Ital farm grows a variety of fruits and vegetables, herbs and spices ornamentals and flowers, nurtures and propagates medicinal herbs, ornamental trees and foliage. The cool trade winds rustle through coconut palms and heliconias meanwhile the undulating hills sit stoic like centinels. Here visitors are invited to bask in this bush luxury and feast their senses and their palate on the succulent offerings of STUSH in the BUSH. On a given day you may meet Andre and Tanayia Woolery of Andre Woolery Art and Woolery Kitchen strategizing marketing plans, or organizing another Moonlight Bush glamorous affair. Or you may find Jeff Belizaire and Kalisa Martin of Runaway Bay's newest and only 'BLD' – breakfast, lunch and dinner, The Runaway, savoring some STUSH fiyah grilled pizza with ripe plantain, pineapple and a touch of Blow Fyah.
Collectively, we are community-based and sustainably luxurious with a deep concern for the welfare of those around us, inextricably linked with a love and respect for the care and protection of the natural environment, our Jamaica. Everywhere possible efforts are made to showcase local craft and artisanship. Staff is hired from within the community and training is conducted to equip them with skills that will be in demand in any sector. Linkages are established to promote sustainability and to provide an excellent experience for visitors centered around the community. With spectacular press coverage, focusing on the Jamaican product, a steady stream of visitors keep rolling in and leaving pleasantly surprised with a sweet taste of Jamaica that they shall never forget. If you look and listen closely you will see and here the quiet revolution.
"Like a bird in the tree the prisoners long to be free."
About the Author
Christopher Binns is a RASTAFARI Ital/organic farmer, son of the soil, and co-founder of
Stushinthebush.
Jamaica countryside and feature image Jamaican flag via Shutterstock