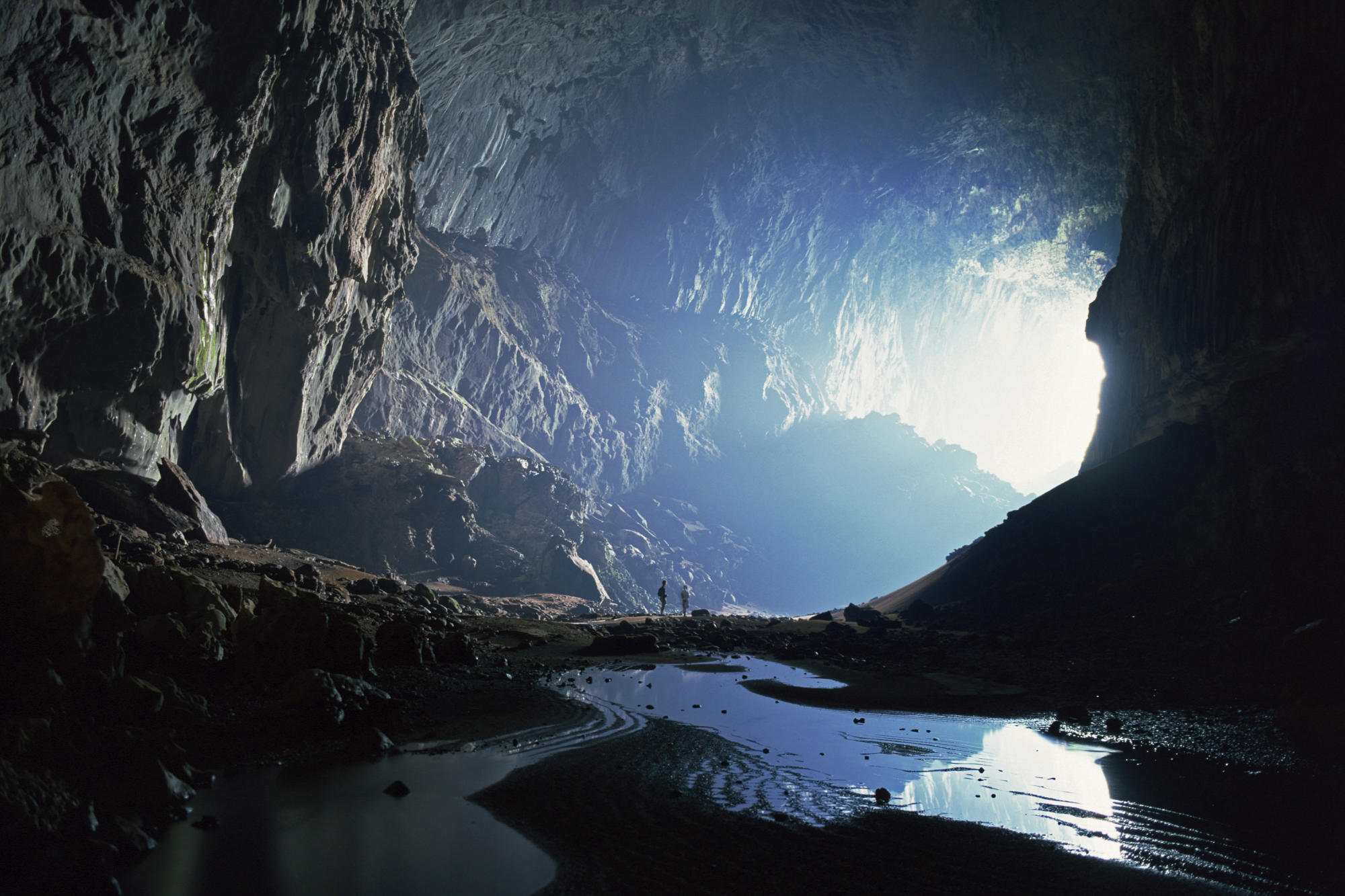 By Chelsea Stuart
Gunung Mulu National Park in northern Sarawak is one for adventure seekers. The remote melange of karst formations, caves and pinnacles lies in the equatorial rainforest of Malaysian Borneo, bordering Brunei to the north. Expeditions to Mulu in the late 1970s revealed much about the genesis of the park and its geographical configuration, but even though it is one of the most studied tropical karst areas in the world, it's believed that only 30 to 40 percent of the park's cave passages have been surveyed, leaving much still to be discovered. The park just opened to trekkers in 1984, and until 1991, the UNESCO World Heritage site could only be reached by boat–a 12 hour ride from Miri. Today, visitors travel through Mulu Airport where there are limited flights coming in from Miri, Kuching and Kota Kinabalu. Shuttles from the airport take you directly to the park and few local accommodations. Outside of the park, the Mulu Marriott Resort & Spa, the airport, a small clinic and a couple of guesthouses are the only things to stand other than rainforest.
On my short flight from Kuching to Mulu, fellow travelers and I couldn't help but remark on how it looked like we were flying over a vast expanse of broccoli heads. In the sky and on the ground, Mulu is tropical rainforest as far as the eye can see. Stepping off the plane and through the airport, the diversity of Mulu's flora and fauna became apparent and I made sure to wheel my suitcase carefully, avoiding the enormous stick bugs hiding in plain sight.
The park shelters all different types of exotic insects, animals and plants. On my day trek to the Deer and Lang caves, we spotted lizards, moths, stick bugs, butterflies, frogs and bats, of course. Other inhabitants, ones that I unfortunately wasn't able to see, include the rhinoceros hornbill (the state bird of Sarawak), bearded pig, moonrat, Bornean tarsier, gibbon, mouse deer and sun bear.
In order to explore a really good chunk of Mulu, most people choose to stay for at least three days. Depending on how active you're looking to be and whether or not you're interested in unwinding at a 5-star resort or keeping it low key at a homestay–you have options. No matter which you choose, be prepared to disconnect during your stay–there is virtually no wifi in Mulu–and embrace a technology-free couple of days. Here are just a few of the highlights of Gunung Mulu National Park, as well as a list of accommodations sure to please all types of travelers.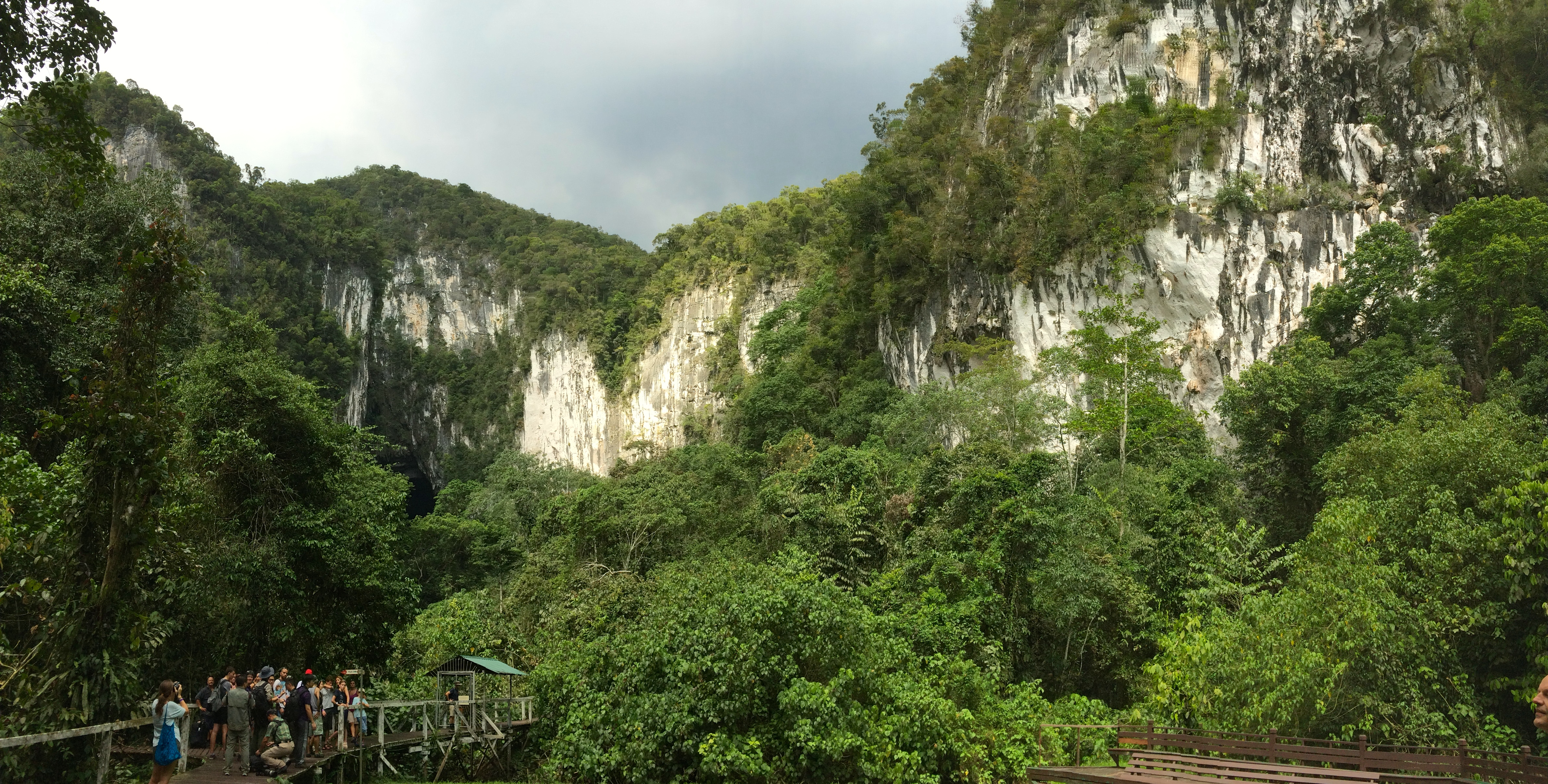 Photo of Deer Cave via Chelsea Stuart
Deer Cave is the world's largest cave passage open to the public. At just over 2 kilometers long and 174 meters in height, the cave is home to 12 different species of bat–some three to four million bats in total. The interior of the cave is visitor friendly with a system of plankwalks that guide you over a dark sea of guano (bat poop, that is), one of the only signs of the rather silent bat inhabitance. Just beyond the reach of Deer Cave, and framed by its outer walls, is the Garden of Eden, a picture-perfect illuminated rainforest scene. Once you've toured the ins and outs of the cave, most visitors stay for the bat exodus–Deer Cave's claim to fame. Each day at dusk, upwards of three million bats take flight in a spiraling black swarm, using echolocation to find and feed on Mulu's abundance of insect species.
Not far from Deer Cave is Lang Cave, a smaller but just as worthy sight. While the cave is lit, it's best to bring some sort of flashlight in order to see for yourself the intricacies of the stalagmite, stalactite and limestone formations that have been forming for thousands of years as a result of running water that tunnels through the cave. Also be sure to check out the ceiling where Wrinkle-lipped bats hang in adorable little clusters.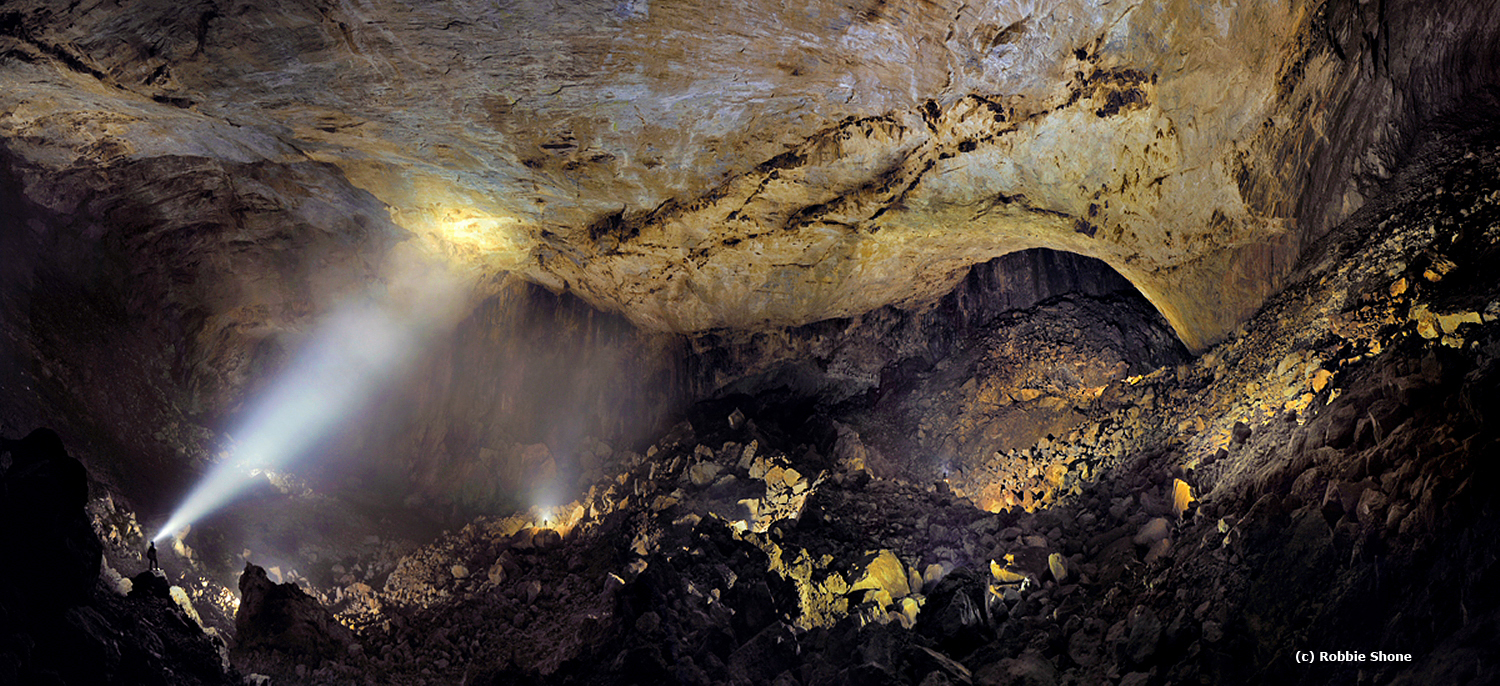 Photo of the Sarawak Chamber via Robbie Shone
The Sarawak Chamber joins Deer Cave as one of Gunung Mulu National Park's record breaking caves. The chamber is the world's largest, and the hike to the behemoth takes three hours. Following the Summit Trail all the way to Good Luck Cave, trekkers will march along 800 meters of river and up the sheer face of a boulder before laying eyes on the dark chamber. While I could give you facts and figures as to the height, depth and width, for comprehension purposes it's probably better to know that the Sarawak Chamber can accommodate 40 Boeing 747 aircrafts.
Clearwater Cave & Cave of the Winds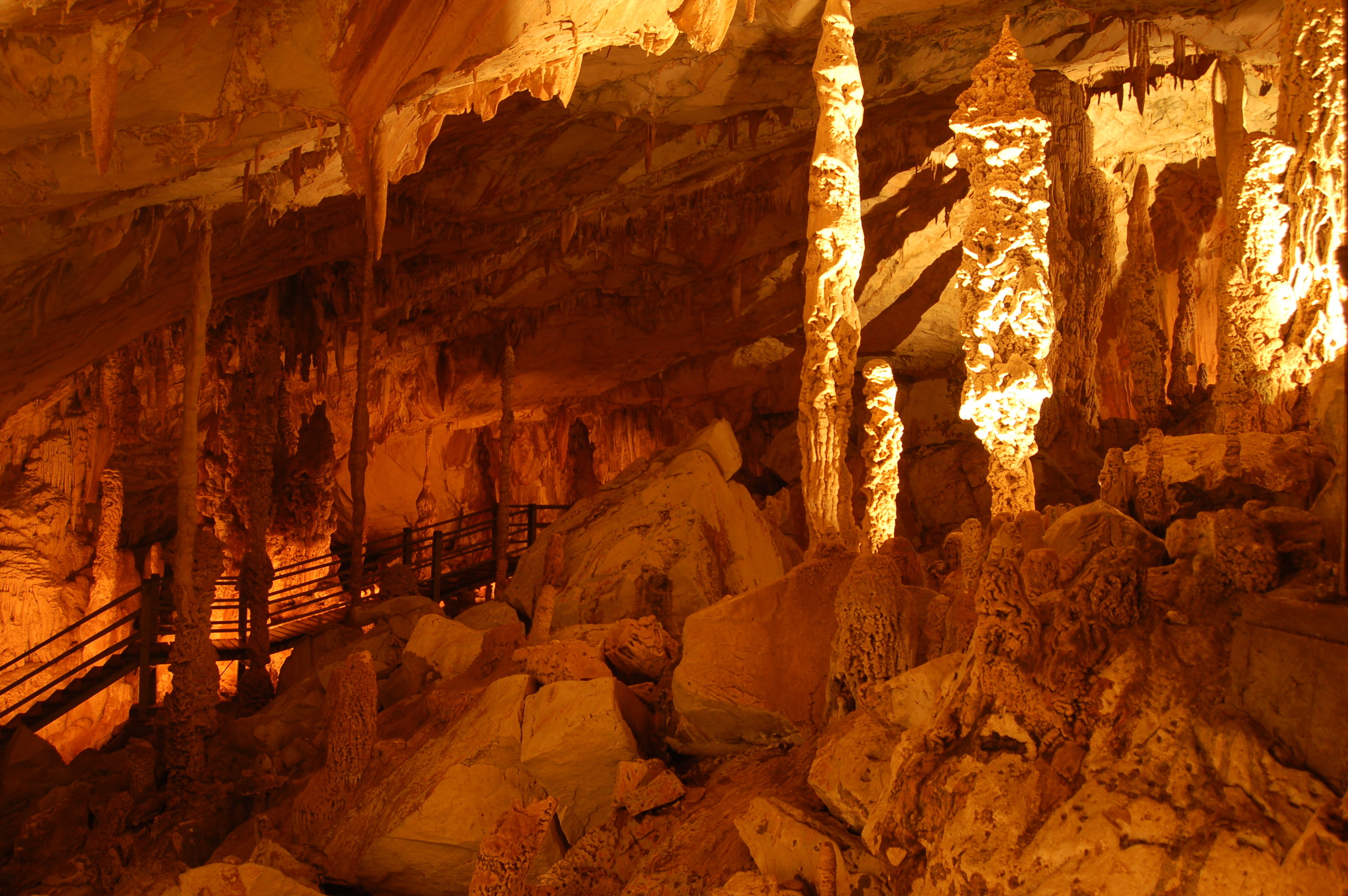 Photo of Cave of the Winds via Shutterstock 
One of the best parts of the trip out to Clearwater Cave and the Cave of Winds is cruising up the Melinau River in a longboat. You'll also make a pitstop at the Penan Longhouse Market where you can buy local handicrafts. Unfortunately for me, I spotted a puppy before I even made it to the market and quickly sprained my ankle in an excited attempt to pet it. While my day ended prematurely and I was taken back to the Marriott, I have it on good authority that the caves aren't to be missed. The Cave of Winds is known for its refreshingly cool breezes, stalagmites and stalactites, and the Clearwater Cave for its subterranean river.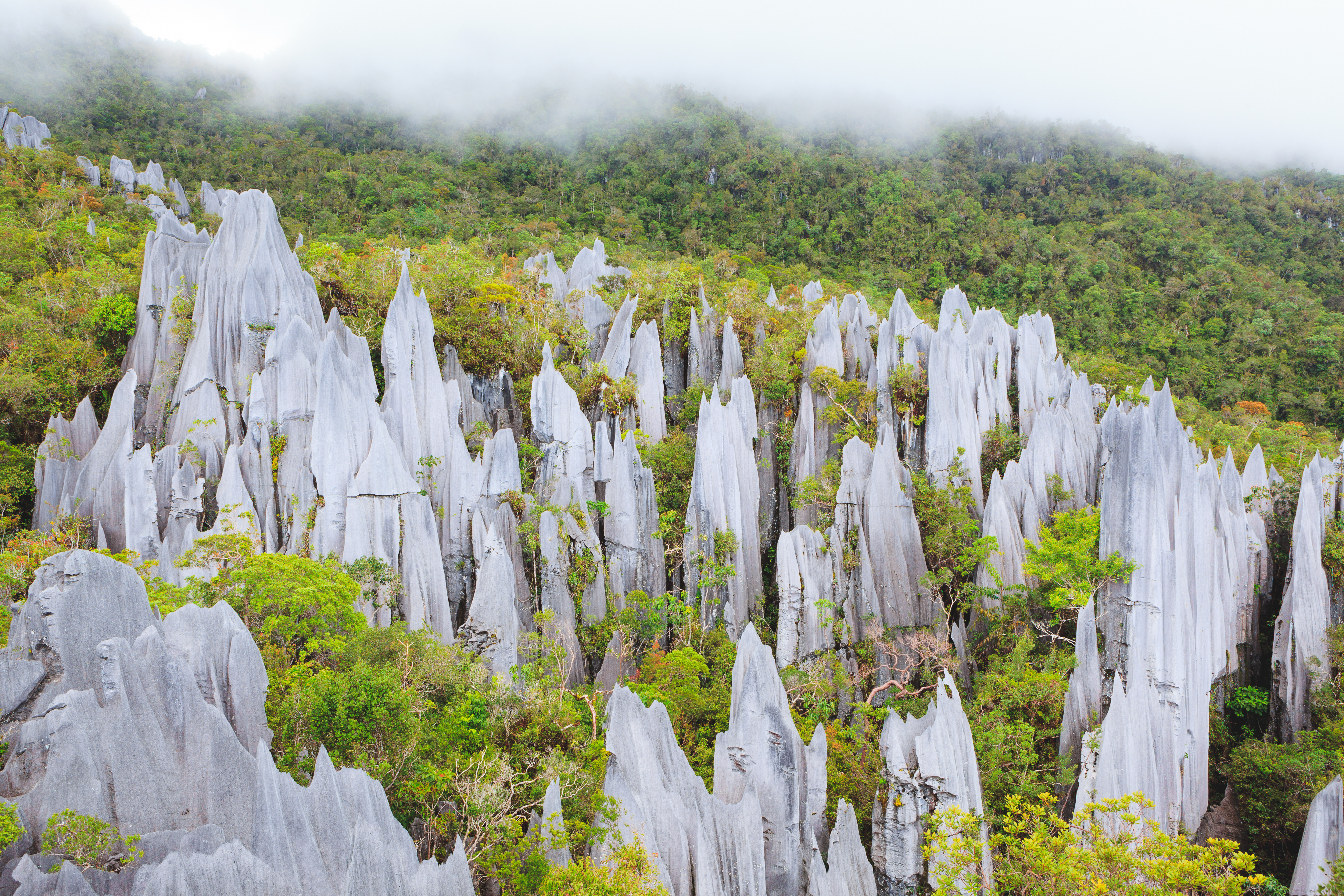 Photo of the Pinnacles via Shutterstock 
The Pinnacles are limestone formations that each tower 40 to 50 meters high. As limestone is soluble, centuries of exposure to running water have caused the rocks to erode and dissolve, giving them their sharp, pointed silhouettes. Viewing the Pinnacles is no short or easy feat, however. The physically demanding trek requires a guide and is only available as a three-day, two-night trip (all participants also have to be at least 16 years old). Though the trek is certainly grueling, ladders, ropes and railings have been installed along the way to facilitate hikers as much as possible.
Mulu Accomodations
If you're looking for a no-thrills authentic and affordable option, this is your place. D'Cave is a bargain and includes a homemade traditional breakfast each morning. Depending on your preference, you can choose from a private room or dorm accommodations. When booking in advance, don't be surprised if it takes a couple of days for you to reach D'Cave management. It's entirely due to the whole lack of internet thing, they'll get back to you as soon as possible.
Photo of Park Headquarters Bungalow via Gunung Mulu National Park
For those devoted to exploring as much of the park as possible and really immersing themselves in the setting, the option to stay right on park grounds is an ideal choice. You can choose between a private bungalow, standard longhouse, shared chalets, or dormitory room, all of which include breakfast and are mere steps away from the trails.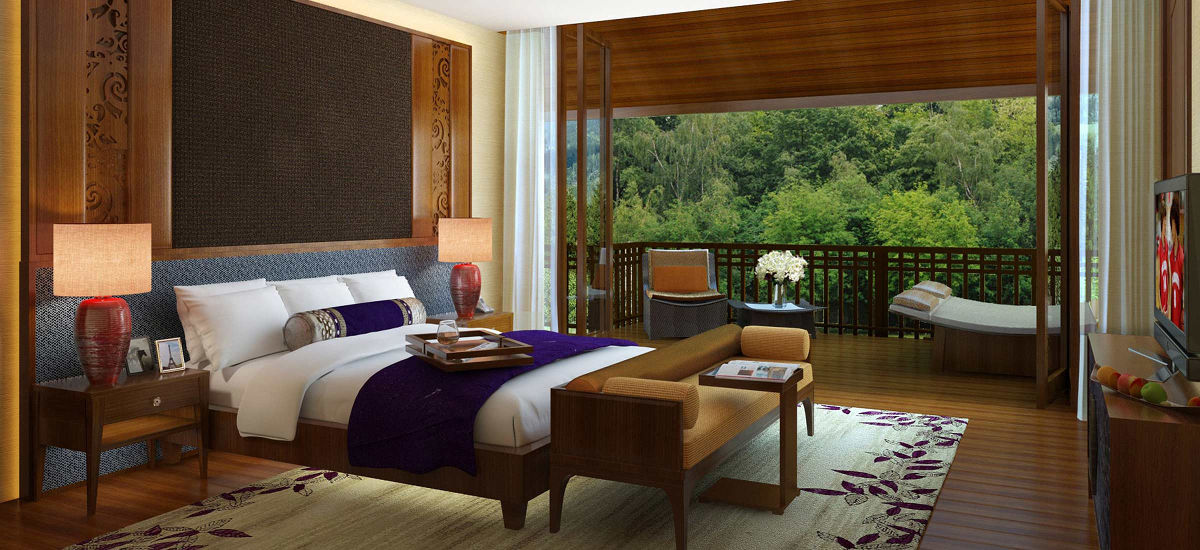 Photo of Marriott Suite via Mulu Marriott Resort & Spa 
I was lucky enough to stay at the Mulu Marriott Resort & Spa, and it was by far the most impressive Marriott I've ever been too. A five-minute drive from the airport, just over the river, the Marriott's open layout and system of raised boardwalks allows it to blend seamlessly into its surroundings. After trekking through the forest and trying, unsuccessfully, to cope with a level of heat and humidity I'm not used to, it was always a major relief to head back to air conditioning and a plush bed.
About the Writer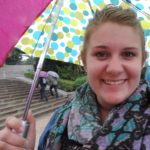 Chelsea Stuart is a recent graduate of Boston's Emerson College. When she's not reeling from wanderlust (she lived on a ship for four months and visited 15 countries with the study abroad program Semester at Sea), she's planning her next trip, reading, writing, thrifting, drinking an absurd amount of coffee and Netflix bingeing like any good Millennial. Follow her on Twitter.
Feature image of Deer Cave via The Travelling Mermaid