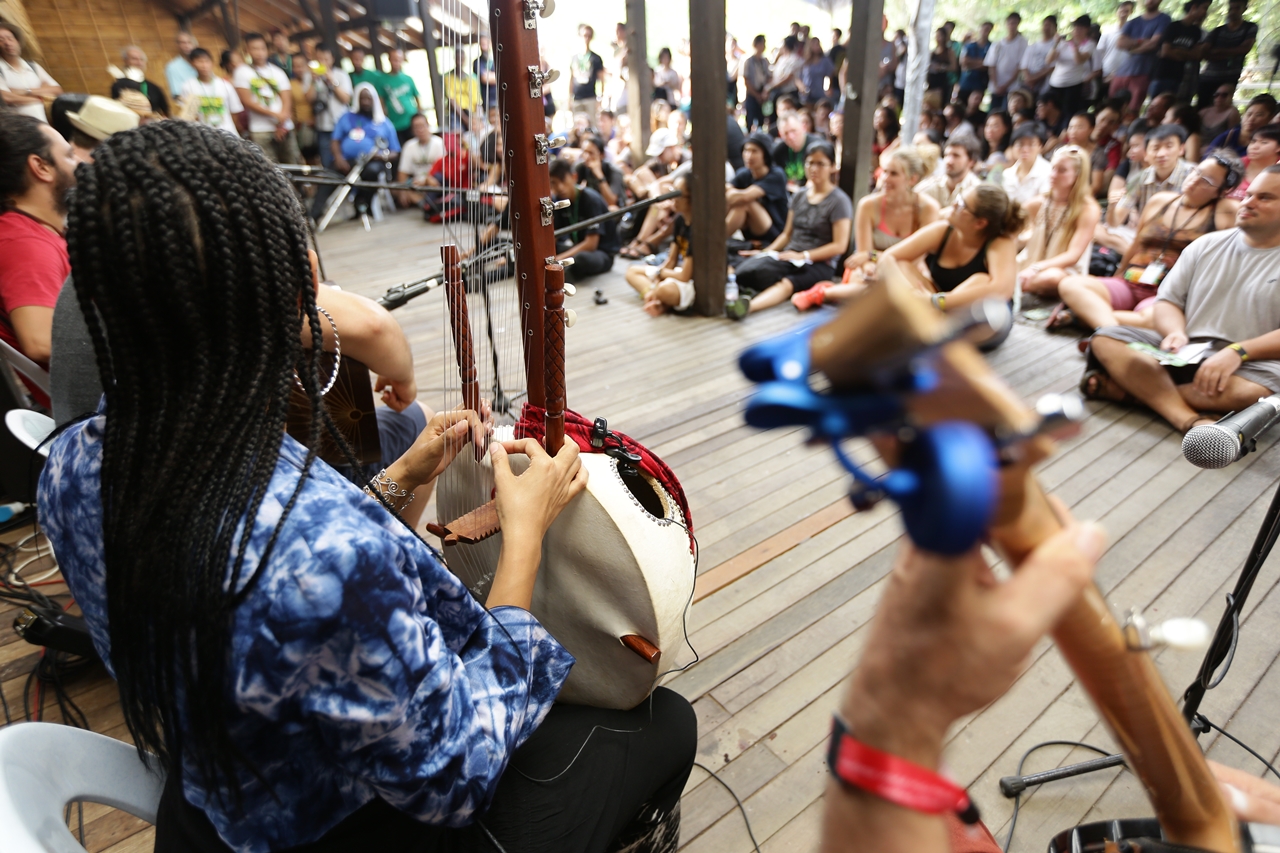 Sona Jobarteh RWMF workshop via Rainforest World Music Festival
Earlier this month the Sarawak Cultural Village, just outside of Kuching, Malaysia, hosted its 18th annual Rainforest World Music Festival. Each year the festival brings together indigenous musicians from Borneo and renowned groups from around the world with the mission to unite artists and concertgoers alike through the diversity of music. Set at the foot of Mount Santubong in the lush rainforest of the Damai Peninsular, the Cultural Village, designated a "living museum," is comprised of a number of huts, longhouses (traditional communal village house), small theaters, food tents and of course, stages. Adding another distinct element to the location, the venue is circular, with a series of wooden boardwalks connecting the raised buildings so music being played on the main stage can be heard throughout. 
I was lucky enough to experience all three days of festivities and take in the workshops, ethno-musical lectures, jam sessions, dance lessons and concerts held each afternoon. In attending workshops on Aka Pygmy music and life, the Maloya chanting of Réunion Island and the Boduberu trance-inducing music of the Maldives, all too quickly it became apparent that there were so many fascinating genres of world music I was completely oblivious to. For this reason, here are six musical categories and groups I suggest you add to your next playlist. 
Calypso
Of all the types of music that I wasn't previously aware of, this is the one that I really, really wish I could have stumbled upon years ago. Calypso is recognized as the national music of Trinidad and Tobago, the land from which it originated. The style is rooted in Afro-Caribbean music and can be traced back to the West African Kaiso style; one that was introduced by the enslaved Ibibio people of southeast Nigeria who were brought to Trinidad. Calypso can be characterized by its use of call and response, percussive rhythmic beats and extemporaneous singing. Original calypsos were typically sung in French Creole by griots, West African storytellers, historians, musicians and those carrying on oral traditions. The Rainforest World Music festival welcomed the calypso group Kobo Town, which was a major hit with the audience and one of my personal favorites.
Kobo Town video via Charles Christin 
Boduberu
Boduberu is a popular form of folk music and dance native to the Maldives and dating back to the 11th century. Similar styles of music can be found in east and southwest Africa. Boduberu groups most commonly consist of 15 to 20 members with roughly three to four drummers and one lead singer (the rest act as a chorus). The way boduberu music unfolds is that as the song builds and rhythm picks up, chorus members who feel inspired to dance will leave the line up and move to the front to express themselves however they feel inclined. Typical dance is very high energy–often frenzied, and dancers are known to go into trances. Since the music is commonly sung during festive occasions, spectators are also encouraged to join in. Check out the video below of Harubee, a popular Maldivian band that performed at this year's RWMF.
Harubee video via Midnight Multiplex 
Maloya
Maloya is a popular form of call and response music from the Indian Ocean island of Réunion. It is an indigenous music with ancestry rooted in Africa and Madagascar and lyrics often revolve around politics and slavery. Being one of the two major genres from the island, it is traditionally sung in Réunion Creole. Instruments unique to the style include the roulér barrel drum, kayamb seed rattle, pikér bamboo idiophone and sati metal idiophone. RWMF performers from the group Lindigo brought high energy to the festival with their performance and their interactive workshop.
Lindigo video via Psyko Pictures 
Yangqin
The yangqin is a hammered Chinese dulcimer originally from Persia. There are many theories on how the yangqin made it to China; the Silk Road, trade through the port of Guangzhou, or it possibly could have just been from China all along, but historians can't agree on which is correct. The instrument is formed by a number of bronze or steel alloy strings (normally 144) which are tapped with rubber tipped bamboo mallets. Songs can be played by soloists or ensembles. As someone without an extensive knowledge of musical terminology, I have no way of describing the incredible sounds and extreme range created by this instrument. You simply must listen to it. The group below, the Kenwy Yang-Qin Ensemble from Sarawak, blew me away with the speed at which they played and their ability to look away from their instruments while playing!
Kenwy Yang-Qin Ensemble video via Chelsea Stuart
Son Jarocho
Hailing from Veracruz, Mexico, Son Jarocho is a mixture of indigenous, Spanish and African music. I bet most of you know a Son Jarocho song and didn't even know it–La Bamba is in fact part of the musical tradition. The regional style usually features themes of love and nature and a favorite subject is sailors and the ocean. Common instruments include the small guitar-like jarana jarocha, an octagonal tambourine known as the pandero jarocho and the acoustic bass guitar. In attendance at RWMF was Son de Madera, a group straight from Veracruz.
Son de Madera video via Babylon's Train
Moroccan Oud
The Oud is a stringed instrument commonly played in many types of Middle Eastern and North African music. In Arabic music specifically, the Oud is an extremely common instrument used to accompany and compliment elaborate folk tales. A cousin of the lute and an ancestor of the guitar, the Oud is a pear-shaped, hollow instrument with 11 strings (10 of which are paired) and no frets. Driss El Maloumi, a Moroccan Oud virtuoso who played at RWMF, brought to the stage a fusion of classical Arabic music, Berber music, jazz and blues.
Driss El Maloumi video via Chelsea Stuart
If you're interested in learning more about the Rainforest World Music Festival or the other artists who performed this year (there were 23 in total) check them out here.
About the Writer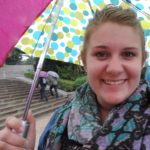 Chelsea Stuart is a recent graduate of Boston's Emerson College. When she's not reeling from wanderlust (she lived on a ship for four months and visited 15 countries with the study abroad program Semester at Sea), she's planning her next trip, reading, writing, thrifting, drinking an absurd amount of coffee and Netflix bingeing like any good Millennial. Follow her on Twitter.
Feature photo of Harubee via the Rainforest World Music Festival 
*Rainforest World Music Festival tickets, food and accommodation provided by Sarawak Tourism Board