On a recent trip to Los Cabos, Mexico, I was surprised to find that most every resort and restaurant had a signature cocktail that revolved around the smoky flavor of mezcal, a liquor I wasn't familiar with. Despite the fact that mezcal has been around for nearly 200 years, its star is just now on the rise. While it doesn't have the name recognition as such go-to cocktail liquors as vodka, whiskey or tequila, a sudden surge in popularity has led to an increase in exports to the United States and Japan.
Mezcal is derived from the piña, or heart, of the maguey plant which is a type of agave. While these agave plants can be found nearly everywhere in Mexico, mezcal is primarily produced in Oaxaca. Mythically, mezcal was said to be discovered after an agave plant was struck by lightening and it's juice was released.
It typically takes between seven and fifteen years for the agave plant to mature before its juice can be extracted and turned into mezcal. The liquor is most commonly produced in fábricas or palenques, small-scale production houses. Handcrafted by around 9,000 individual producers around Mexico, mezcal is given its distinct smoky flavor as the agave piñas are roasted in underground pit ovens before being crushed and left to ferment. Mezcal, like tequila, is distilled twice. After its first round of fermentation, the resulting liquor is about 75 proof or 37.5 percent alcohol by volume. After being distilled a second time, it can reach up to 55 percent alcohol by volume.
Though mezcal is often drank straight up, its complex smoky flavor can also compliment sweeter cocktails. For those looking to drink it unmixed and with an authentic garnish, you'll want to have some "sal de gusano" handy. Literally translating to worm salt, I quickly found out (after already eating it, that is) that unlike duck sauce, the worm salt rimming my glass was actually made of grubs. To be precise, it's made of gusano larva, a type of caterpillar that feed on maguey and agave plants. While you won't find a worm in every brand or bottle of mezcal, don't be surprised if you do, for some say it's an essential part of the flavor.
Mezcal cocktails can now be found on drink menus around the US, but if you're struggling to find a place to try it out, consider mixing your own margarita or shandy at home with the aid of the recipes listed below.
Mezcal Margarita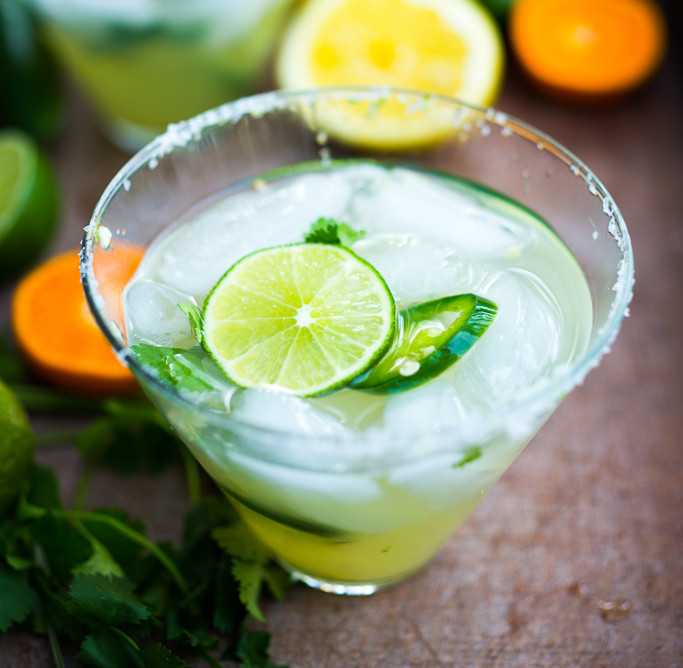 Recipe and photo via Feasting at Home
1 lemon
1 lime
1 small mandarin orange (optional)
3 oz mezcal
1 1/2 oz triple sec or orange liquor
1 teaspoon maple or agave syrup
4 slices jalapeño
Garnish: A few sprigs of cilantro
Directions
Fill shaker with jalapeño and cilantro. Muddle. Add ice to ⅔ full. Squeeze the lemon, lime and mandarin. Add the mezcal and triple sec. Shake well and either pour the entire contents, including the ice into two small salt rimmed glasses, or strain and serve up.
---
Last of the Oaxacans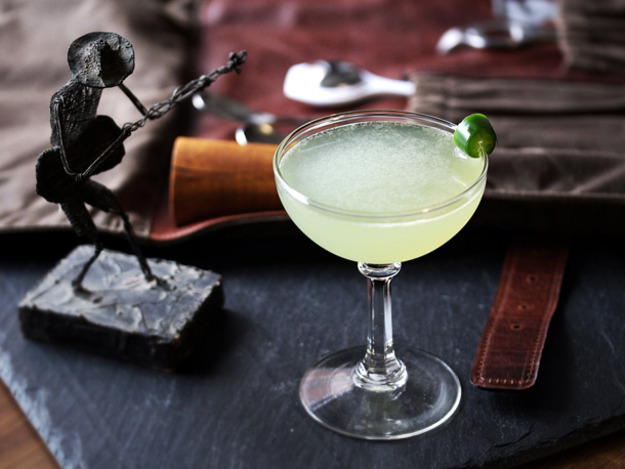 Recipe and photo via Serious Eats and Nick Caruana
3/4  oz mezcal
3/4 oz freshly squeezed lime juice (1 to 2 limes)
3/4 oz luxardo maraschino
3/4 oz green chartreuse
1 half-centimeter slice serrano pepper 
Garnish: serrano pepper slice
Directions
Add mezcal, lime juice, maraschino, chartreuse and serrano pepper to a cocktail shaker. Fill 2/3 full with ice and shake vigorously until the outside of the shaker begins to frost (about 20 seconds). Double strain into a chilled cocktail glass, garnish with additional pepper slice and serve.
---
Mezcal Shandy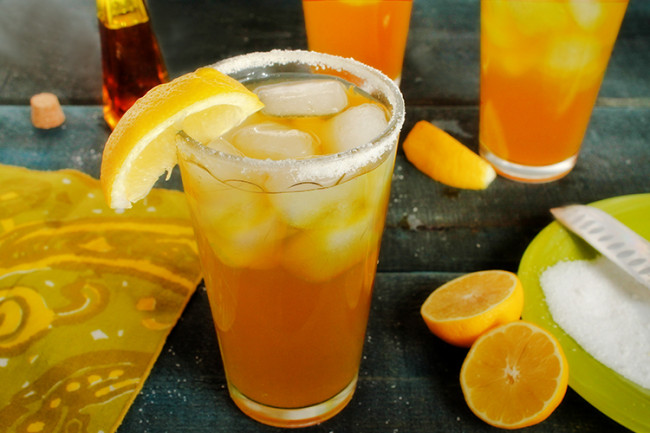 Recipe and photo via Yummly
1 oz mezcal
3/4 oz lemon juice
3/4 oz syrup
orange bitters 
2 oz pilsner
salt
Garnish: lemon wedge
Directions
Add the mezcal, lemon juice, syrup and bitters to mixing tin, add ice and shake for 8 seconds (if you're using large ice cubes). Pour over prepared highball with a salted rim and top with your favorite pilsner or any light beer.
---
Rising Sun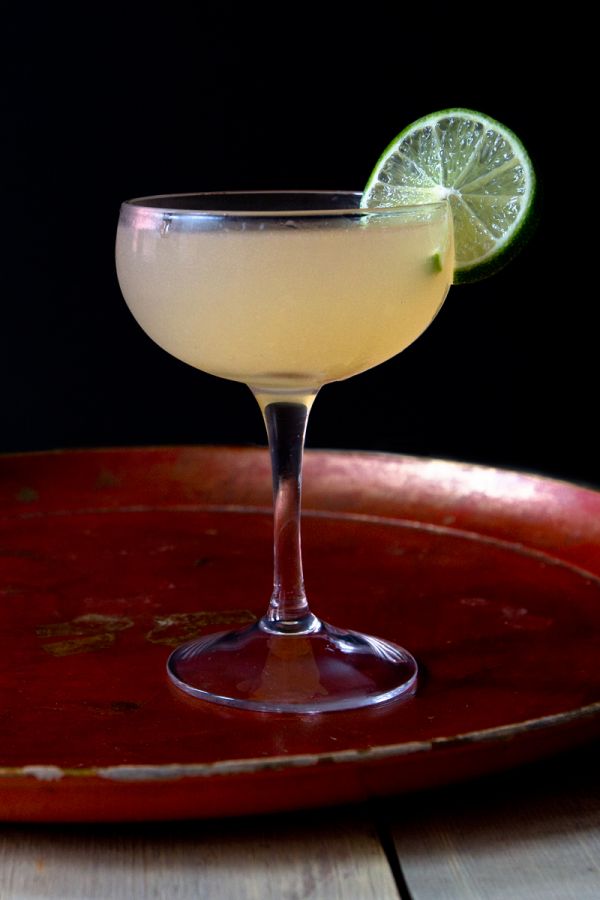 Recipe and photo via Saveur
1 1/2 oz mezcal
3/4 oz fresh grapefruit juice 
1/2 oz fresh lime juice
1/2 oz maraschino
1 pinch salt
Garnish: lime
Directions
Combine mezcal, juices and maraschino in a cocktail shaker filled with ice; shake vigorously and strain into a coupe glass. Garnish with lime wheel.
---
Smoke on the Beach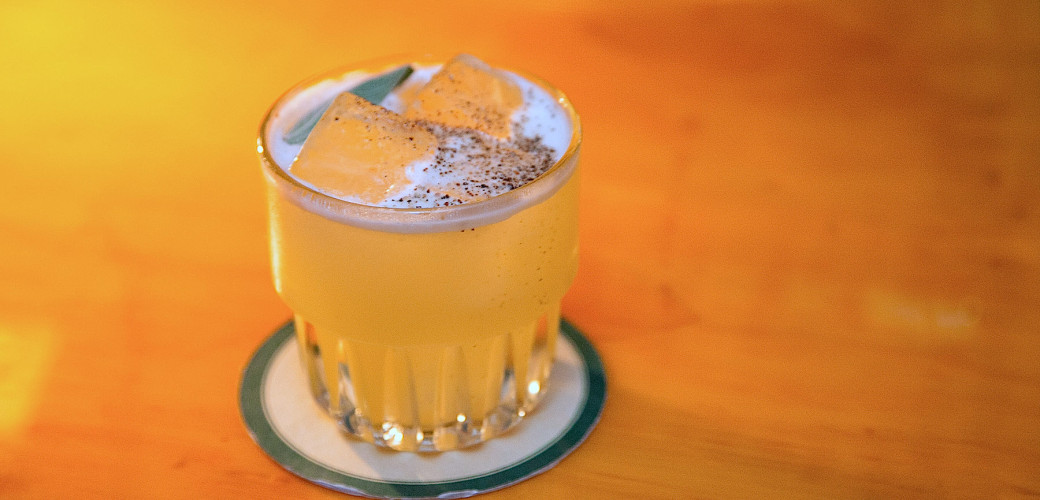 Recipe and photo via Food Republic
1 1/2 oz blanco tequila
1/2 oz mezcal
1/2 oz green chartreuse
1 oz pineapple juice
3/4 oz lime juice
1/2 oz cane syrup
4 sage leaves (reserving an extra for garnish)
Garnish: 3 black pepper (turns)
Directions
Combine ingredients (except black pepper) in a small shaker tin. Shake vigorously for 10 seconds. Strain into a highball glass. Garnish with a sage leaf and three turns of pepper.
About the Writer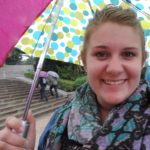 Chelsea Stuart is a recent graduate of Boston's Emerson College. When she's not reeling from wanderlust (she lived on a ship for four months and visited 15 countries with the study abroad program Semester at Sea), she's planning her next trip, reading, writing, thrifting, drinking an absurd amount of coffee and Netflix bingeing like any good Millennial.
Photo of Oaxaca and maguey plants via Shutterstock