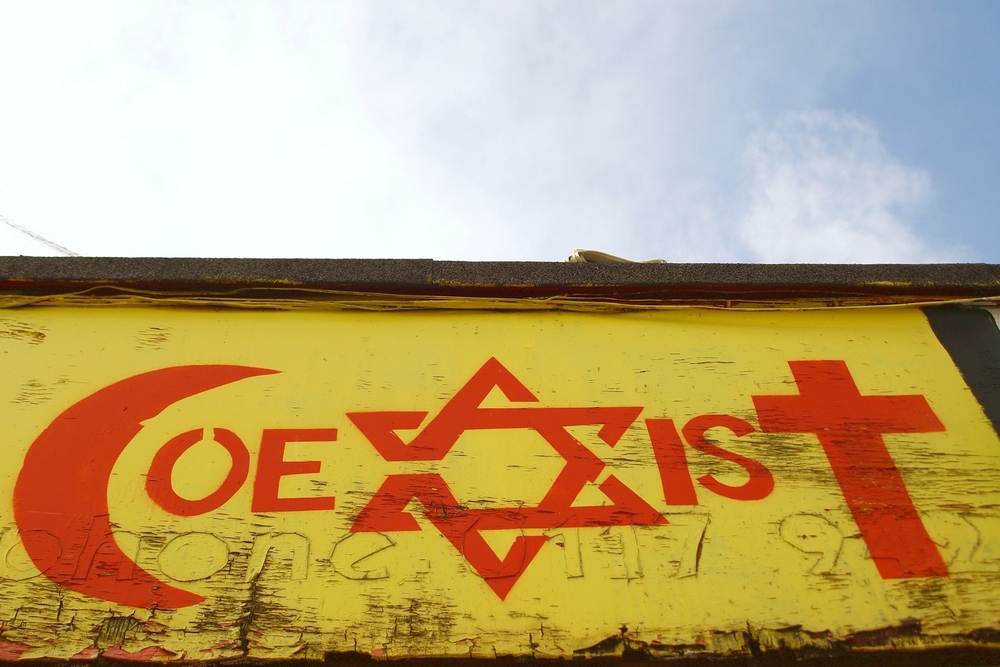 Art is a fundamental form of human expression with a rich past. Tracing the trajectory of its history reveals that it often mirrors the shifting states of societies at any given time. In today's world, where conflict and strife between nations, cultures and peoples continues to surge, it may be easy to overlook art as a potential tool for peace.
Russian novelist, Leo Tolstoy, felt differently. "Art should cause violence to be set aside. And it is only art that can accomplish this," he writes at the end of his critical work, What is Art? The following four organizations also believe in art's ability to build bridges between opposing perspectives and foster peace among conflicting societies. Each of them presents unique approaches to uniting the cultures of the Middle East and West through art.
CARAVAN
CARAVAN is an international arts non-profit that began as an interfaith arts festival in Cairo in 2009. Paul-Gordon Chandler—an author, U.S. Episcopal priest, interfaith advocate and social entrepreneur—founded the organization, which has a strong emphasis on interfaith peace building efforts. CARAVAN's mission is to use art as a means to bridge the cultural divides between the Middle East and the West.
CARAVAN implements its goals through artistic initiatives, most significantly the annual CARAVAN Exhibition/Festival of Art. This initiative is a traveling art show that takes place in a variety of locations around the world—it's this wandering element that gives the nonprofit its name. Seeking to reach a wide audience, CARAVAN often hosts this exhibit in places that are considered either sacred or public, rather than the more conventional art venues. The Festival of Art includes related yearlong programs that strive to reinforce the goals of the show and the nonprofit as a whole.
CARAVAN's current exhibit, "The Bridge," comprises work by Jewish, Christian and Muslim artists and is visiting major international cities for a year and a half. The show's objective is to examine commonalities between different faiths and to bring communities together while respecting the diversity of traditions. "The Bridge" kicked off in Paris in February, moved on to Cairo in April, and is now in Trafalgar Square, London. The exhibit is scheduled to tour in France in August, Barcelona in October and November, and is coming to the U.S. in 2016. Follow CARAVAN on Twitter
RUYA FOUNDATION
The Ruya Foundation for Contemporary Culture in Iraq (RUYA) is an Iraqi non-profit founded in 2012 and registered by the Iraq Commission for Civil Society Enterprises. RUYA's mission is twofold: to support local Iraqi artists and to "build cultural bridges with the world." In an effort to promote culture and art in Iraq, RUYA encourages Iraqi artists to become involved in international opportunities, which the organization helps to facilitate by working with other global institutions. RUYA has a database of artists who work with various mediums, has a blog showcasing Iraqi artists, and lists their current and past projects on their website.
Currently, RUYA is commissioning the art for the National Pavilion of Iraq for the 56th Venice Biennale. This year's exhibit, "Invisible Beauty," features art by Latif Al Ani and Akam Shex Hadi (photographers), Rabab Ghazoul (visual artist), Salam Atta Sabri (ceramicist), and Haider Jabbar (painter). Philippe Van Cautere, artistic director of S.M.A.K. in Ghent, Belgium, curated the exhibit after traveling to Iraq with Tamara Chalabi, Chair and Co-founder of RUYA. The show is a timely reflection of the importance of art in a society that has been plagued by war and unrest, and whose culture has been subjected to continual destruction by Isis. The title of the exhibit is a reference to the subjects of the artwork while also calling to mind "the invisibility of Iraqi artists on the international stage." "Invisible Beauty" revolves around themes of art as a tool for survival and healing, as well as a means for preserving the past.
RUYA's visit to three refugee camps in northern Iraq also yielded some artwork for the Venice Biennale. After providing them with drawing materials, the refugees created pieces, more than 500 of which are now showcased at the exhibit. Artist Ai Weiwei chose some of these for a publication entitled Traces of Survival: Drawings by Refugees in Iraq, which includes essays, poetry and short stories by Iraqis. Follow RUYA on Twitter
EDGE OF ARABIA
Edge of Arabia is a nonprofit that began when the founder, British artist Stephen Stapleton, traveled to the mountains of Aseer, Saudi Arabia in 2003. He befriended Saudi artists Ahmed Mater and Abdulnasser Gharem and the organization grew into an avenue for conversation and collaboration between the Middle East and West. Edge of Arabia seeks to foster connections between peoples, cultures and creeds through exhibitions, publications, residencies, and other programming. "Edge of Arabia presents a fragile but brave community of artists, as a mirror, to an increasingly excited audience, so as they might see themselves from another perspective, from another angle," said Stapleton in the Founder's Statement.
The nonprofit's current project, "Edge of Arabia US Tour 2014-2017," is traveling across the United States in a Gulf Stream RV. The converted vehicle consists of an art studio and broadcasting hub that will be on the road for three years. The tour's traveling component, referred to as Culturunners, rests on the belief that artists moving from place to place can inspire understanding between people.
The tour's goal is to cultivate networks of artists, communities and cultures. A series of artists and writers, as well as curators and activists, will continue to ride in the 34 ft. vehicle during which the project aims to capture diverse stories and different perspectives. Partnerships between American and Middle Eastern organizations help to facilitate collaboration and inspire relationships between divergent cultures. The tour also endeavors to promote opportunities for artists in foreign places, encouraging them to remain open to varying and unique points of view. Follow Edge of Arabia on Twitter
CROSSWAY FOUNDATION
Stephen Stapleton also founded Crossway Foundation, a UK-based charity. The organization hinges on the notion that travel has the power to inspire connection and acceptance, particularly among young artists. As a result, Crossway Foundation provides opportunities for young creative individuals—particularly those from the Middle East, UK and the Americas—to travel internationally, participate in global artistic projects, and connect with each other.
A recent journey in April 2015, "Saudi Arabia and the United Kingdom to Spain," featured six photographers from the United Kingdom, Saudi Arabia, and Spain. The young artists learned photography in Cordoba, Seville, Granada, and Madrid, and also collaborated on a publication. Crossway Foundation's current competition "Journey to Japan 2015," is calling for young artists, aged 18-25 from United Kingdom, Saudi Arabia, UAE, and Kuwait, wishing to win a trip to Japan for this November. Follow Crossway Foundation on Twitter
ABOUT THE WRITER
Victoria Gaffney is currently pursuing an MA in Nonfiction Writing at Johns Hopkins in Washington D.C. She is a graduate of Haverford College where she majored in English and developed a passion for words and stories. She enjoys traveling and engaging with new people and perspectives, and relishes the thrill of late nights spent reading a new book or huddling in front of a computer screen to write. In her free time, she can be found drinking copious amounts of coffee, playing with dogs, practicing yoga and wandering around new streets without a plan. Victoria hopes to use writing to help impact positive change. Follow her on Twitter.
Featured image of Religious Tolerance Graffiti in Bristol, UK via Shutterstock