Photo via Cozzee.org Coffee Side of Cozzee page
A machine percolates in the kitchen emitting the routine scent of an aromatic roast. You fill your cup with the pot's steamy contents then sip slowly allowing the liquid to pour over your taste buds, filling you with sudden warmth, and providing a much-needed surge in energy. For many people, coffee is an intrinsic part of the daily grind. It's the elixir that accompanies them on their morning commutes or the mid-afternoon drink that boosts productivity at the office. For some, it's a communal activity that brings people together at a local coffee shop or around the dinner table.
What if, however, this multisensory experience was more than just a melding of great taste and smell? What if, by simply drinking a cup, you could impact positive change?
This is the idea behind Cozzee (combining the words coffee and cause and pronounced "cause-y") a new online company that is putting a unique spin on drinking coffee for a cause.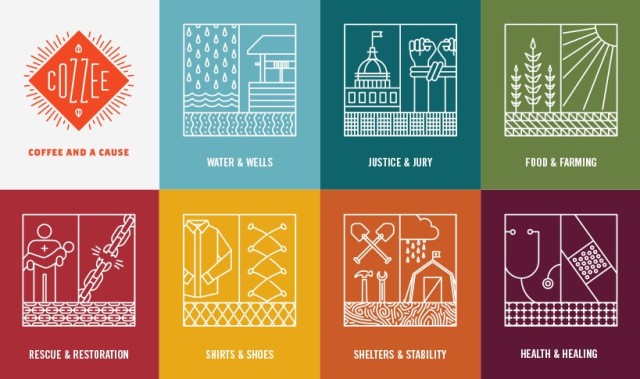 Photo via Cozzee.org Cozzee's Goals page
WHY WE LOVE COZZEE:
Cozzee's model is simple and hinges on a three-step process: "Choose your coffee, choose your cause, change your world." Customers are given the autonomy to select one of seven causes they want to support: Water and Wells; Food and Farming; Shirts and Shoes; Shelter and Stability; Health and Healing; Rescue and Restoration; and Justice and Jury. Each cause is paired with a non-profit partner and a specific project. One hundred percent of Cozzee's profits go to the charities.
Not only is the cause component compelling for the socially conscious java drinker, the coffee itself is superlative. Cozzee uses three aspects to describe their coffee philosophy: the brews must have "absolute quality" and come from the top percent of Arabica beans; they must exhibit "unbelievable freshness" – the beans are roasted and sent  to you within 48 hours of your purchase; and they must be consistent with Cozzee's commitment to "transparent sourcing."
Chief Coffee Officer, Chris Bean and his Coffee Advisory Team cultivate personal relationships with the farmers they work with. A knowledgeable coffee devotee, Bean often travels to meet the farmers in-person and to taste the products.
Cozzee cares not only about quality, but the regions where the coffee is produced, which are often impoverished. Co-founder and CEO Garry Williams wants to engage with farmers who also seek to change the world. It's only fitting that an organization dedicated to impacting social change would want to positively affect the financial stability of the farming communities themselves. "People want to know that you're taking care of the farmers and that the farmers are taking care of their community," says Williams. Even after the beans are exported, Cozzee stays in touch with the farmers and has plans to post their stories on a "farmer's story page" on the website.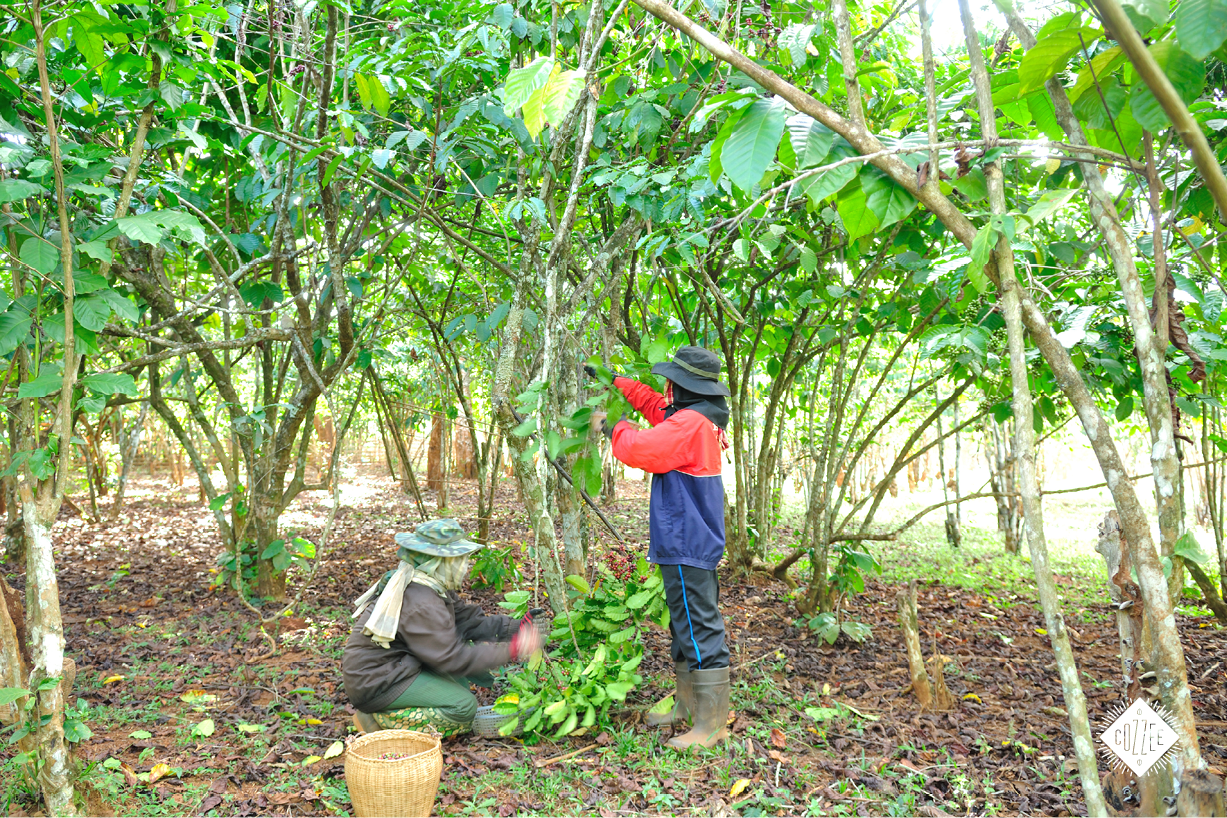 Photo via Cozzee.org Fall in Love with Cozzee page
THE MISSION:
Cozzee's mission, like it's model and approach, is simple: "To change the world one bag of coffee at a time." The average American drinks 2.1 cups of coffee a day, according to a recent Huffington Post article. Cozzee leverages this fact to help transform an everyday task into a forward-thinking charitable action.
THE FOUNDER'S STORY:
While doing research for a possible coffee shop project in Skid Row, an area of Los Angeles with a high population of homeless people, Williams began to think of this beverage as a way to get people involved in social causes. He discovered a community comprised of people who not only drink coffee, but who also care deeply about the quality of their java. He realized that nonprofits likely already have a number of avid coffee drinkers in their networks. With a project such as Cozzee, these people could continue to give by doing something they did daily anyway.
As a result, Williams decided to pursue the coffee charity model with co-founder Rachel Romo, who is a longtime friend of Williams' wife. Together, Romo and Williams decided to utilize their business backgrounds and entrepreneurial spirits to start Cozzee. In developing their cause model, they knew they wanted to focus on seven specific causes where they could work on tackling important issues directly, while also trying to develop sustainable solutions.
Cozzee's causes remain consistent, but the nonprofits change every seven weeks. Cozzee allows customers to feel part of a larger cause, while enabling them to familiarize themselves with a particular organization and approach.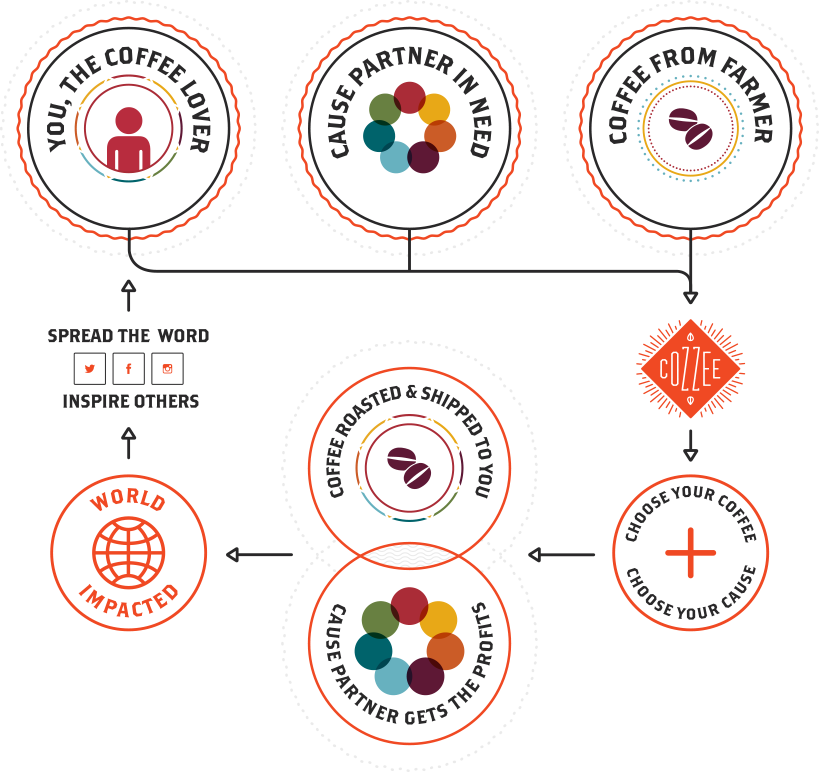 Photo via Cozzee.org Cause Side of Cozzee page
HOW TO GET INVOLVED:
The most important aspect of Cozzee's business model is the highly interactive website. The site quantifies your impact by telling you what you can do with a certain number of bags. For example, right now if you select Food and Farming and buy 2 bags of coffee, you can provide a fruit tree to a farming family. The cause page lets you know how much has been raised, what the fundraising goal is, and how many days are left in the seven-week period. The model rests on the hope that you will purchase coffee and tell your friends and that they, in turn, will participate in the giving cycle. By bringing coffee enthusiasts and changemakers together, Cozzee hopes to change the world one click and cup of Joe at a time.
About the Writer
Victoria Gaffney is currently pursuing an MA in Nonfiction Writing at Johns Hopkins in Washington D.C. She is a graduate of Haverford College where she majored in English and developed a passion for words and stories. She enjoys traveling and engaging with new people and perspectives, and relishes the thrill of late nights spent reading a new book or huddling in front of a computer screen to write. In her free time, she can be found drinking copious amounts of coffee, playing with dogs, practicing yoga and wandering around new streets without a plan. Victoria hopes to use writing to help impact positive change. Follow her on Twitter.