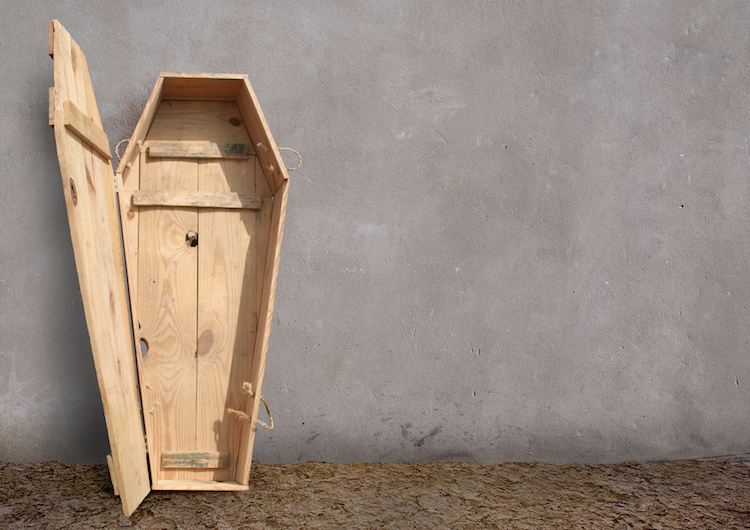 Though Americans have come a long way from the funeral industry's pre-Jessica Mitford days, we still have a long way to go before fully embracing ecologically sound funeral practices. With this in mind, the following is a list of green alternatives to minimize the environmental impact of traditional American funerals.
Natural burials provide a much safer alternative to the burial of corpses who have been embalmed in formaldehyde (a chemical which has been scientifically proven to cause myeloid leukemia in funeral directors.) Essential oils and other non-toxic ingredients can be used instead. This option may be the best for people of the Jewish faith, which explicitly prohibits the practice of cremation, as it is said to interfere with decomposition, which some more orthodox Jews interpret as a necessary part of the soul's atonement.
Eco-Green Cremation uses the process of alkaline hydrolysis, which, "reduces natural gas usage by 90%, electricity usage by 66% and is 100% mercury free." While traditional composition can take up to twenty years to run its course, alkaline hydrolysis speeds up this process by using a combination of ecologically-sound chemicals in tandem with water, high heat and high pressure. The cremains are similar to white sand and the method can be used for beloved pets as well.
Why have relatives plant a tree at your grave, when you can be buried in a pod that will grow into its own tree? Burial pods were designed in Italy and are formulated to use corpses as nutrients to feed growing plants, the end result would be a world where loved ones can stroll through "memory forests" as opposed to cemeteries. While still in their blueprint stage, these pods would be a fantastic solution to the coffin industry's massive consumption of trees.
For those who may already have a designated spot in a family plot, you can still choose a more sustainable burial by foregoing a concrete burial vault or liner. If your particular cemetery requires a liner, you can choose one without a bottom. You can also choose to have a floral marker instead of a traditional tombstone and forego caskets that are not 100% biodegradable. Home burials are also allowed in the United States, and indeed, were the standard funeral practice prior to the industry's civil war boom. On the micro-level, if your loved one was ecologically conscious, it makes sense that the food served at his or her funeral should be local as well.
Burials at sea or water burials are not exclusively for the navy. Water and immortality have, throughout history and mythology, been explicitly bound up in each other. While certain places may have laws prohibiting water burials, where possible, they are a great option for someone with a lifelong affinity to the sea. The EPA states that such burials must take place a minimum of three nautical miles away from land and at least 600 feet deep, though the limits are much lighter with the disposal of cremated remains. For full body sea burials, the body (treated with non-toxic chemicals) is placed in an EPA approved shroud that's weighted with traditional cannonballs and will bio-degrade within 3-6 months.
As more and more people are becoming ecologically conscientious, green funeral practices are steadily rising. I believe our generation has a moral imperative to perpetuate this trend. While we all like to go about living, with no thought given to our mortality, I feel if we were to collectively dedicate one iota of the time we waste on trivialities to the cause of sustainable funeral practices that the world we'd leave behind would be an enormously more beautiful place.  Personally, I'm partial to the idea of a Royal Tenenbaum-esque sea burial.
ABOUT THE WRITER
Stephanie Kasheta is a graduate of the University of Nevada Las Vegas, where she majored in English with an emphasis in Creative Writing. She is currently finishing up her MFA in Fiction at Emerson College in Boston. She is a Las Vegas native who recently relocated to Cape Cod with her husband, a veteran of the US Air Force. Stephanie is also step-mother to a seven-year old future writer named Olivia. When not reading or daydreaming of travel abroad, she can be found blowing glass at the Sandwich Glass Museum or working on her short story collection. Follow her on 
Twitter
Feature image Green Burial via Shutterstock