Chances are that if you ask Americans what kind of foreign food they've tried locally, the answer will most often be Chinese, Thai or Indian food. While there is certainly nothing wrong with these cuisines, chains in the US tend to highly Americanize their recipes, leaving the search for authentic dishes somewhat challenging. Though it can be tough, there are restaurants across the US who pride themselves on offering the real deal. So if you get the chance to venture out to one of these cities, don't miss your chance to dine on delicacies you didn't even know you were craving.
Fufu at Mataheko in New York City, New York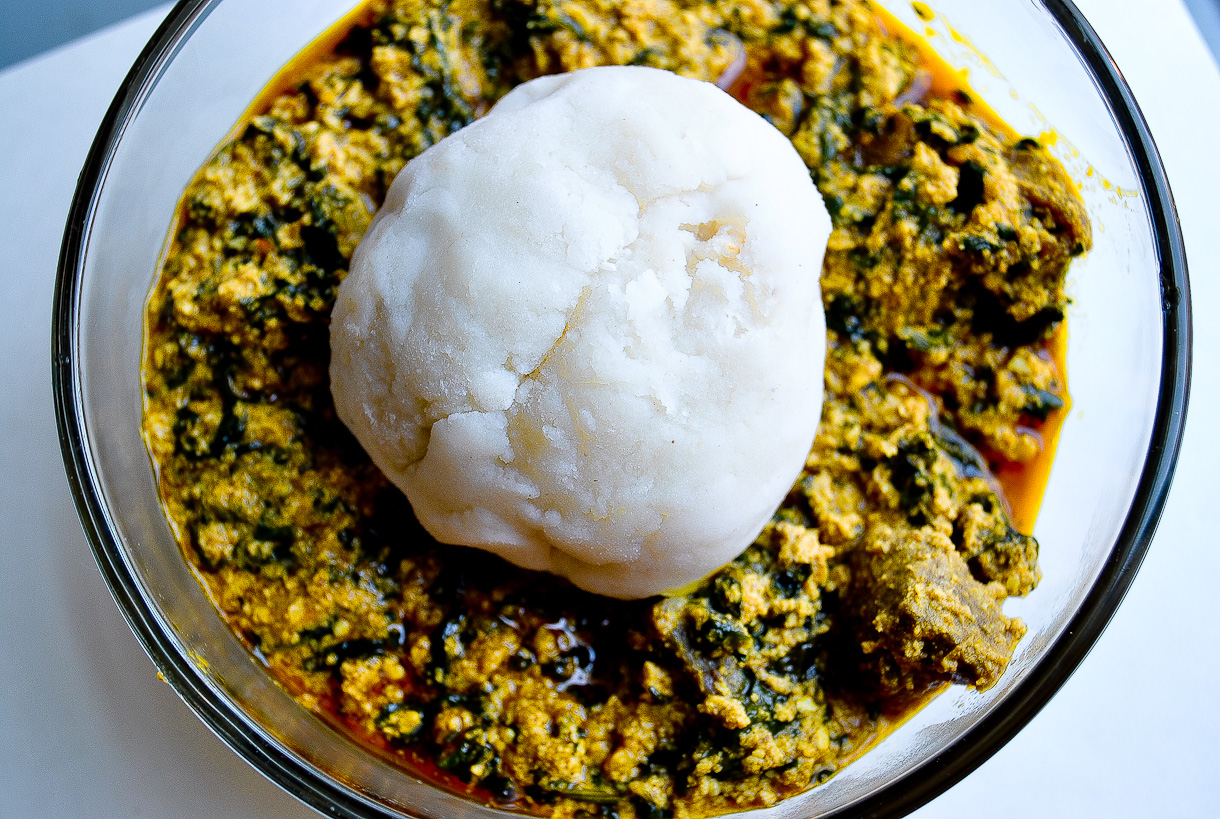 Picture of Fufu via Buzz Ghana
Fufu is a dish most commonly eaten in West African countries–primarily Ghana, and the Caribbean. The sticky food is given its doughy consistency by combining boiling water and flour derived from starchy plants like cassava, yams and plantains. Once the flour and water is pounded together, fufu is served in a large ball and often accompanied by soups or sauces. It's meant to be eaten as a finger food; you rip it apart and either dip it in something or use it to pick up other food. You can get your hands on some real fufu at Mataheko in Queens. The restaurant is known for its mix of Ghanaian, Senegalese and Nigerian food and they serve six different types of fufu dishes.
Lomo Saltado at Taste of Peru in Chicago, Illinois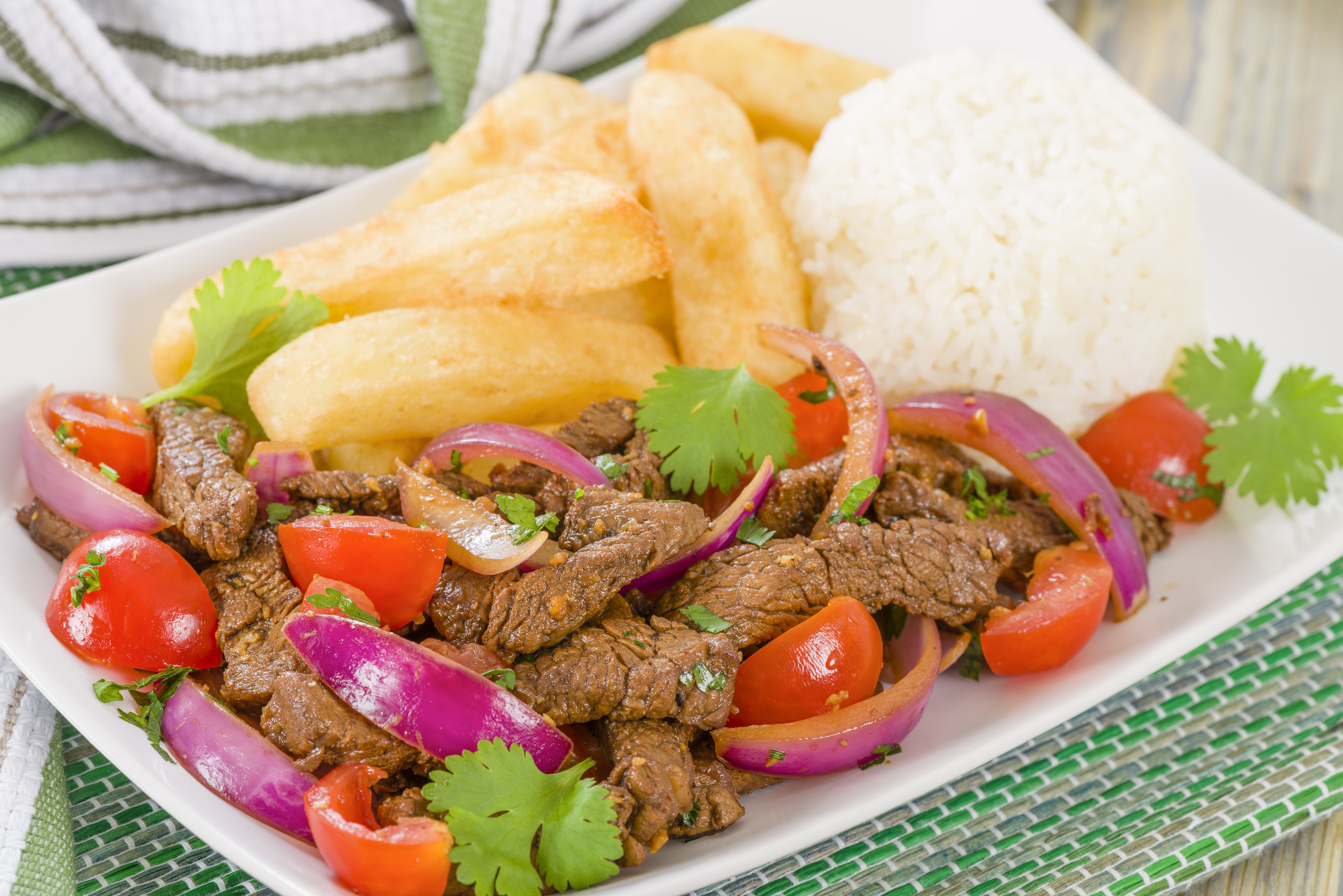 Picture of Lomo Saltado via Shutterstock 
Though Lomo Saltado is a traditional stir-fry like Peruvian dish, its origins are partly Chinese. The meal is an amalgam of marinated sirloin strips, tomatoes, onions, parsley and other typical Asian stir fry items, as well as Peruvian potatoes, rice and spices. So how did this cross-cultural dish come to be, you ask? Peru went through an economic and agricultural boom in the mid to late 1800s during which Chinese immigrants were brought to the country to work on farms and cotton plantations as well as build railroads. While this part of Peruvian history isn't the prettiest, today, those with Asian heritage make up 3 to 5 percent of the country's population– the biggest population (proportionately) of any Latin American country. To celebrate the integration of Chinese and Peruvian culture, you can try Lomo Saltado at the Taste of Peru in Chicago.
Jalebi at Sagar Sweets in San Jose, California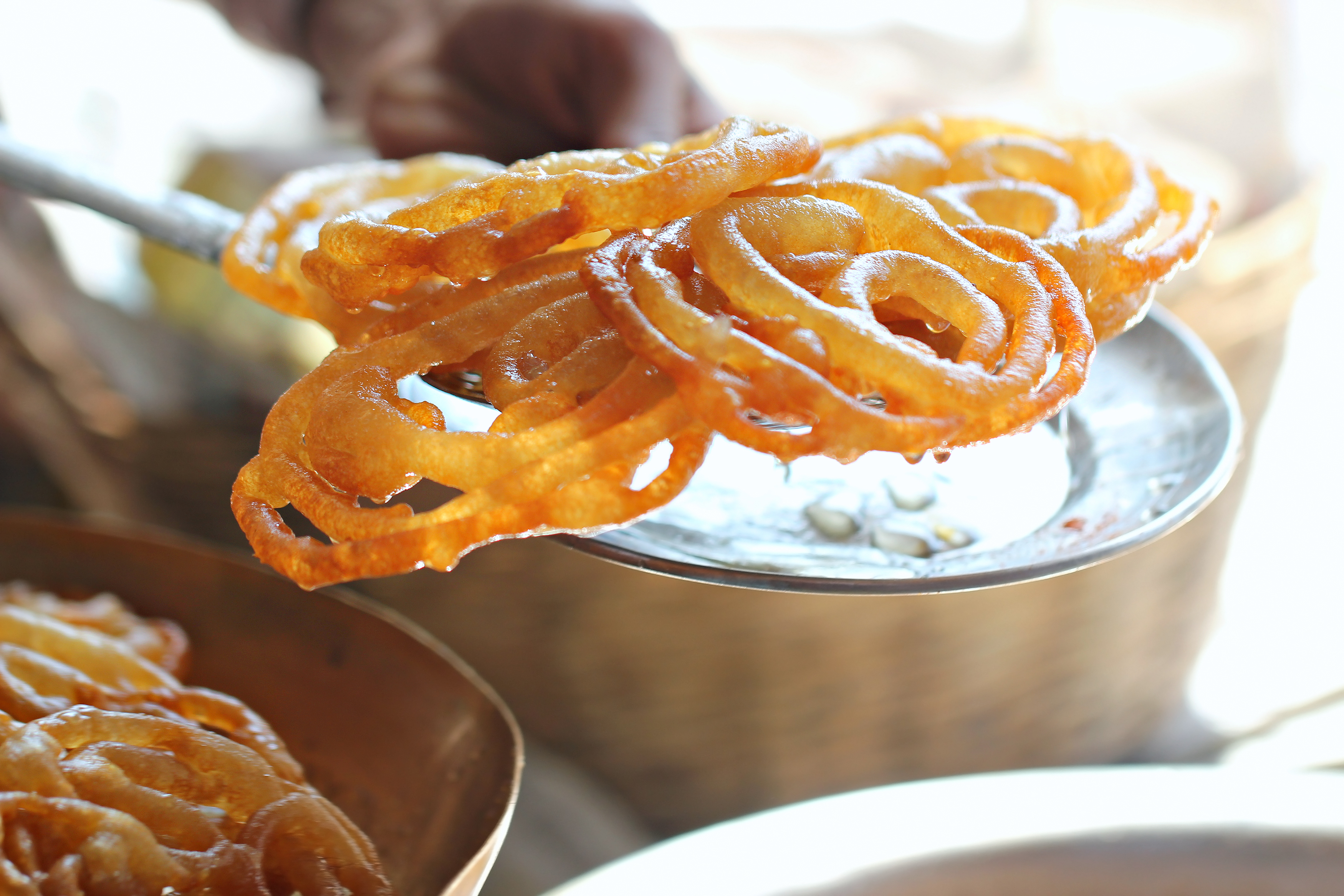 Picture of Jalebi via Shutterstock 
Jalebi is basically the Middle Eastern/South East Asian/East African/Philippine version of funnel cake. Made of deep fried wheat flour and served (warm or cold) in a circle or pretzel shape, jalebi is soaked in a sugary syrup and then covered in crystallized sugar. The dish is a very popular festival or holiday treat and usually makes an appearance during Ramadan and Diwali celebrations. Luckily, those looking to try jalebi in the US need just to pop in to Sagar Sweets in San Jose. While the restaurant serves many, many traditional Pakistani and Indian dishes, they have rave reviews for their jalebi in particular and it doesn't hurt that they have roughly 2o other types of regional sweets as well.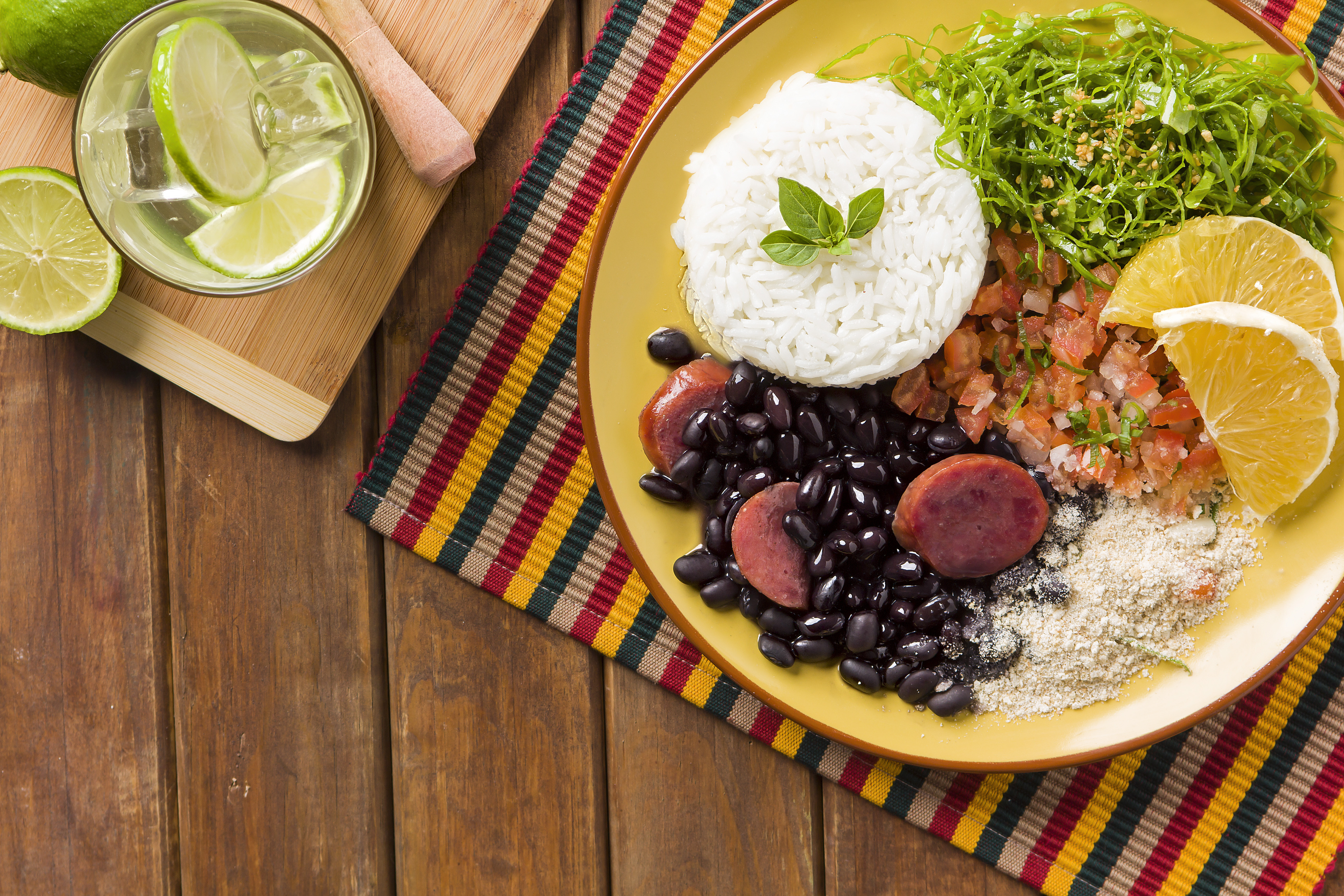 Picture of Feijoada via Shutterstock 
Feijoada is a popular Brazilian stew comprised of fresh beef, pork and beans. While the stew can also be found in other places with Portuguese heritage like Mozambique, Macau and Angola, the exact recipe will vary. In Brazil, ingredients typically include salted beef or pork, bacon, sausage, black beans and vegetables like cabbage, kale, potatoes, carrots, okra or pumpkin, depending on the region. Often served with sides of rice and oranges, the dish is a national staple no matter what part of Brazil one explores. If you already have a taste for it, or are looking to try it, I've been told on good authority that Fogo de Chão Brazilian Steakhouse in Boston is the place to find it. While the upscale Brazilian steakhouse is a chain, hear me out as the founders of the restaurant grew up on a farm in southern Brazil, received formal training in the churrasco grilling tradition, and opened their first two locations in Porto Alegre and São Paulo which happened to be frequented by the likes of Brazilian politicians, businessmen and celebrities.
Knafeh at Blue Fig Cafe in Moorestown, New Jersey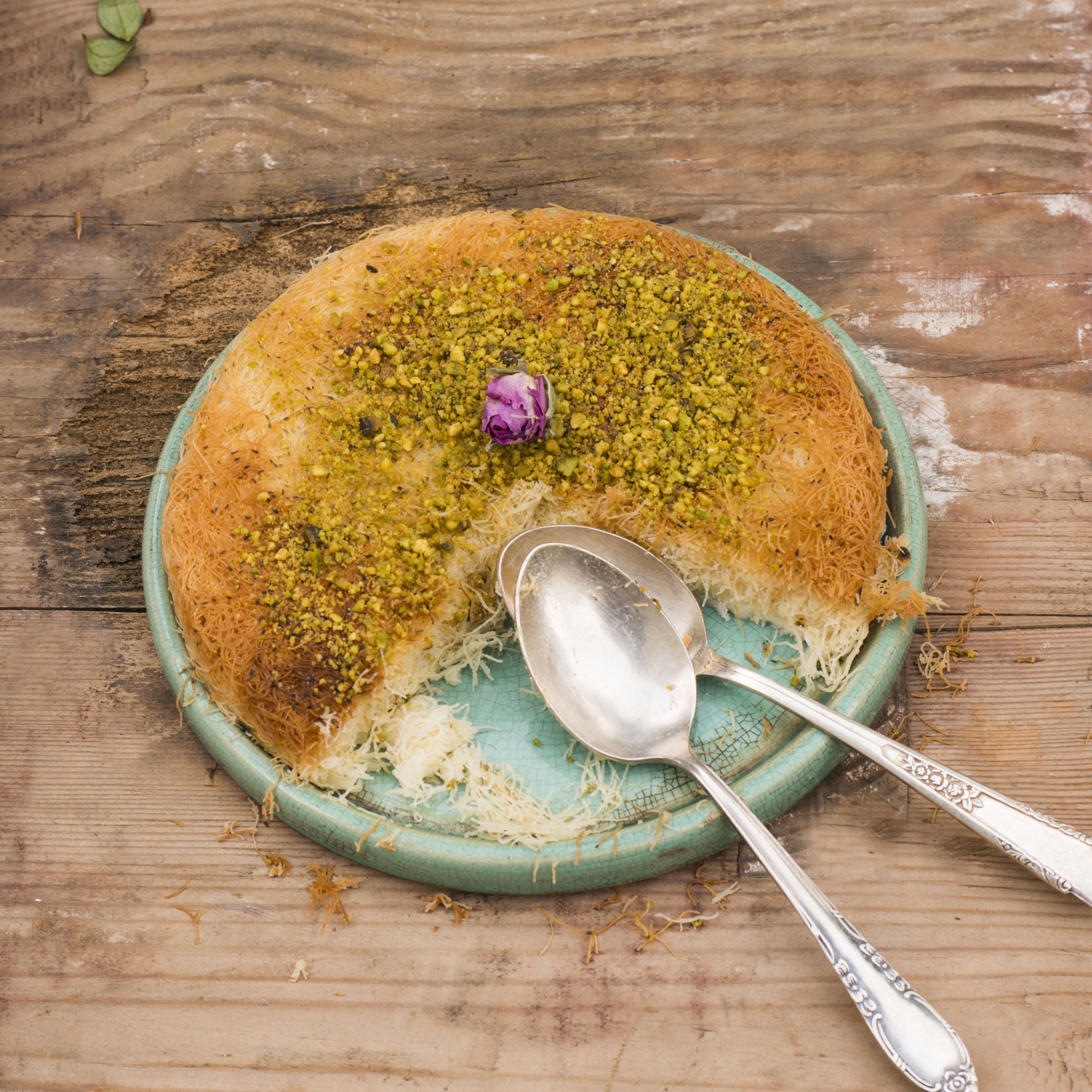 Picture of Knafeh via Shutterstock
Dating back to the Ottoman Empire, the Levantine cheese pastry known as knafeh is a dessert specialty that can be found in just about every eastern Mediterranean country. While the choice of dough can vary, the dish is always topped with a sweet syrup and most often garnished with crushed pistachios and a bit of rose water or orange blossom syrup. You can treat yourself to the popular pastry at the Blue Fig Cafe in Moorestown. The Mediterranean grill serves a variety of authentic Greek, Turkish, Lebanese and Egyptian food including a version of knafeh made with honey and rose water.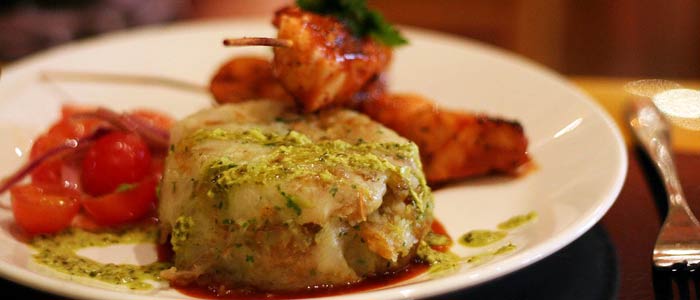 Picture of Mofongo via Gozamos
Mofongo is an Afro-Puerto Rican dish most commonly made with fried green plantains, garlic, olive oil and chicharrón–pork cracklings. The cuisine has clear ties to fufu and is made in a similar way using a mortar and pestle. Along with broth, the ingredients are mashed together in a pilón, a wooden mortar, before being served with vegetables, meats or seafood. Here in the states, you can  find satisfying mofongo at the Banana Cafe & Piano bar in D.C. The restaurant serves a mixture of Puerto Rican, Cuban and Tex Mex cuisine and has live music every night. Come hungry as their mofongo is paired with pork, rice, black beans and vegetables and is topped with a ginger mango sauce.
About the Writer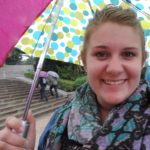 Chelsea Stuart is currently finishing up her degree in Writing, Literature & Publishing at Emerson College in Boston. After living on a ship for four months and visiting 15 countries with the study abroad program Semester at Sea, she's presently dealing with some intense wanderlust. Aside from travel, she enjoys reading, writing, photography, thrifting, and drinking an absurd amount of coffee. She hopes to one day (soon) pursue a career in publishing and try her luck in The City that Never Sleeps.