There are certain preconceived notions we often have before traveling to new countries.  Other than my Norwegian namesake (which is now 3rd generation removed and mixed in with German and Chinese heritage), I knew next to nothing about this Nordic country. It's for this reason that I was compelled to travel to Norway. A few compulsory Google searches on local Norwegian food, culture and arts left me more curious than before. Compared to the heavily saturated yelp reviews, blog posts, and other guides about New York City, Norway has a surprisingly low online presence for potential travelers to explore. As a New Yorker and self proclaimed xenophile I wanted to learn more about what Norway, specifically Oslo, had to offer. What I found was a bourgeoning community of farm to table cuisine and a resurgence of sustainability practices which dates back to Norwegian traditions of harvesting, preparing and eating food. In addition, I found a growing pride and focus on Norwegian design and aesthetics. From the more traditional sights of downtown Oslo to the more hip and trendy neighborhood of Grünerløkka, (cited by locals as The Brooklyn of Oslo) there are a wide variety of options for the culture driven traveler to explore.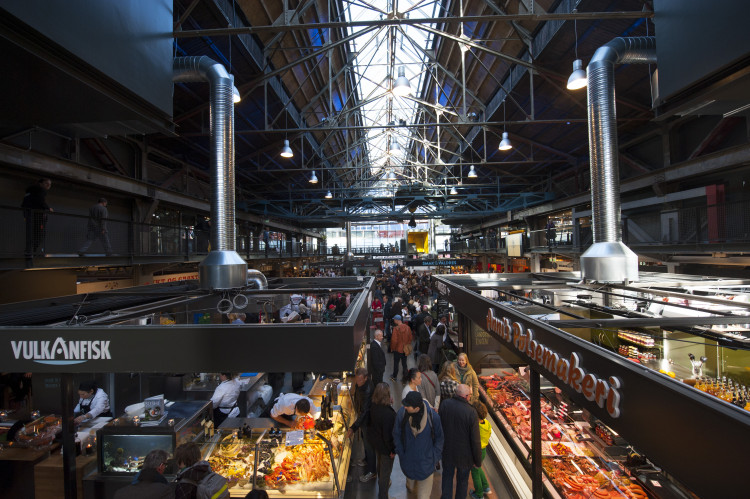 Credit: Mathallen Oslo
Where to stay:
Grims Grenka– This one of a kind boutique hotel is located in downtown Oslo, a perfect location for checking out all the city's fortresses, museums and downtown shopping. This hotel has a rich history steeped in local folklore and features quintessential Nordic design with spacious rooms and intuitive lighting. Make sure to check out MADU, a restaurant which features a modern twist on Scandinavian cuisine.
PS Hotell– PS Hotell is a hotel with a social mission. This hotel gives underprivileged Norwegians an opportunity to develop necessary skills for the work force by staffing them at the hotel. With their motto, Inclusion, Tolerance, Responsibility, and Solidarity the company works hard to secure permanent jobs for their staff while providing an open and inclusive experience for guests to experience.
Scandic Vulkan– Part of the Scandic hotel chain, this modern and energy-efficient hotel offers a boutique experience with simple and comfortable rooms and is located in the heart of the young and creative community of Grünerløkka. The hotel is also directly located near Mathallen, one of Norway's premier food hall.
Where to eat:
Festningen– Housed in a former jail behind a fortress that overlooks the city, Festningen has transformed this space into a vibrant and warm restaurant with exposed brick and soft lighting that features farm to table cuisine and a daily menu. The restaurant boasts exclusive partnerships with local farms to provide Norwegian venison and beef which they keep in an in-house refrigerator located in the restaurant's wine cellar. A la carte items are available in addition to the seasonal menu.
Mathallen– This food hall located in Grünerløkka is on the forefront of Norwegian food culture. Formally a steel factory for bridge production, it is an energy class A building (Norway's most energy efficient building to date) and represents a  growing awareness of organic cuisine and health food continues to grow in Norway. On weekends, Mathallen hosts a co-op where locals and and owners of the food hall alike purchase local-grown and organic produce. The food hall hosts 29 local restaurants, many of them family owned operated businesses. On weekends, the hall coordinates community events such as celebrity chefs books signings, regular pop up stands, community dinners, and other food related events.

Where to drink:

Brooms and Hatches – With a constantly changing menu of "experiential cocktails" this bar features unique cocktails designed by award winning bartender, Matias Alsen. Matias pushes the norm of how drinks (a cocktails served in a small bathtub? Why not?). Ask for his small batched artisanal Aquavit (Norway's national drink) seasoned with over 27 local herbs and ingredients.
Fuglen – Part furniture store, coffee shop by day and cocktail bar by night, this company may wear many hats but is unified by its love for Norwegian food culture. Norway is known for its well- developed coffee culture and Fuglen does not disappoint with its daytime menu of specialty roasted coffee beans from Oslo's finest roasteries. At night, the space turns into a cocktail bar that features local ingredients foraged in Norwegian forests by the Fuglen staff themselves. The furniture store pays homage to the history of the building that served as a storage room of unsold furniture. On weekends Fuglen has become a hot spot destination with lines that can span up to two hours to receive one of these specialty coffee or cocktails drinks, a perfect location to buddy up with the locals and experience a Norwegian foodie scene at its finest.
Crow Bar – Crow Bar prides itself as one of the first micro-breweries in Oslo. It is known for their flagship beer, Scream Ale, which is brewed to have a malty and approachable taste. The bar features a changing menu of in-house and imported beers such as a Wasabi Stout and an India Chai Ale. Be sure to try their in-house Aquavit, Eggs Gard which is made in small artisanal batches and infused with apple juice. These beers go beyond the typical palette and are brewed in house.
Special thanks and video credit to Hankø FjordHotell & Spa.
Video produced by Erin Sullivan and Angelica Olstad, article written by Angelica Olstad
About the Writer
Angelica Olstad is an assistant editor for The Culture-ist. In addition she is also a yogi, musician, and traveler living in Brooklyn, New York and is a regular contributor for MindBodyGreen. Follow: @yogipianist
About the Filmmaker
Erin Sullivan is a NYC based film editor and active member of the Motion Picture Editors guild.  Her recent credits include Assistant Editor on "While We're Young" and VFX editor on HBO's 'Boardwalk Empire'.
In 2014, Angelica and Erin started FEELFEEL, a Brooklyn based art collective with a focus on performance and travel.   Their second performance show is slated for June 2015.