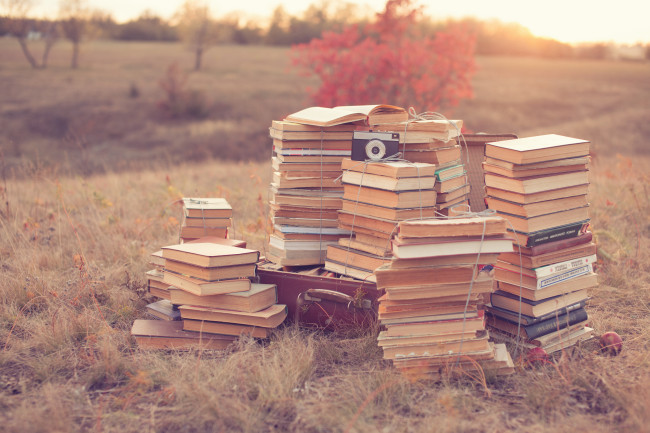 Setting is often key in creating mood, adding color to characters, and grounding readers in an established culture. Whether your favorite read is a pillar of classic literature, a bold travel memoir or a piece of modern fiction, chances are you've imagined yourself in the time and place your author builds or describes. So, if you've ever dreamed of living in your favorite book, try the next best thing and travel to the very real places of which these novels are set.
Crime and Punishment by Fyodor Dostoyevsky
St. Petersburg, Russia
Photo via Shutterstock
While Dostoyevsky's characters suffer through some pretty intense moral dilemmas and deal with their fair share of anguish, a trip to St. Petersburg doesn't have to weigh so heavily on you. To get an idea of the city and Dostoyevsky's inspiration, visit the prolific writer's apartment-turned-museum. The Dostoyevsky Memorial Museum is filled with original furnishings and memorabilia from his work, as well a detailed account of his life and the events that led him to write. The apartment also happens to be located in the Vladimirsky region of St. Petersburg where many of Dostoyevsky's works were set. In order to get the whole experience, you can take a Crime and Punishment themed walking tour of the city which stops at many of the places frequented in the novel including the Griboedov Canal, Grazhdansky Street, and the Kokushkin Bridge.
Wild by Cheryl Strayed
Mojave Desert
Photo via Shutterstock
Cheryl Strayed's memoir of self discovery, Wild, follows her 1,100 mile hike along the Pacific Crest Trail as she treks through the Mojave Desert, California, and Oregon before reaching the border of Washington. While a number of devastating events led her to commit to a lone backpacking journey, the successfully completed endeavor proved to be most fulfilling. If you're not feeling up to hiking the entirety of the Sierra Nevada and Cascade Mountain ranges, or if you don't have enough time, you can always create your own more approachable route. To get as much out of your trip as Strayed, try to keep a journal (with details or events that may be otherwise forgotten), pack lightly, talk with those whose path you cross and just keep moving forward.
Pride and Prejudice by Jane Austen
Hampshire, England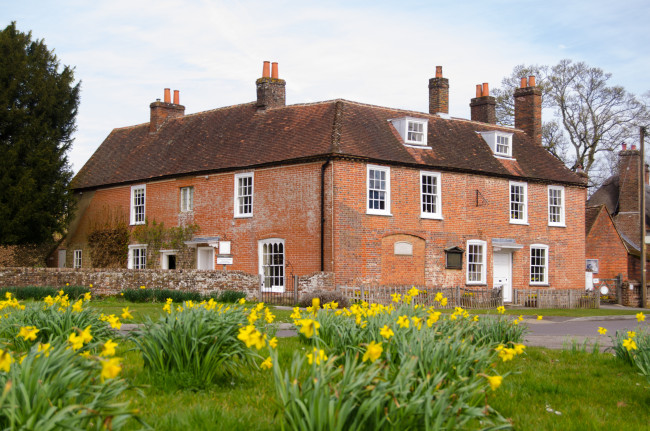 Photo via Shutterstock
While only fate can determine whether or not you'll find yourself a wealthy and eligible bachelor in Hampshire, you can certainly still soak in the romantic countryside with or without a partner.  There are a number of must-sees when it comes to Pride and Prejudice inspired travel, one being the Jane Austen's House Museum, of course. You can tour the cottage where Austen spent her last 8 years, look through the rooms furnished with Austen's possessions and enjoy a picnic lunch in the gardens. Other historic sites worth the trip include the Winchester Cathedral, Queen Victoria's favorite vacation spot—the Osbourne House, and the Mottisfont Abbey—a romantic riverside gallery.
East of Eden by John Steinbeck
Salinas Valley, California
Photo via Shutterstock
Steinbeck's East of Eden was originally dedicated to his young sons as he wanted them to have a detailed description of the Salinas Valley. The Valley plays a large role in the story, with both of the main families living on ranches there. The Salinas Valley is one of the most productive agricultural regions in California, so naturally, a visit to the vineyards is a must. Traveling down Monterey's River Road, you'll pass about 20 different wineries where tastings with the actual winemakers are frequently held. In addition to wine tasting, you can also visit a few of California's national parks including the Pinnacles National Park and Fremont Peak State Park, and if you're feeling particularly outdoorsy, you can even camp there. If  you're a history buff and you'd like to learn more about the history of the agricultural hotspot, try visiting the Agricultural and Rural Life Museum.
Eat, Pray, Love by Elizabeth Gilbert
Bali, Indonesia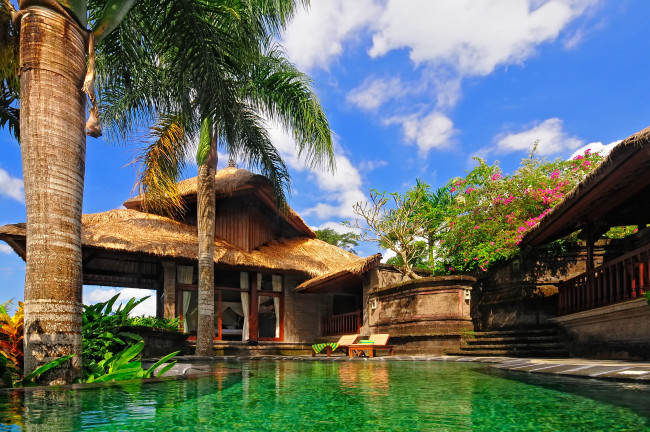 Photo via Shutterstock
Though Eat, Pray, Love follows Elizabeth Gilbert through three different locations—Italy, India, and Indonesia—she ends her solo travel in Bali looking for some much needed balance. While I'm not promising that you'll meet your very own Brazilian lover as Gilbert does during her time in there, you can still replicate many key parts of her experience. Following in her footsteps, you should first educate yourself about the city's rich history in order to understand the complex background of the people and the culture. Once you've got that down, you should  next travel by bicycle around Bali's center, a cluster of villages known as Ubud. There you can enjoy a relaxing massage at one of the many world famous spas, visit the Sacred Monkey Forest Sanctuary, attend the Writers & Readers Festival, or take a class in textile creation. When deciding what to do, keep Gilbert's example in mind and be guided by what puts you most at peace.
Outlander by Diana Gabaldon
Inverness, Scotland
Photo via Shutterstock
While I'd be more than willing to bet that you won't be dabbling in the art of time travel during your stay in Inverness, there are many other ways to embrace the history of 18th century Scotland. So, rather than awakening to find yourself thrust two hundred years in the past, start your day off right at one of the town's many quaint B&Bs or guest houses. There your imagination can run free, but a comfortable bed and warm breakfast will ultimately await you. After refreshing, take a trip to the Inverness Castle, situated on a cliff overlooking the River Ness, and explore the  sprawling grounds. Once you've gotten your fill of that, consider touring a local whiskey distillery—we all know how much the Scots, past and present, love a good whiskey—or treat yourself to a Scottish gastropub meal at the Dores Inn.
About the Writer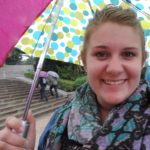 Chelsea Stuart is currently finishing up her degree in Writing, Literature & Publishing at Emerson College in Boston. After living on a ship for four months and visiting 15 countries with the study abroad program Semester at Sea, she's presently dealing with some intense wanderlust. Aside from travel, she enjoys reading, writing, photography, thrifting, and drinking an absurd amount of coffee. She hopes to one day (soon) pursue a career in publishing and try her luck in The City that Never Sleeps.
Feature photo via Shutterstock