By Chelsea Stuart

Valentine's Day is supposed to be one of the most romantic days of the year, spent with the one you love most. Instead of buying overpriced teddy bears, chocolate assortments, and roses, invest in a trip and memories you can make together. While you're at it, avoid the hordes of tourists at the Eiffel Tower, and check out some of these off the beaten path destinations in order to make the absolute most of your holiday.
Anchorage, Alaska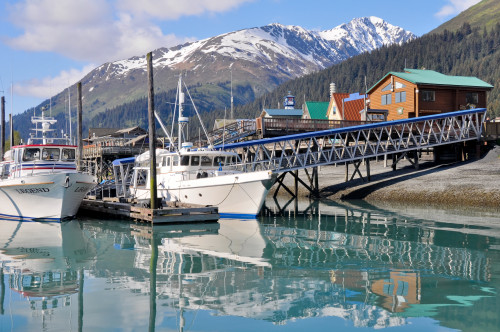 Photo of Anchorage via Shutterstock
Alaska is arguably one of the most unique states in the union, boasting a diverse wildlife population, a huge number of state parks, and a celebrated heritage. One specific advantage that the state certainly holds over the lower 48 is its unrivaled views of the Northern Lights. The bright blues, pinks, greens, and yellows of the Aurora Borealis can be seen in the fall, winter, and spring, usually beginning to peek through around 8 p.m. Be mindful of the cold—temperatures are often subzero—and cozy up with hot cocoa and your partner in order to catch the views at top comfort. Guests who stay at the Hotel Alyeska can even request to be alerted at peak viewing times.
Lafayette, Louisiana
Photo of Lafayette via Oak Alley Plantation
Louisiana is filled to the brim with quaint B&Bs, country manors, and plantations. While many may think of New Orleans as the go-to destination, Lafayette is only two hours away, and offers a quieter look into the quintessentially antebellum charm of the state. At the Oak Alley Plantation, you can take a tour of the big house, learn more about Louisiana history and culture, and of course, stroll along the Oak lined alley of the main drive. By night, you can book a private cottage on the grounds and watch the Mississippi roll by from your window. You can also check out the Atchafalaya Basin (the largest wetland in the US), indulge in some authentic creole meals, and listen to live cajun music on "The Back Porch" at the Blue Moon Saloon.
North Conway, New Hampshire
Photo of North Conway via Shutterstock
Bordered by the Maine state line and the White Mountain National Park, North Conway is a haven for the outdoorsy. Though the leaf peeping season is over, those with a taste for winter sports and shopping definitely won't have a problem finding something to do. You can ski at Cranmore Mountain, peruse the shops along the historic main street, and grab some penny candy and old fashioned soda at Zeb's General Store. The White Mountain Hotel and Resort is a favorite among travelers, offering fantastic scenic views, gourmet meals, and a taste of old school New England. Whatever you do, make sure to pack your cold weather necessities—New Hampshire has some notoriously cold winters!
Asheville, North Carolina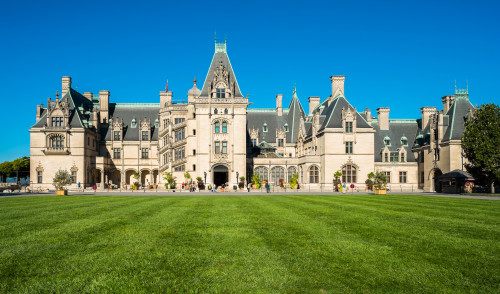 Photo of Asheville via Shutterstock
For those of you who prefer warmer weather, Asheville might just fit the bill. North Carolina's mild subtropical climate means that February temperatures will likely hover between the upper 40s and lower 60s. One main attraction is the Biltmore Estate, a large mansion in the French chateau style, belonging to the Vanderbilt's. While there are many places to stay in the city, you can choose to stay at the Inn on Biltmore Estate or the Cottage on Biltmore Estate. Either way, you will be pleasantly nestled in the Blue Ridge Mountains. Embrace nature by going on a hike, or taking a stroll through the sweeping gardens, or relax and enjoy a tour and tasting at their winery.
Reykjavík, Iceland
Photo of Reykjavík via Shutterstock
There are many hot springs and natural pools dotting the plateaus and valleys of Iceland. Reykjavík happens to be the capital and largest city in the country and is rather close to many of the natural wonders. Take a dip at the Reykjadalur hot spring, ogle the mix of colorful, corrugated iron buildings, neoclassical concrete buildings, and ultra modern buildings, or go whale watching. For music, theatre, and art enthusiasts, the town is also known for it's lively cultural scene. Concert venues and art galleries can easily be found all over the city. If you are into a more old world feel when it comes to your lodging, you should definitely try out Hotel Holt. It was one of Reykjavík's first hotels, built in the '60s, and it still features original artwork, decor, and a library bar.  
San Ignacio, Belize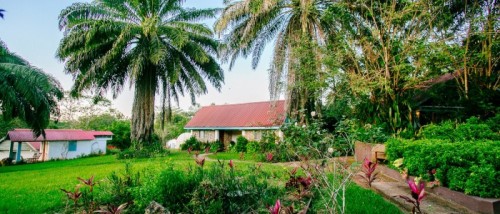 There is an overwhelming amount of things to do and experience in Belize. You can hike, scuba dive, horseback ride, zip-line, and wander the Mayan ruins. San Ignacio is a great base for any travel in Belize due to its close proximity to ruins, the beach, the jungle, and the border of Guatemala. It is completely up to you whether you choose to venture out though as there are just as many things to do in the town itself. Visit the Iguana Hatchery, rent a bike, or try some local dishes at Ko Ox Han-Nah, a popular neighborhood restaurant. While you're there, stay at the Nabitunich Stone Cottages, an eco-farm with views of Xunantunich, an ancient Maya archaeological site. Also make sure to pack a swimsuit and shorts as Belize is typically hot—approximately 80 degrees and humid— year round.
Bray, Ireland
Photo of Bray via Shutterstock
Bray is an idyllic seaside Irish town situated only twelve miles outside of Dublin. While you can easily commute to the city to tour the Guinness Brewery, shop on Grafton Street, or explore Trinity College, be sure to add the Bray to Greystones Cliff Walk—a moderate 4.5 mile coastal hike—to your to do list as the weather should be in the 50s. Once you arrive in Greystones, you can check out the marina or easily hop on the DART back to Bray and grab a beer at the Harbour Bar which was named a contender for Lonely Planet's Best Bar in Ireland. Stay at The Martello Hotel right on the oceanfront and take in all the quaint town has to offer.
Seville, Spain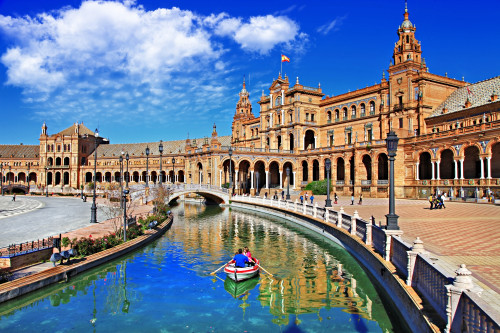 Photo of Seville via Shutterstock
Seville is teeming with museums, tapas restaurants, flamenco clubs, churches, and open-air markets. Though the city is the capital of Andalucia, it is still much less traveled than other major Spanish cities like Madrid and Barcelona. The city can be broken in two; old Seville and modern Seville. The first is characterized by Moorish architecture and landmarks like the Plaza de España, Universidad de Sevilla, and the Cathedral of Seville, while the latter peeks through in the city's active nightlife and shopping district. If you do choose to go to a club or bar, do as the locals do and try to slip in a siesta as most people venture out around 1:30 a.m. and don't return home till 5 or 6 a.m. As for hotels, the Casa Sacristia Santa Ana is located in the historic city center and rooms are full of ornate, Baroque and Andalucian character.
About the Writer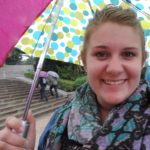 Chelsea Stuart is currently finishing up her degree in Writing, Literature &  Publishing at Emerson College in Boston. After living on a ship for four  months and visiting 15 countries with the study abroad program Semester at  Sea, she's presently dealing with some intense wanderlust. Aside from travel,  she enjoys reading, writing, photography, thrifting, and drinking an absurd  amount of coffee. She hopes to one day (soon) pursue a career in publishing  and try her luck in The City that Never Sleeps.
Photo of Couple via Shutterstock