Who says shopping isn't important? By purchasing any one of these fun and beautiful products you will help empower a woman who is working to rise above poverty.
No.41 Signature Bags are handmade with love in Gisenyi, Rwanda. Your purchase not only provides a stable job and sustainable income to a young woman transitioning into a life of independence, you are also providing 240 meals to a secondary student in Rwanda! "FOR ONE child, FOR ONE meal, FOR ONE year." And that's how you change the world, for one.
Through a unique model Krochet Kids is empowering the women of Northern Uganda and Peru with the assets, skills, and knowledge to lift themselves and their families out of poverty.
31 Bits uses fashion and design to empower women in Uganda to rise above poverty. The organization works with beneficiaries to create fashionable, quality products and to earn an income that enables them to provide for their families. The women receive counseling, health education, finance training, and business mentorships. After five years in the organization's program, beneficiaries are ready to graduate. A graduated beneficiary has her own business and is educated, healthy, and confident. She is empowered.

Lallitara sources their materials by working with India's informal recycling communities. They pay these hardworking women and men fair wages for their labour and give new life to truly eco-friendly and unique fabrics that would otherwise go to waste. The company gives 5-10% (depending on the product) of sales back to organizations who support the communities with whom they work. Through groups like SAATH.org, Lallitara is helping educate families to bring them out of a vicious cycle of poverty.

The Salenyia Cuff is part of Raven + Lily's THE KENYA COLLECTION, intricate handbeaded jewelry using traditional artisan skills that empower Maasai women from the Esiteti community to eradicate FGM (female genital mutilation) from their community as well as to be the first generation to send girls to school.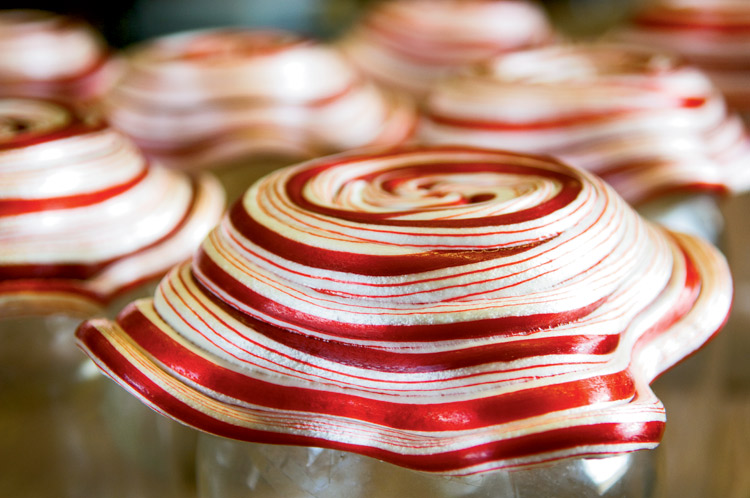 50% of the profits from Phoster's Freedom Line are donated to the Freedom Coalition.  The Freedom Coalition organizations are working to end human trafficking and modern-day slavery all over the world, including India, Ethiopia, Thailand, Nepal, Myanmar, Greece, Columbia, the Philippines, the Netherlands, Canada, and the United States.
Indego Africa is an innovative nonprofit social enterprise and lifestyle brand that supports women in Rwanda through economic empowerment and education.
The nonprofit and social enterprise partners with cooperatives of female artisans, and sells their  handcrafted products through its e-commerce site, boutiques worldwide, and collaborations with independent designers and brands. The organization pools 100% of profits from sales, donations, and grant support to fund job skills training programs for its artisan partners in business management, technology, entrepreneurship, and English and Kinyarwanda literacy. Through these tailored education programs women develop the knowledge and skills to engage independently with global markets and grow their own businesses.
Photo: woman in Uganda weaving mat via Shutterstock