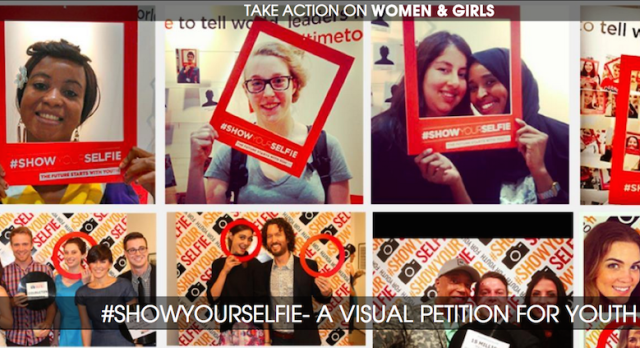 Global Citizen recently launched a movement called #ShowYourSelfie that is sending a powerful message to world leaders: NOW is the time to invest in youth. There are 1.8 billion young people — or just over 25 percent of the world's population — worldwide. One in four is too many to ignore, so the organization has created a list of six guaranteed rights that every young person should possess:
1. Access to Education, up to at least to secondary school.
2. Employment skills and opportunities.
3. Access to comprehensive sexuality education.
4. Quality health care, including access to family planning services
and information.
5. Safety from violence and harmful practices.
6. A way to participate in decision-making.
This is not a movement just for youth — anyone and everyone who cares about the rights of humanity can get involved.
By submitting your photo, you are signing a visual petition and showing world leaders that you want change. You're showing that you want the world's youth to be recognized and that you care about the six key issues that today's youth face.
Here's how to get involved and Enter to win a $25 Visa gift card:
Take a selfie (don't be afraid to get creative and fun — wigs, posters and pouty faces are welcome). Check out these examples
Upload your selfie to your favorite social network a.k.a. Instagram (we <3 Instagram), Facebook, Twitter, etc…
Add the hashtag #ShowYourSelfie and @TheCultureist along with your message to world leaders.
SEND your selfie out into social media space.
Sign up Here to enter your email, so we can tell you if you won (#winning)
Winner will be chosen at random at 9:00 a.m. EST on Monday, November 17, 2014.
That's it! You've done an awesome thing and we are grateful you got involved — THANK YOU!