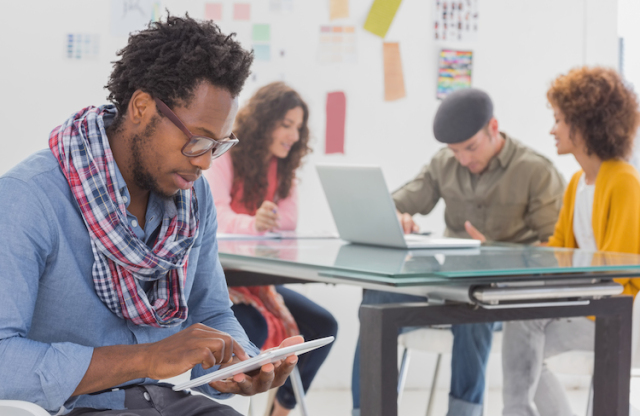 The name of the game these days is finding a job with purpose. It never hurts to snag a spot at a company that offers ping pong and a nap room, but most of us would be more than happy to be a part of an organization that gives back to the world in a positive way. The B Corp is the newest and coolest version of a social enterprise and these changemaking companies are attracting some of the brightest minds from around the world. Check out the coolest of the cool companies that have earned this prestigious certification.
Badger is a family run, family friendly business located on the banks of the Ashuelot River in rural Gilsum, New Hampshire, USA. The business was started back in 1995, in the kitchen of a carpenter who was in desperate need of relief for his rough, dry, cracked hands – the result of working daily in the unforgiving New Hampshire winter chill. Using Extra Virgin Olive Oil, Beeswax, Castor Oil, Aloe Vera and Essential Oil of Sweet Birch, a traditional New England herbal remedy, the original Healing Balm was born. Badger became a B Corp because the company wanted to codify their commitment to sustainability in a way that is transparent and clear.
Buy The Change serves as a bridge between talented, industrious women artisans in the developing world and the American marketplace. With access to an expanded customer base, struggling artisans can grow businesses and have access to income not otherwise available.  BTC works with NGO's and small craft co-operatives throughout the developing world to source fairly traded, woman made accessories, jewelry and home décor products, many of which are made from ecofriendly, up-cycled materials.  By donating 10% of sales to non-profit organizations, BTC supports social change both locally and internationally. The company is proud to be a registered B Corporation because it represents the high level of integrity and transparency from which they are founded and run the company.  BTC believes there is an important role for socially focused, for-profit companies to play in creating change around the world.
Project Repat ('Repat') creates fair wage jobs in the USA by upcycling excess textiles into more fashionable and functional clothing accessories. Repat customers send their t-shirts laced with memories to us, and we turn them into blankets, bags, scarves and ties. We also work with brands and universities to turn their excess into a product that can be given out at events, conferences and to donors. Each product is made in the USA by someone making a fair and living wage. Repat production partners include: Opportunity Threads, a worker-owned cut and sew enterprise in Morganton, North Carolina, NuPath- a non-profit in Woburn, MA that employs people with disabilities and also students at Shawsheen Valley Regional Technical School and Artists for Humanity in the Boston area. The business was founded on two principles the founders were not willing to comprise on: all products would be upcycled and the company would pay people a fair and living wage in the USA to make it. Project Repat is committed to making a social impact.
SEEDS is a green printing company comprised of environmentally conscious, creative professionals with years of experience in the fields of printing, design, marketing, writing and editing, and world-class customer service. It offers start-to-finish design consultation and production, for corporate marketing materials, books, catalogs, magazine publications, and small-business collateral material. The company is continually educating itself on the latest technologies of environmental printing and advancements in its fields and seeking ways to improve its Eco-friendly printer services.
FlipGive (formerly Better The World) provides a digital platform that connects brands to the $200+ billion fundraising market; converting customers into a sales force to raise money.  Their give-marketing programs help brands drive sales and create positive social impact in their communities. Give-marketing is a type of marketing where a company pledges "to give" to a fundraiser in exchange for the fundraisers promoting and selling on the company's behalf.  Current partners include Johnson & Johnson, Lowe's, Schwan's, Aldo, Indigo, Pearson, Aimia and other Fortune 1000 brands.
Founded in 1994, INDIGENOUS makes clothing that honors both people and the planet. They are a leader in organic andfair trade clothing. Their clothing supports thousands of artisans in the most remote and impoverished regions of the world and uses the finest organic materials and traditional skills passed down over thousands of years. As market pioneers of organic, fair trade clothing, Indigenous strives to continually innovate and raise standards for sustainable and social enterprises.
Alter Eco is a values-based brand of specialty food products that brings sustainable, delicious, exotic, and healthy ingredients from around the world to people here in the United States and Canada for their delight and enjoyment, while directly benefiting farming communities in the Global South. Directly from the farmers, Alter Eco brings food products that capture distinct attributes of various regions around the world including ancient supergrain Royal Quinoa from the Bolivian Andes, heirloom Jasmine Rice from Northern and East Thailand, Amazon-grown and Swiss-made dark chocolate bars, and unrefined ground Mascobado cane sugar from The Philippines.
Give Something Back Office Supplies (GSB) is California's largest independent office supply company, with giving back to communities integral to its core mission and purpose. Donation recipients are community organizations chosen through a balloting process that involves GSB's 17,000 customers and 100-plus employees. Give Something Back is a full spectrum supplier, counting print, MPS and furniture among their offerings.
Dolphin Blue's business goal is to provide ecologically sustainable products for use in home and business. They are an on-line retailer of paper products, tableware, children's toys, pet products, remanufactured toner cartridges, calendars, envelopes, garden products and much more. Their goal is to help you "Make Green Waves." It is the mission of Dolphin Blue to make sure that the next generation is better off than ours. Being a B Corp allows the company to codify, protect, and pass this mission along.
Grounds for Change is commitment to the triple bottom line – the social, environmental and financial implications of conducting business. Out of this concept grows premium quality, great service and a passion for their trade. The end result is a truly exceptional cup of coffee. Every single bean that they roast is Fair Trade Certified™, Organic Certified, CarbonFree® Certified and Shade Grown, which means the possibility of a real livelihood for coffee growers, a breath of fresh air for the planet, zero net carbon emissions from "crop to cup" and healthy forests for migratory songbirds.
Company profiles via B Corp Best for the World
Feature photo cool office via Shutterstock