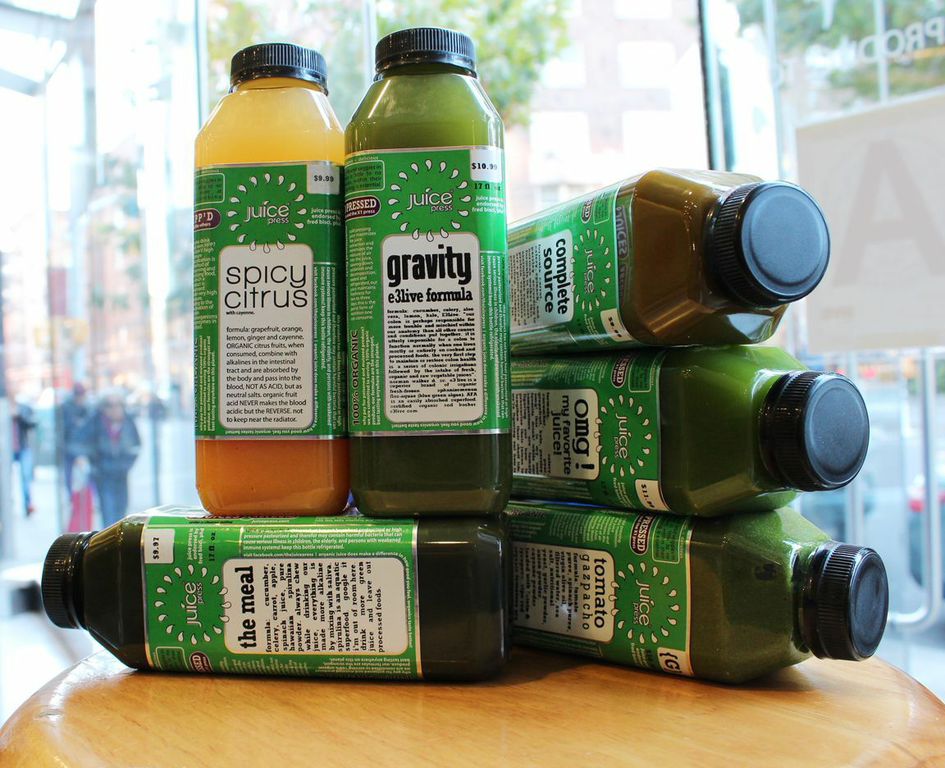 By 
Angelica Olstad 
In the health world, juice cleansing is on the tip of everyone's tongues. Although somewhat controversial in the medical world, die-hard fans swear by its promise to accelerate weight loss and improve overall health by detoxing. According to the philosophy, a juice cleanse clears out toxins that build up in the body and in exchange provide necessary enzymes, vitamins and minerals needed to nourish our system, making the body function more efficiently. Drinking raw and cold pressed juices has become so popular that even Starbucks has acquired their own line of cold pressed juices making this health trend a staple in the food industry.
Two years ago, I attempted a juice cleanse that turned out to be a complete disaster. At the time, there were a couple of options to choose from and I bought mine from a company (which will remain unnamed) that was experiencing a lot of popularity at the time. The product tasted great but it also had 10-20 grams of added sugars in each juice. I enjoyed drinking the juices on their own so I thought I would be ok for the cleanse. I was wrong. By the second day I was crashing from an intense sugar high and was experiencing "hangry", a unique combination of anger and hunger. It was at this point that I caved and got a slice of pizza which I then followed up with a donut, all within 20 minutes of each other. I figured, hey, I fell off the wagon already, screw this juice cleanse, I'll take that donut, please.
In a recent effort to revamp my health regimen I decided to give another go at a juice cleanse. I was inspired by a friend who had come off a nine-day cleanse and said he felt fantastic. This time I decided to be more discerning about the quality of the product and to do my research. I wanted to find a company that used only organic ingredients, no added sugars, and no use of high pressure processing (HPP) meaning no preservatives and freshness guaranteed. After researching various companies in the New York area I decided on Juice Press. With over 20 locations located in the city (and counting) they are a rising star in the juice industry. Not only do they stand apart from other juice companies with slick, edgy campaigns ads like, "Women who juice are sexy" their all vegan and organic juices have clever and catchy names such as, "OMG! my favorite green juice" (celery, cucumber, pear, grapefruit, kale, parsley), "LOVE at first sight" (green apple, spinach, lemon), or the popular "Doctor Green Juice" (red apple, pineapple, kale, lemon, ginger). Each store is inviting in its trendy yet minimalist decor and although each juice averages at about $10 a bottle there's an accessibility to the brand's effortless too-cool-for-school vibe. Hanging out at Juice Press feels fun, unpretentious, and like a great place to be healthy and drink juice.
The Juice Press cleanse focuses on a personalized approach to cleansing with some simple guidelines to follow. They focus on creating a cleanse that fits the needs of the individual based on activity levels, regular eating habits, and day to day lifestyle habits. Pre-cleanse guidelines include prepping the body by eating nuts and raw foods one to two days before the cleanse. For the actual cleanse itself it is suggested to start the day drinking fruit juices then transitioning to green juices later ending with a high protein or fat based drink. The suggested amount is six juices a day but the amount can be adjusted to fit the needs of the individual. For an added boost of energy there are also a lot of protein and fat dense drinks such as the luxurious and delicious "Lait de Coconut" or probiotic "Black Label" for energy. With over 84 formulas including juices and smoothies and a helpful, dedicated and knowledgeable staff to boot, I felt that there were enough options and resources for me to do this cleanse properly. So, nervousness aside, I plunged into my second attempt at a five-day juice cleanse.
Day 1 – As someone who loves to eat, making the switch to drinking just liquids was a huge adjustment. This was also the day that I cheated by eating some soaked cashews. It wasn't so much that I felt hungry but that I really had the desire to chew something. I was also incredibly tired. Very, very tired. So tired that the only activity I was really capable of doing was lying on the couch watching Netflix which was then followed by a three-hour nap. When I asked about my low energy, I was told that this was normal – just the body working hard to getting rid of toxins.
Day 2 – On Day 2 lying on the couch, weakly sending out emails, watching more Netflix and taking another nap seemed to be all that I could do. I also attempted a morning swim which I quickly realized required too much energy for me to expend. It looked like my regimen of biking, swimming, and yoga would have to wait until the cleanse was done.
Day 3 – By Day 3 I could see a significant improvement in my skin and the overwhelming desire to be chewing something all the time had subsided. It was also on Day 3 that I began to feel clear headed. In order to maintain energy I started to conserve speech, movement, and thoughts. As a yoga teacher who practices meditation I found the experience to be similar to deepened states one experiences after long periods of contemplation. Maybe I wasn't being particularly productive but I was definitely getting some of the best naps I've had in a long while.
Day 4 – By Day 4 I could see a drastic improvement in my skin and was told that I was experiencing "the juice cleanse glow". I also noticed that my features had sharpened as there was no bloating from alcohol or carbs in my diet. At this point I no longer felt hungry or even tired and I was now used to my low energy levels. My normally quick paced movements and speech patterns became slow and carefully thought out. Every word took effort, every step was taken with care, I became hyper aware of every action I took.
Day 5 – Last day. The aforementioned friend who had gone on the 9 day juice cleanse had reached out to me the night before when he saw the pictures I had been posting on Facebook about the cleanse. In his email he told me to lie down, sleep for 10-12 hours, and to bask in the sun. It made me feel a lot better about my juice induced comas I experienced. I spent some time sitting and reflecting on the experience. Not only was I grateful for the experience to discipline myself in this way but it made me reflect on other things I do in my normal life. Like mindlessly putting foods in my body or wasting energy on negative and meaningless thoughts. I originally had planned to break my fast for the end of Day 5  but realized that food could wait until the morning, I had made it this far.
It's been two weeks after the cleanse and I'm told that I still have a glow to my skin (although at this point that may be mistaken for the summer tan I have from my morning swim sessions). Since the cleanse, I've been taking serious note of what foods I do put in my body. I am starting to choose tea over coffee. I am drinking more water than before. I am also more conscious of my body by putting more care into what I eat on a regular basis. As for my daily regimen following the cleanse I am still buying green juices at Juice Press. While it may be more costly than the juice at the local deli I know for sure that the ingredients are high quality and it comes conveniently in a bottle ready for purchase – perfect for New Yorkers on the go looking for organic produce.
Would I do this again? Absolutely. Although, I see myself only able to do a cleanse maybe once or twice a year. For those that are considering a cleanse there are a couple things to consider: price, logistics and quality. The high quality of Juice Press products are guaranteed fresh and organic which ensures a healthier pure cleanse with no sugar crashes, but it also runs at a high price tag at $60-$70 a day – not particularly easy on the wallet. Then there is the issue of fatigue. I am a moderately healthy and active individual yet the fatigue I experienced from the detox was quite extreme. As a freelancer I can afford to work from home and be flexible with deadlines but for those with more traditional work situations I would suggest doing a three-day cleanse over the weekend that allows for ample vegging, napping, and spending time with Netflix.
The juice cleanse is not for the weak or the timid but it is great for those who are looking to take their health regimen to the next level and/or pressing the reset button. For more information about Juice Press visit www.juicepress.com.
ABOUT THE WRITER
Angelica Olstad is an assistant editor for The Culture-ist. In addition she is also a yogi, musician, and traveler living in Brooklyn, New York and is a regular contributor for MindBodyGreen. Follow: @yogipianist