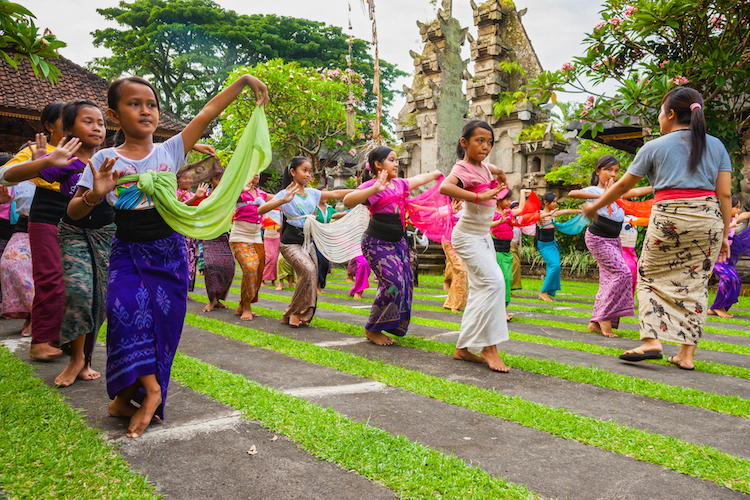 Dancers in Ubud photo via Shutterstock
By JJ Fox
Acie greeted me as I walked through the door to the Pondok Pekak library, which was hidden behind a football field near Monkey Forest Road.
"My name is Atch-ee, not Ay-cee" she said with a grin as she noticed me glancing at the slip of paper in my hands, "Lots of people get that wrong".
The room was spacious but basic. Some wonky bookshelves contained a number of English language novels, which can be withdrawn for a small deposit, and a small makeshift stage had been erected along the entire length of one of the walls. Acie disappeared into a small side room and re-emerged a moment later with a basket full of sarongs. She pulled one out, glanced at me then started wrapping it round my waist. My first ever Balinese dance class was about to begin.
On the first night I arrived in Ubud, I was approached by countless street vendors trying to sell me tickets to see a traditional Balinese dance, which was being performed the following evening. Never one to say no to new experiences, I bought a ticket and 24 hours later I was bearing witness to one of the most fascinating spectacles of my life. Dancers in fantastically coloured costumes re-enacted the story of Rama and Sita to a chorus of men humming and playing drums. Their movements were so fluid and they moved with such ease and grace. Hypnotised by what I'd just seen, I decided to try it out for myself.
The music started and Acie showed me the dance she was going to teach me. Her choreography was not elaborate but it was intricately detailed right down to the wiggling of each of my fingers. An hour later and every muscle in my body ached as sweat dripped down my forehead. It was an unbelievably tough yet rewarding hour and I ended up tipping the same amount as what I'd paid for the class (about $10) simply because of how awestruck I was by the talent this woman had just demonstrated. Once the class was done we sat together and started to discuss her dance school. She explained to me that there was much more than just dance on offer in this library turned arts centre. Gamelan music, weaving, jewellery making and Indonesian language classes were among the dozens of other classes offered by Acie and her small team of workers.
So what makes these enterprising young Indonesians worth writing about? It isn't unusual for someone with an expertise in something to use it to his or her advantage.
In Bali, starting up and maintaining a businesses, whatever the size, is challenging. To gather the initial funds can be a Herculean task daunting enough to put off even the most intrepid. However, if, like Acie and her team, you manage to overcome this first hurdle the path doesn't get any easier. Cultural classes, such as those offered here are of no interest to locals and thus the centre can solely target tourists, a precarious market with global recession in action.
This centre offers dozens of jobs for locals and while each employee receives a salary, much of the profit goes towards improving the facilities of the centre which are subsequently made available for use by the local community. The centre demonstrates a responsible and sustainable way in which the Balinese community can support itself. Unfortunately they depend on us and as global citizens it is our duty to support such programmes as best we can.
Naturally, the Pondok Pekak Library doesn't have a fancy website or any form of marketing strategy. All it has is a few posters stuck up around Ubud and a team of dedicated employees. Next time you're passing through, why not pay them a visit and learn something new, it might end up being the first thing you've ever bought that made you richer.


JJ is a student at the University of Warwick where she is studying English and French literature. A trip around southeast Asia was responsible for her love of Asian cuisine as well as her wanderlust. In addition to food and travelling, her passions include dance, skiing, reading and writing. To see more of her work check out her travel blog: http://jjversustheworld.blogspot.co.uk