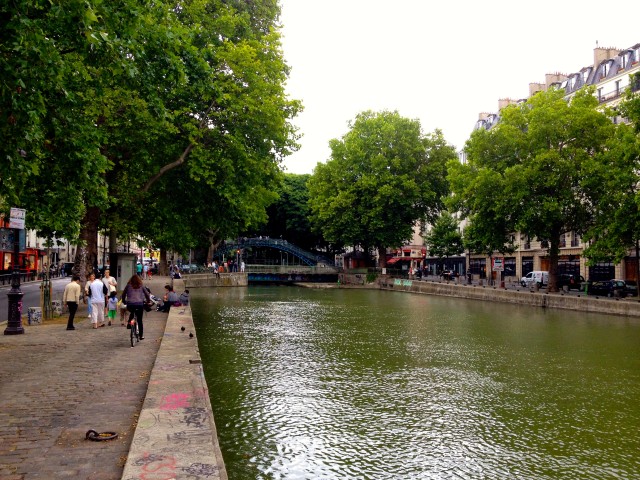 BY CHELSEA BOORMAN
It had only taken a week of living in Paris to hear the term bobo and to learn about the existence of the canals. I soon discovered that the two went hand in hand; Canal Saint Martin may as well have been the birthplace of French bobo. A far cry from the pristine and expensive Saint Germain-des-Prés neighborhood, the area near Canal Saint Martin soon became one of my favorites in Paris.
To be bobo, as my French friend described, is to embody both a bourgeois character and a bohemian attitude. People who define themselves as bobo enjoy the nicer things in life yet have adopted a tolerant and counterculture view of the world. The idea of luxury is valued, yet it's trendy to opt for experiences with a bohemian edge – for things that are slightly unconventional. The fusion of the bourgeois with the bohemian creates a distinct character that is truly difficult to describe on paper; I urge you to experience it for yourself.
The main metro stop in the area is République, however it's worth getting off at Strasbourg-Saint Denis to witness the process of gentrification in action. Stepping out onto Boulevard Saint-Martin reveals a multi-ethnic neighborhood largely dominated by African and South Asian cultural influences. Here, you'll find an assortment of street food vendors and African hair shops. It's surely not the most beautiful part of the city, and yet merely a step away is the quaint and picturesque area near Canal Saint Martin with its trendy restaurants and boutiques populated by bobo youth. It's unlikely that many of the immigrants living in the nearby areas could afford to eat and shop in this neighborhood.
To get the full experience of this bourgeois bohème enclave, it's worth visiting both during the day and at night. During the day, you'll be able to differentiate what looks like graffiti tags and actual street art. You'll also find that there are enough bookstores, record shops, boutiques, cafés, and lunch spots to satisfy your inner bobo. Make a trip to Bob's Juice Bar where you can detox with a fresh cold-pressed juice to balance out the heaping mounds of cheese, bread and chocolate that you've probably been eating the entire time in Paris, with good reason. Right next door to Bob's is Tuck Shop, a charming hole-in-the wall eatery where you can enjoy sandwiches, salads, and baked goods. For vegans/vegetarians craving hearty fare, check out Sol Semilla only a few doors away.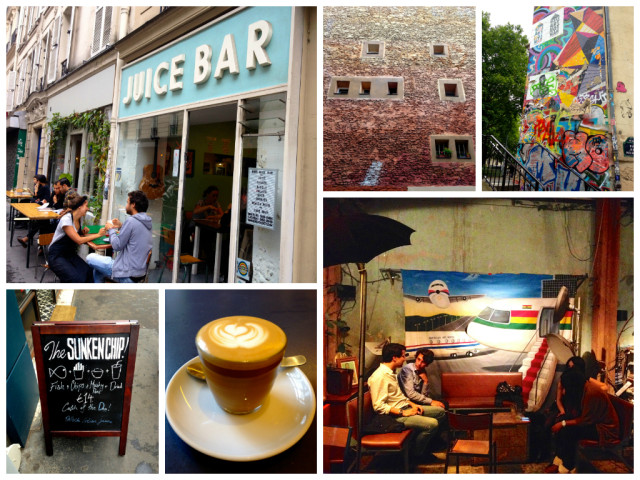 Just up the street from these eateries is Café Craft, which, as a coffee shop offering free Wi-Fi, is the perfect place for bobo spotting. On that note, Paris does many things well, but coffee is not usually one of them. Ten Belles, a coffee shop on the other side of the canal, does coffee and customer service exceptionally well. It's a small space, but ordering a cup of coffee or espresso is a must while exploring this neighborhood.
When the sun sets, the canal transforms. The graffiti takes on a grittier appeal while the canal plays host to young Frenchies drinking wine and smoking cigarettes and marijuana. For those who want the bobo experience and are willing to shell out 70€ per person for a meal, grab a seat at the bar of Le Dauphin, which was without a doubt the best food I ate in Paris. Le Dauphin is the brainchild of Iñaki Aizpitarte serving up delicious and inventive small plates (think: squid ink risotto, braised pork belly with mango slices, succulent grilled squid, fried tapioca, steak tartar, buttermilk ice cream, and raspberry sorbet in a white chocolate froth) alongside an extensive wine list. Servers with tattoos help create an atmosphere that is relaxed and comfortable, yet with an interior clad in white marble and mirrors, Le Dauphin also has a polished vibe.
If, like most people you don't have 70€ to drop on dinner, grab a late meal at the Sunken Chip, a French take on British 'fish and chips' for 14€. Then, buy a bottle of wine from the nearby Carrefour to enjoy alongside everyone else on the canal.
When drinking along the canal doesn't strike your fancy, head to a street called Rue Jean-Pierre Timbaud near metro Goncourt. The street is lined with cheap and eclectic bars, including L'Orange Mécanique, which happened to be a good place to watch a rowdy World Cup match and enjoy a mojito and Delirium beer on tap. With its 1960s/70s rock décor, Jim Morrison records on the wall and a giant projection screen playing videos, this bar was just as laid-back and slightly weird as the rest of the neighborhood.
Then, there's Comptoir Général, which operates on a whole other level of bobo. While many people might think the entire neighborhood is a bit unexpected for Paris, Comptoir Général is even more unexpected; it's a self-proclaimed ghetto museum. There's no obvious way to find the entrance except to look for the long line of people near Quai de Jemmapes and Av. Richerand, beginning at 11:00 PM. Its mission as a museum is to highlight ghetto culture as a representation of creativity and ingenuity by exemplifying the exotic, honoring African history, and evoking simplicity as a source of freedom and happiness rather than through the derogatory implications of "poor" and "ghetto."
Every ounce of the building is devoted to collecting, preserving and promoting African art, music, politics, and fashion; this setting very easily transports guests to another realm. In the name of good vibes and happy times, as Comptoir Général attempts to enthuse, there are plenty of drinks to choose from: beers on tap, jus de bissap, a juice made from pressed hibiscus flowers, and jus de gingembre, a zesty West African ginger juice. The alcoholic version is also available with a very heavy emphasis on rum. Comptoir Général is technically a non-profit foundation and entry into the bar is as much or as little as each person is willing to donate.
So, when in Paris, visit the Eiffel Tower. See Notre Dame. Do the typical touristy things, and when you get tired of fending off other tourists and eating at overpriced cafés, take the metro to the Canal Saint Martin neighborhood. Go to this neighborhood before it becomes inauthentic and overrun by visitors, a bit like what the Marais has now become. And when you go, take it for what it is. It's not pristine, it's not majestic, it's not necessarily historic – but it is one of the best neighborhoods in Paris for unleashing your inner bobo.
Bob's Juice Bar: 15 Rue Lucien Sampaix, 75010 Paris, France
Tuck Shop: 13 Rue Lucien Sampaix, 75010 Paris, France
Sol Semilla: 23 Rue des Vinaigriers, 75010 Paris, France
Café Craft: 24 Rue des Vinaigriers, 75010 Paris, France
Ten Belles: 10 Rue de la Grange aux Belles, 75010 Paris, France
Le Dauphin: 131 Avenue Parmentier, 75011 Paris, France
Sunken Chip: 9 Rue des Vinaigriers, 75010 Paris, France
L'Orange Mécanique: 72 Rue Jean-Pierre Timbaud, 75011 Paris, France
Comptoir Général: 80 quai de Jemmapes, 75010 Paris, France
ABOUT THE AUTHOR:
Chelsea is a student at Johns Hopkins School of Advanced International Studies where she studies international economics and foreign policy.  To read more about her travels, visit her blog: http://twentysomethingandabroad.com/.
Feature photo via ho visto nina volare