By 
Masha Vapnitchnaia
I don't actually know if he was little, I couldn't tell from his one weathered sandal encased in glass along with a few of his books, a sleeping mat and his death mask. "He was a pilgrim, like you," my host Colette explained as I paused before a painting of the saint. I was standing in the church of Amettes, a small village in Northern France, surrounded by farmland and fiery strips of poppies in bloom, holding a pale, floppy iris in my hand. I would be spending the night at Colette's small pigeon farm where she welcomes pilgrims like myself on their way to Rome and I had asked if I could tag along to the church to help replenish the alter pieces with flowers from her garden. "Before I was a pilgrim, I was a florist," I assured her.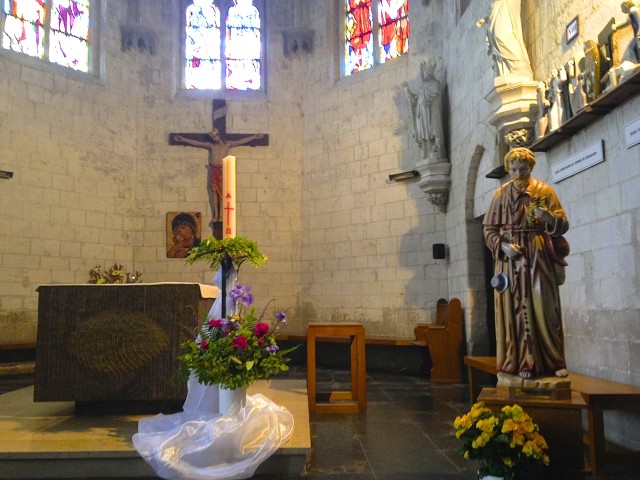 I had just started walking the Via Francigena—a thousand-year-old pilgrimage that begins just outside Canterbury Cathedral and ends some three months later in St. Peter's Square. Over the centuries the road to Rome has been walked by thousands seeking everything from an official pardon from the Pope to a miracle, a cure, adventure or an excuse to get away from their families for a while—the 14th century equivalent of stepping out to buy cigarettes. Some, like Sigeric, the 10th century Archbishop of Canterbury traveled to Rome on official church business, visiting the main office in the Vatican and meeting with the big boss. It is Sigeric's painstakingly notated return journey from Rome that served as the first guide to the Via Francigena and pilgrims looking for the official trail through France, Switzerland and Italy still follow his route.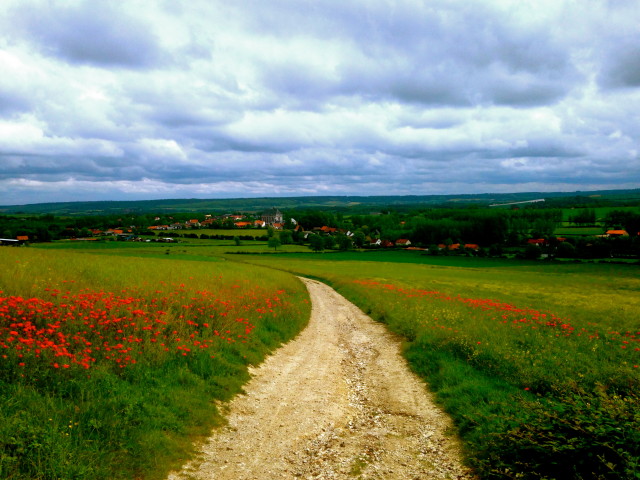 Being neither murderer, bishop, nor religious, my presence on a Christian pilgrimage is surprising for everyone who knows me and not least of all for me. What's more, the Via Francigena is only the first leg of an entire year of spiritual strolls that I will be taking around the world and across its many religions. When people ask me why I decided to walk my way around the globe, the most honest answer I can give them is the same answer Benoît gave when he was asked about his chosen path in life—I do it because that is what my heart tells me I should.
He was born Benedict Joseph Labre in the spring of 1748 in a house that still stands just across the street from the church where I was toiling away. The youngest child of a middle class merchant family, all he ever wanted was to be a priest. Once he turned eighteen he tried to join the seminary, but was immediately rejected. He tried again. And again. Each Abbey whose door he knocked on gave him one of several excuses—he was too young, his Latin too poor, his health too shaky, his qualifications nonexistent.
"I think he was a little strange and people didn't know what to make of him, you know?" Collette had been filling me in on some of the details of Benoit's biography.
"I think we're all a bit strange when we're in pursuit of our dreams," I said thinking about my own travel plans. Just like Benoit, I was in the grips of inspiration that from the outside closely resembled a mild form of insanity.  And like Benoît, I had been called unqualified for such an undertaking. The following is a list of things I should be in possession of in order to succeed in my quest, according to some: a gym membership, a basic knowledge of the history of Christianity, Islam, Judaism, Buddhism, some religious training in any of the aforementioned belief systems, the ability to read maps, an inheritance, a Y chromosome, and a can of pepper spray. I have none of the above but I've realized that what makes me the perfect candidate to go on spiritual pilgrimages for a year is simply the fact that I am the one doing it. It is the same principle that makes people who paint—painters, and Benoit the perfect candidate for sainthood.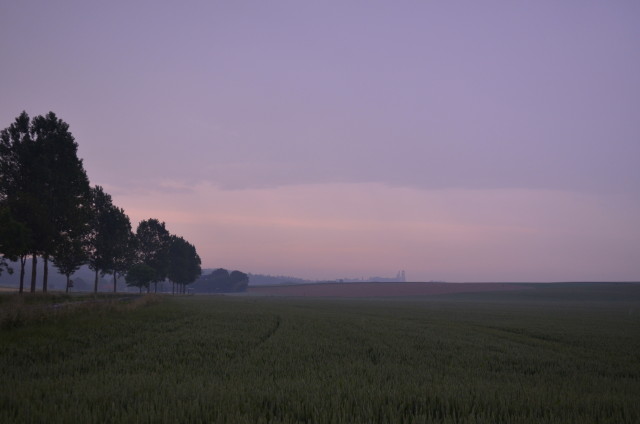 There is a game where you take turns sticking Post-its with a celebrity's name to each other's foreheads. Everyone but you knows whose name is written on the paper hanging from your face and the goal is to guess who you are by asking the other players questions: am I an actress? A rock star? Am I beautiful? Talented? I've spent a large portion of my life playing a similar game, looking to others to tell me who I am and I don't think I'm alone in this. Benoît, on the other hand, was so convinced of his purpose that after being denied the one thing he wanted, he just found another way to serve the Church and became a pilgrim.
"One day he left everything behind and started to walk," Colette continued standing in front of the glass box with his shoe.
As a career pilgrim, young Benoît depended on the generosity of strangers as he made his way from city to city. Barely able to survive on the alms he received, he still found something to give to those with even less and he became known as the protector of the poor, the homeless and the outcast.
"But how did he become a saint?"
"He didn't perform one big miracle, but many little ones," Collette explained. I imagined him to be the kind of man who would feed a hungry dog scraps under the table at a dinner party while the more glamorous saints, tipsy and proud turned salt into diamond dust. His miracles were not meant to impress the world, but rather to mean the world to one, tiny overlooked soul.
By the time he collapsed of malnourishment on the steps of the Church of Santa Maria ai Monti in Rome less than a month after his 35th birthday, Benoît had walked 30,000 miles all over Europe. The following day, just after he died in the home of a neighborhood butcher, children all over Rome began to weep in mourning, or so the story goes. As news of the death of this eccentric, gentle man spread, so did the accounts of his generosity and compassion. His funeral was attended by throngs of Romans and grew big enough to require security back up. A hundred years after that, he was canonized by Pope Leo, finally receiving the acceptance from the Church he had always wanted. I am not too familiar with the hierarchy in the Catholic Church (add it to the list) but I imagine getting sainthood is the equivalent of receiving the Nobel Prize or, at least, an Academy Award.
Though the Via Francigena officially ends at the Vatican, once I get to Rome in a few weeks, I think I'll skip the crowds of groupies waiting to take a selfie above St. Peter's tomb. Back at her farmhouse Colette wrote down on the back of a card with the image of Saint Benoît, the address of the church where I can find him. Pale, with a thinned hairline and downcast eyes, he is not what you would call a sight for sore eyes but he is exactly the man I'm walking a thousand miles to see.
About the Author
Masha Vapnitchnaia was a writer living in New York City until she decided to go walking pilgrimages around the world for a year. By following ancient paths in the footsteps of thousands of others on quests for adventure, salvation and forgiveness she hopes to glimpse the common ground that binds us across cultures and religions. Walk with her at 
unlikelypilgrim.com
.
Photos property of Masha Vapnitchnaia