Ibiza openly welcomes all types of visitors: jetsetters, families and clubbers alike. But only few are aware that long before the clubbing boom, Ibiza was a simple island with natural beauty attracting "hippies" and musicians. Rural Ibiza, away from the busy streets, nightclub scene and loud cafés, is pristine and peaceful. The island is blessed with beautiful scenery; cerulean beaches, hidden coves, cliffs and mountains, almond and olive groves, charming villages and a laid-back atmosphere. And thankfully after all these years, and despite commercial pressure, the alternative scene of thinkers and modern beatniks embracing the so-called boho chic lifestyle is flourishing.
Stay: laid-back luxury
Photo by Raquel Martinez Royo

Villa Mabrun is an ideal choice to spend time in a secluded and relaxing environment alongside stylish, colorful design and furnishings. Surrounded by spacious terraces and a shaded garden with exotic Mediterranean plants, it reflects a truly laid-back, boho chic lifestyle.
Villa Gust is located in the hillsides of Cala Salada, and offers the most glorious sea views. Large couches, sofas and sun beds create a peaceful space for relaxation, and bright vibrant elements set the mood for a truly Ibician bohemian getaway.
Villa Wekit : Extensive greenery surrounding this great house provides tranquility in nature. The house surprises guests with fashionable details and chic furnishings.
close to nature
In addition to luxury villas, there is an abundance of rural tourism, known as 'agroturismo'. The rustic properties are restored and converted into stylish accommodations, from old granaries to ancient farmhouses.
High on a hill near San Carlos, a boho agroturismo Can Talaias welcomes guests with an easy vibe and wonderful ocean view. Surrounded by oleanders, lush palms and pines, this charming hotel serves up home-cooked meals using produce from their own gardens.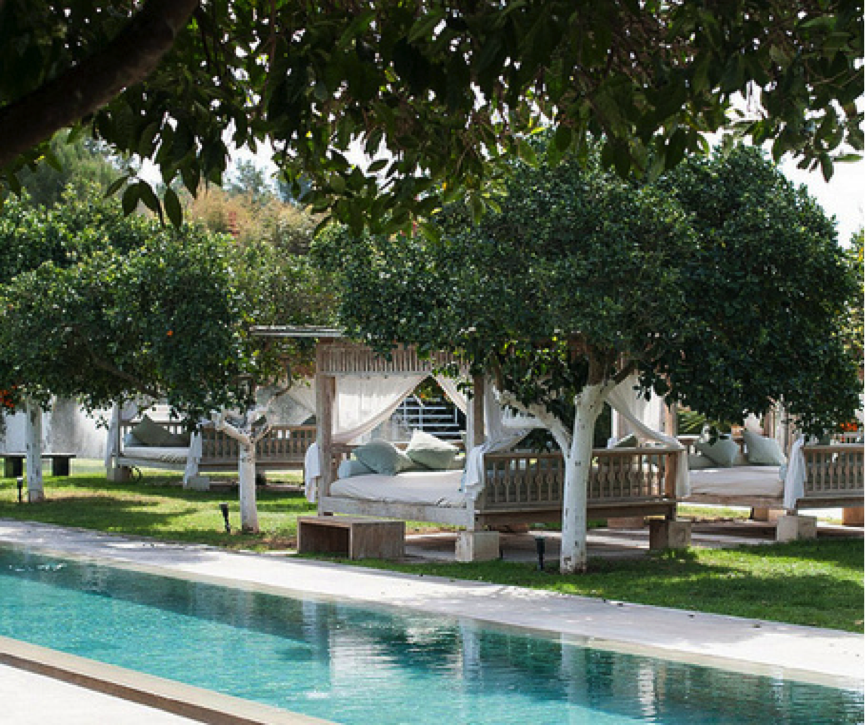 Atzaro, near Sant Joan, is a very hip rural retreat. The visually impressive property boasts statues, greenery, bronze Buddhas, secluded nooks to relax, daybeds and a spa.
Local, organic cuisine
There's no better place to enjoy fresh dishes in a natural setting than at La Paloma Café, set in a small garden in San Lorenzo. Situated among orchids and orange trees, the cafe serves up delicious food with homegrown vegetables and sweet herbs.
Another venue for healthy dining is Passion, which has four locations around the island. This lovely eatery serves a number of fresh juices and dishes that will satisfy almost any cravings. Some notable items are breakfast yoghurts, lentil and quinoa salads and raw chocolate desserts.

Mixing with the boho crowd
Best Markets
Punta Arabí on Wednesdays
Es Caná and the Las Dalias on Saturdays in San Carlos
These markets attract crowds to the artisan side of Ibiza. Hundreds of stands showcasing anything imaginable; vibrant crowds and live music in rustic bars exude bohemian spenldor.
Beaches
Aguas Blanca Beach – Secluded Natural Beauty
Berrais Beach – Laid-back atmosphere and a bohemian crowd
Local Organic Food & Booze
Babylon Beach Bar provides great sea views and an organic menu — everything is locally produced from the coffee to salt and olive oil.
Where to Hear the Best Music
Sunset Ashram or Kumharas, both in Sant Josep, provide enjoyable music on relaxed terraces as the sun sinks below the horizon.

The neighboring sister
Just a short ferry ride transports visitors to the little sister of Ibiza island, Formentera, where the music, paella, fresh fish and chic crowd mingle. This destination offers even more pristine beaches and the kind of azure waters that can be seen in the Caribbean. This corner of Mediterranean is pleasantly underdeveloped.
*This sponsored article was provided by Bonder & Co. 
Bonder & Co, a luxury villa company and concierge agency, has established deep relationships with many clients, searching in Ibiza something different than clubbing. Renting one of the wonderful Bonder & Co's villas, opens doors to number of top class concierge services tailored specifically for any demand. Clients are happy to use private chefs, driver services, massages and beauty treatments on the terrace by the sunsets, personal yoga instructor or personal butler. Moreover they're able to get any impossible-to-get reservation anywhere asked.
The company serves boho chic group of friends as well as families and with 8 years of experience, they feel confident enough, to advise on the crème de la crème of the island's treasures, suiting every and any demanding taste. To provide a little sneak peek to this Ibicenco bohemianism, delivered exclusively to their highly respected clients, Bonder & Co introduces a piece of their ultimate guide to boho chic Ibiza.