The Anaheim Packing House, a former Sunkist factory turned food hall reminiscent of San Francisco's Ferry Building or NYC's Chelsea Market is unlike anything else in Southern California.
The almost 100 year old citrus packing house was saved from certain destruction by the City of Anaheim, who teamed up with The Lab Holding, LLC., to concept, renovate and manage the space. Having just opened in May of 2014, this new community gathering place tips its hat to Orange County's rich agricultural history and houses more than 20 hand-selected culinary artisans including: a fresh vegetable stand, juicery, chocolatier, sandwich maker, pizzeria, fish market and more.
Here's a sample of some of the offerings: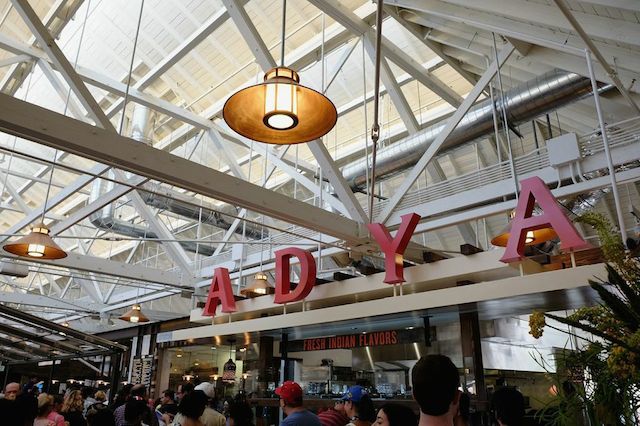 ADYA
ADYA showcases the flavorful street food of India. Inspired by the multitude of bright flavors and textures representing the diversity of India itself, ADYA presents food that balances the bounty of California with the bold flavors and spices of India. Working with local farmers,growers and purveyors, ADYA strives to use local, organic, biodynamic ingredients whenever possible. Combining these with modern creative and classic Indian styles of cooking, Chef Shachi Mehra presents artfully balanced fare. The carefully curated wine list and rotating craft beer list complement ADYA's vibrant flavors and casual style. ADYA's passion for hospitality comes through with each bite, every sip and with every smiling interaction.
Black Sheep
From the folks who brought you The Cellar cheese shop in San Clemente, SoCo and Anaheim's Center Street, comes a grilled cheese sandwich bar. The Cellar folks' fourth shop is focusing on melted cheese goodness using their boutique cheeses from around the world and bread from the OC Baking Company. Precut and wrapped wedges of cheese will also be sold.
The Blind Rabbit
Eighty years ago America's short-lived ban on alcohol came to a close. With the end of Prohibition, the thrill of secret bars, false store fronts, and password only admissions curtailed. The Blind Rabbit takes us back to those days of excess and hidden passageways with luscious hand crafted libations designed by The Blind Rabbit team and artisan dishes by Chef Andrea Machuca. Take a journey back to the 1920's and keep the spirit of a time passed alive.
Cafecito Organico
After opening its first brick and mortar location more than four years ago in Silverlake, Los Angeles, Cafecito Organico has quickly spread across Southern California extending its reach from Malibu to downtown Anaheim. From humble beginnings as a small batch roaster featured at various farmers markets in Los Angeles, Cafecito Organico has continued to spread its message of sustainability, compostable products, and organic coffee to all who come through its doors.

Orange Tei
Discover the authentic taste of Japan that's been kissed with a bit of Southern California sunshine at Orange Tei, a premium gourmet Japanese restaurant offering a variety of original Sushi Rolls and Ramen produced by Ramen Master Shigetoshi Nakamura. Orange Tei was created by a team of talented chefs and creative individuals from Japan and Southern California looking for an authentic, yet original culinary experience. The "Orange" of Orange Tei was given to celebrate the opening of the first store at the historic Anaheim Packing House. "Tei" means "a space to relax and enjoy" in Japanese. The restaurant's signature Citrus Ramen uses a special chicken base broth that is as comforting as chicken noodle soup, but possesses the umami of authentic Japanese cuisine. The original Yuzu and Citrus Orange blend makes this ramen addicting!
The Kroft
With an emphasis on what's fresh, local, and seasonal, The Kroft has set out to bring food back to how it used to be — absolutely wholesome and delicious. It's menu features sandwiches of crispy- skinned porchettas, crackling on the rotisserie alongside loads of prime rib. All meats undergo preparation methods that take a minimum of 24 hours from start to finish. All fries are hand-cut for their specialty poutines, and all meals are served with house-made soups and sides. The Kroft is the brainchild of Matthew Tong and Stephen Le, brother-like friends who share an extreme passion for food, and the creators of the highly acclaimed SWSH Shabu Shabu.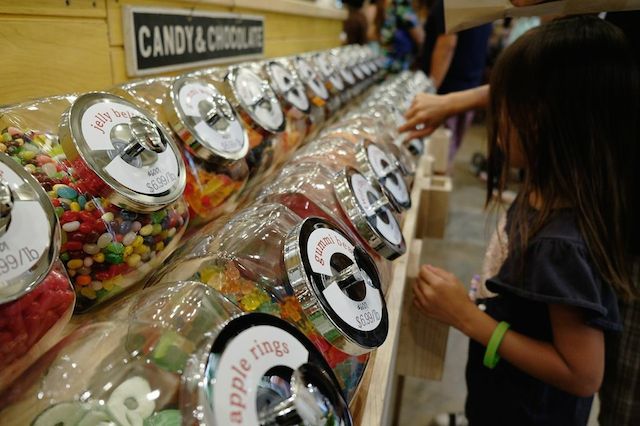 buy'n bulk
buy'n bulk brings an innovative food shopping experience to Southern California that combines the bulk food concept, with healthy, fresh food choices to cater to healthy, environmentally friendly lifestyles. buy'n bulk carries hundreds of products – from spice to nuts, cereals, grains, candy, chocolate, snacks, baking ingredients and supplies, dried fruits, health and natural food products,and more. At buy'n bulk the customer buys as much or as little as they want – scoop and save.