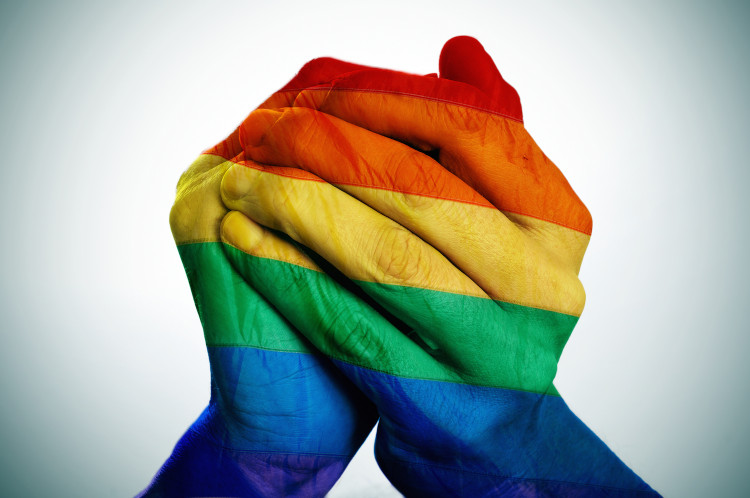 Solidarity LGBT photo via Shutterstock
BY BETH LALONDE
Walk down the main street of any city next weekend and you'll see them: rainbows. They're on every corner, waving cheerfully from flagpoles and spilling out of windows in glorious ROY G. BIV. Enormous banners in pink and purple are never far behind, advertising a bevy of special sales and promotions. Around the world, Pride festivities are in full swing. It seems like everyone is eager to cash in – from Wall Street giants to Main Street mom n' pops.
In many ways, our modern Pride celebrations couldn't be more different from the event they're commemorating. Forty-five years ago, just after midnight on June 28, 1969, the New York City Police Department conducted a routine raid on the Stonewall Inn. Crowds of trans women, sex workers, and homeless youth were handcuffed, herded out of the bar, and into pushed into paddy wagons.
And then a curious thing happened.
The people in handcuffs began to fight back.
These days, it seems like those details of Pride's origins have largely been forgotten. Later this year, Roland Emmerich, best known for directing big-budget blockbusters light on plot and heavy on special effects, will direct and produce a film about the riots. So far, every actor attached to the project is, like Emmerich, a cisgender white man. Trans women of colour, like Marsha P. Johnson and Sylvia Rivera, who were present in the riot and crucial to its success, are absent from the screenplay.
But Emmerich's film is only the latest indignity in a long tradition of the mainstream LGBTQ movement's pointed exclusion of women, transgender people, and people of colour.
And TransJustice, a group of activists affiliated with New York's Audre Lorde Project, has had enough.
On June 27, from 2:00 p.m. to 5:00 p.m., the Audre Lorde Project, along with other trans and gender non-conforming organizations and individuals, will convene at the Christopher Street Pier to commemorate Stonewall – and reclaim its legacy.
The occasion will mark the Audre Lorde Project's tenth annual Trans Day of Action, an event created both to honour those who fought at Stonewall and to draw attention to the continuing struggles of transgender people of colour.
The mainstream LGBTQ movement, backed by predominantly white, cis, and male organizations such as the Human Rights Campaign, has, in recent years, focused almost exclusively on the issue of marriage rights. Tremendous advances have been made towards nationwide marriage equality. Nineteen states have legalized marriage equality, and federal lawsuits protesting discriminatory marriage laws are pending in each remaining state. While these advances are worth celebrating, many of the LGBTQ community's most marginalized members feel that equally important causes have been neglected. Not all of these causes are as glamorous – or as good for businesses, which deal in extravagant weddings – as marriage equality.
The Trans Day of Action aims to spotlight these causes, and build solidarity between those who feel excluded from mainstream Pride celebrations.
The Audre Lorde Project's Points of Unity detail the purpose of the Trans Day of Action. The first item on the list is a call for the end of police violence against trans and gender non-conforming people, especially the displaced queer and trans youth of colour who gather at the Christopher Street Pier. Other items include calls for access to publicly funded trans-inclusive health care, an end to housing discrimination, and new laws to prevent homophobic and transphobic discrimination in workplaces and schools.
The last item on the list is, arguably, the most pressing: a demand for justice for trans and gender non-conforming people of colour who have been victims of violent hate crime. According to the Anti-Violence Project's most recent report on homophobic and transphobic hate crime, trans people of colour are nearly 30 percent more likely to experience violence than any other group in the community. Trans women are particularly vulnerable, comprising 40 percent of all LGBTQ murder victims. As recent Time covergirl, actress Laverne Cox, said in a February appearance at Harvard, simply "walking down the street is a contested act for many trans women of colour."
The AVP report calls for the Department of Health and other governmental agencies to recognize violence against transgender women of colour as a public health crisis, and . But these policy recommendations have yet to garner anything like the widespread support that the marriage equality movement has received.
If you're interested in supporting the work of TransJustice, and learning more about LGBTQ politics beyond marriage equality, consider stopping by the Christopher Street Pier on June 27. For more information, visit the Audre Lorde Project's website.
ABOUT THE WRITER
Beth Lalonde is a political science and queer theory major based in Toronto. She writes about the cultural, the political, and the sexual. Visit her online at lalond.es.