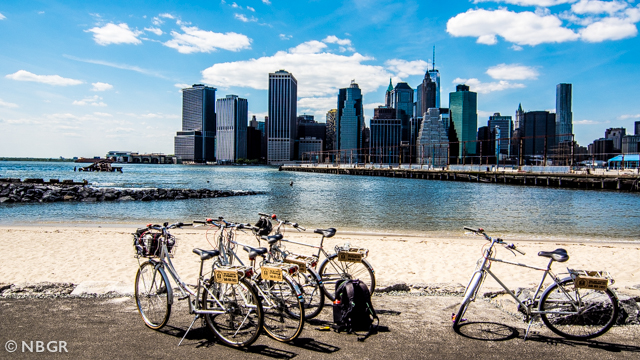 By Angelica Olstad
Get Up and Ride, a Brooklyn-based bicycle tour company that focuses exclusively on urban landscapes, graffiti art, and good eats is perfect for the more adventurous traveler interested in learning about this culturally-rich borough. The bike tour features easy-to-ride street cruisers and in-ear walkie talkies so that riders can be tuned in to the tour guide while riding through the side streets of Greenpoint, Williamsburg, Downtown Brooklyn, and Dumbo.
Riders will learn about the history of each neighborhood, ethnic enclaves, gentrification, local street artists and the best places to grab a slice of pizza or a cappuccino. Also unique to the tour is private access to the Brooklyn Navy Yard farm, a 65,000 sq. foot space comprised of urban agriculture, which currently stands as the largest rooftop garden in the world.
Get Up and Ride is also expanding their summer programming by offering additional events such as Bikeable Feasts with farm-to-table  dinners with North Brooklyn Farms and yoga brunch events with Pop Up Yoga NYC. While tourists can attend, these events are designed specifically for locals looking for new ways to explore the city. These experiential biking, dining, and health excursions go beyond the scope of the typical restaurant and nightlife scene, perfect for the New Yorker looking for a fresh and unique weekend experience.
 About the Writer
Angelica Olstad is a yogi, musician, and traveler living in Brooklyn, New York and is a regular contributor for MindBodyGreen.
 Brooklyn bike tour feature photo via Shutterstock