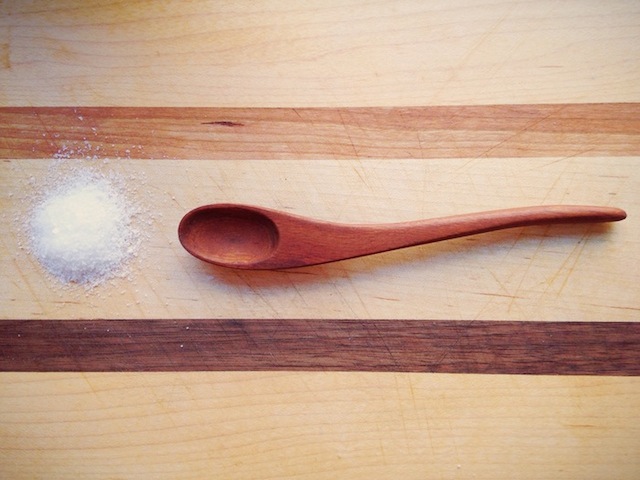 Photo via HeartWood
We love supporting entrepreneurs with a vision that goes beyond the products of their startup. Below are some recent Kickstarter projects that we hope rally the necessary funding to get their consciously cool businesses off the ground:
HeartWood is a line of wooden house and kitchen ware made primarily from material salvaged in and around New York City. Founder Naomi Feuerstein fuses modern design with traditional woodworking techniques. The handmade pieces are created from the "urban forest" (trees in parks and city streets), former structures, and general wood waste. Beyond cutting down costs and actively promoting sustainability, this gives a special story to every single piece.
Atelier ANGEL CHANG is a womenswear project using traditional hand-woven fabrics of the Miao and Dong ethnic minorities in Guizhou Province, China. The collection brings 1000 years of ancient craftsmanship radiation re-interpreted into modern silhouettes by an emerging New York designer, Angel Chang. For the last year, Chang has worked closely with masters of several rural mountain villages where families have maintained all-natural, chemical-free, traditional processes. The fabrics and embroideries are made completely by hand, from locally-grown raw materials, using fresh plants native to the mountains, and without the use of electricity. The aim of the project is to create employment opportunities in rural Chinese villages so the weaving know-how will be passed down to the younger generation before their elders pass on and the time-honored craft is lost forever. 
For 200 years, since the introduction of the bicycle, we haven't experienced true bike  evolution. Behold the Gi, a 21st century crafted vehicle, by city lovers, for city lovers:
Fastest folding bike. One motion. 3 seconds.
Safety-Smart Lights on the sides of the front wheel to avoid accidents during darker hours.
Electric and Non-electric versions available.
Integrated rear lights
Runs 40+ miles on Lithium Ion battery, without recharging. Great for cities with hills. Commute to work in the summer without breaking a sweat.
Carbon drive belts to avoid maintenance (and dry cleaners)
Smartphone integration, GPS, maps, social networking, and full control of Gi's features, for both Android and iOS
Integrated USB port so you never run out of juice
Anti-Theft Lock System. Only you and people you choose can drive your Gi. Lock turns on when you walk 10 feet away from your Gi.
Clover Coffee LLC is a small-batch handcrafted roaster in Huntsville, Alabama (to really get a sense of how amazing this small business is watch the video). Owner Shannon King began roasting coffee 2 years ago in Morgan County out of her  parents' garage and immediately began selling at farmers markets. The company has recently gone from a garage operation serving farmers markets to a commercial kitchen serving local cafes and retail stores. If the project is funded, King hopes to buy a machine that will roast up to 8 pounds of coffee at a time. If she meets the targeted funding but does not meet the stretch goal, she will use the extra capital for the purchasing of farm-direct beans through Thrive Farmers.