By Margaret Barthel
Educated and empowered girls who have risen above repression are one of the world's greatest untapped resources. These women create tremendous potential in breaking societal barriers; build creative communal solutions to global problems; and bring a unique and valuable perspective to the international stage. So where are these extraordinary girls, and what are their stories? And how can we honor their lives when we so rarely get a chance to hear their unique voices?
The Grassroots Girls Book Club, an organization that celebrates and promote stories of girl power all over the world explains: "Marginalized by cultural practices, poverty and discrimination, girls are often outside the reach of larger development projects led by governments and international aid agencies. Grassroots organizations are smaller and created by members of the community to address specific problems. Familiar with the local language, culture and challenges that shape girls' lives, grassroots organizations are uniquely equipped to address girls' urgent needs and create effective solutions."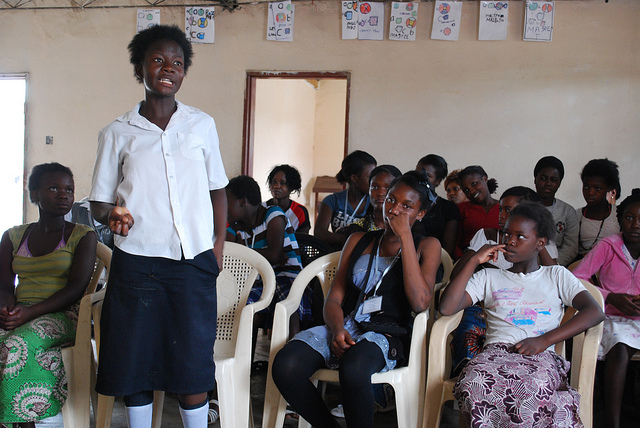 Photo: DFID – UK Department for International Development
To that end, they've published a series of six autobiographical stories, all authored by girls participating in social change and empowerment programs offered by local grassroots organizations. The girls' stories appear in graphic novella format, illustrated with beautiful images from emerging women artists and buttressed by a girls' book group discussion guide in the back. The stories are by turn funny, insightful, poignant, frustrating, and inspiring–and they're absolutely worth a read.
None of the young authors shy away from discussing heavy topics such as sexist traditional practices or dangerous situations tinged with the threat of sexual violence. The stories depict tough, real-life obstacles with candor and without fear. In one novella, Khadija, a Malawian girl struggling to get an education despite terrible poverty (in Malawi, 74 percent of the population lives below the poverty line and 80 percent are subsistence farmers) tells the story of how she won a much-coveted scholarship to secondary school, only to get pregnant in her first year due to her lack of sex education. Luckily, the Nkhotakota AIDS Support Organization had a plan for young drop-out mothers like Khadija: in exchange for tuition at the secondary school, NASO asked Khadija and others like her to train to become peer educators for their Girls' Corner Program (or "Tsogolo Langa," which means "my future"). As a peer educator at the Girls' Corner meetings, Khadija shares her "cautionary tale" and teaches other girls about reproductive health, assertiveness, sexually transmitted diseases, and the importance of staying in school.
In fact, violence against women and sexual empowerment are primary themes in many of the stories. In Meenu's narrative, for instance, the shy high school-age girl is afraid to leave her home, which lies in a Delhi slum, for fear of assault or "eve-teasing," sexual harassment, which is both dangerous to her personal health and potentially damaging to her reputation and marriage prospects, according to traditional Indian custom. However, after a training course on computers at Feminist Approach to Technology, Meenu casts off her fear and begins critiquing the system of patriarchal power: "Males are just worried that if girls are educated, we will become self-assured and vocal and then it will be difficult to control us and marry us off," she says.
In the end, the stories are narratives of tremendous hope and advocacy, with the protagonists empowered to volunteer to extend their help and experiences to other girls. Finka, a Polish girl, becomes a sex educator and feminist with Ponton, an organization devoted to providing young adults with information about sex in a country whose Catholicism severely limits upfront discussion of such topics. Her work fulfills a deeply important need: on average, just 23 percent of Polish women have access to modern contraceptive methods, and schools teach a strictly abstinence-only sex education curriculum.
Khadija, Meenu and Finka–along with Fatuma (Kenya), Leidy (Colombia) and Mabreidy (Dominican Republic)–are girls on a mission to change the dominant paradigms that have kept women in their societies silent for generations. Khadija puts it best: "Sharing our stories, experiences and even failures with each other is one of the best ways girls can support each other. Together we'll stay on the right path."  Look out, world: here come the girls.
About the Writer
Margaret Barthel recently graduated from Smith College with a degree in English Language and Literature. Among other things, she's a writer, reader, history buff, and outdoors enthusiast with deep interests in feminism, politics, and the environment. A semester abroad studying at Oxford University and exploring continental Europe, in addition to plenty of quirky family vacations, are to blame for her love of travel. Find more of her work at margaretbarthel.wordpress.com.
Feature photo by Eric Vernier