By Aimee Millwood
At first, the Black Sheep Inn ecolodge – with comforts including a yoga studio; sun deck perched at a breathtaking 10,500 feet; wood stove heated sauna; and solar-powered Native American-style soaking tub – seems out of place in a rural village of 7,000 people. I first stumbled upon the Black Sheep Inn the same way many travelers do: it was one of only four accommodation options in Chugchilan, Ecuador, a stopping point on the rigorous four-day Quilotoa Loop trek. Co-founders Andres Hammerman and his wife, Michelle Kirby, were also backpacking through the region when they happened upon the remote location for their ecolodge.
"A local family offered to sell us land," Andres explains. "At first we thought this was a joke, as we had not been looking to buy land. But, ironically, that is how the idea of the Black Sheep Inn got started. Now, 20 years later, we are still laughing, and the Black Sheep Inn is an internationally acclaimed, award-winning ecolodge."
Among many other distinctions, the Inn has been named one of the World's Best Hotels by National Geographic and one of the Top 10 Eco-Lodges in the World by Outside Magazine. Built from locally sourced, natural materials, including handmade adobe clay bricks and tile-and-straw roofs, the Inn also has greywater treatment and rainwater collection systems, recycles solid waste and nurtures organic gardens and native trees.
But their bathrooms – with biodegradable soap, natural light from the roof and windows, and spectacular Andean views – are by far some of the most unforgettable aspects of the lodge. Inspired by the sustainable design at "Ecuador's pioneer eco-lodge," Hostería Alandaluz where the couple visited in 1992, wastewater from the sink irrigates interior flower gardens fertilized with finished compost from the composting toilets.
Visitors who aren't exhausted from trekking the Quilotoa Loop can lift homemade weights in the eco-friendly gym, fly across the 100-meter zipline, or ride the world's highest solar-powered water slide. Guests can also hike, horseback ride, or go on excursions to Rio Toachi Canyon or the Iliniza Ecological Reserve cloud forest. The Black Sheep Inn arranges tours of indigenous markets or participation in local cooperative workshops to learn how to make handcrafted furniture, woolen knitwear, and Swiss-style cheeses.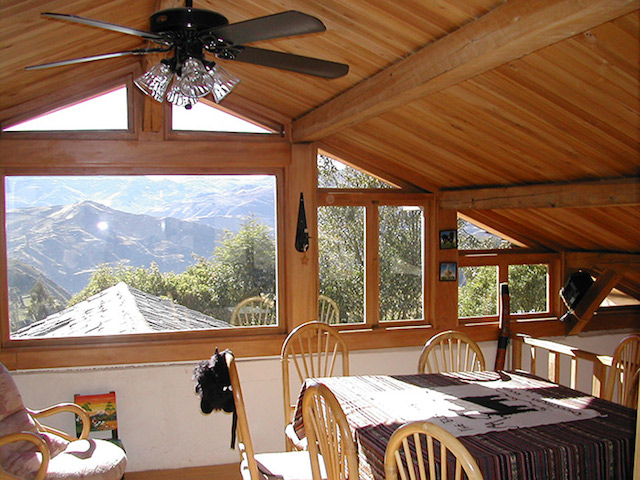 "Black Sheep Inn has grown over the years to be a true example of comfortable eco-living," Andres says, "But the most rewarding part has been giving back to the community."
Andres and Michelle were dedicated to not only building an accommodation for travelers, but to making a sustainable impact on the community. And as of March 2012, the Inn is 100 percent community-owned and operated. Over the years, their various community development projects have included creating local hiking trails; establishing a village public library; and learning center with more than 1000 books and 10 computers; and setting up a recycling program.
They have also provided education to community members, training them to work as chefs, guides, and staff. Through donations from guests, they were also able to support their first scholarship winner, who is about to graduate from university with a degree as an Engineer of Ecotourism. Two more young women have started their higher education funded by the same scholarship, and another student will be chosen this fall.
"Witnessing local community members develop and grow with sustainable tourism over the years has been extremely satisfying," Andres says. "Travel can be a powerful tool that fights poverty, redistributes wealth, and promotes cultural sharing and peace. When traveling, look for operators that support conservation projects, minimize their impact on every level, are self sustaining, involve and contribute to the local community and are educative: educating guests, educating the local community and most of all willing to educate and change themselves."
About the Writer
Aimee Millwood is a writer with wanderlust who currently lives in Hanoi, Vietnam. She graduated from the University of California, Santa Barbara, where she received her BA in Literature with an emphasis in creative writing. She believes everyone has a story to tell and is interested in the use of personal narrative to give voice to people whose stories are not always heard. She credits growing up in both Hawaii and Georgia with her constant desire to explore the concept of home and how places shape who we become. Although she has spent the past two years traveling in South America, the Middle East, and Southeast Asia, she believes a physical trip is not the only means of travel – at times, just the wind on your face during a long drive or the scent of a campfire can rejuvenate the soul. You can check out more of her work on her blog, www.stopdroptravel.com.