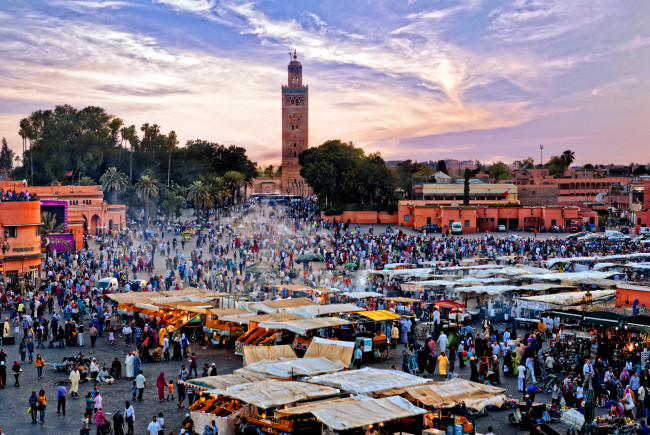 This accessible guide, put together by Mohammed of Fabulous Morocco Holidays (FMH), is dedicated to the art, culture and traditions of Marrakech. 
On your first day here, seeing this is a must:
Djemaa el Fna Square during the day and at night. It is located in the heart of the city, inside the ancient medina, and it is a cultural mix of colors, scents, sights, and sounds. No matter what time you go, Djemaa el Fna Square is one of the liveliest attractions in Morocco. During the day, locals go there to buy food and spices. Tourists should wander through the souks (shops) where they can find traditional Moroccan clothes and handicrafts. There are many stands and cafés selling fresh fruit, juices, and water when you need refreshment. At night, the square seems to transform into a magical world, with entertainers everywhere (it is expected that you offer any a small tip of 10-20 dH to any you watch). The entertainment varies from comedians to acrobats and live Gnaoua music or drums. The large expanse of the square is packed at night with vendors selling their wares as well. Visitors should go to the square during the day and night if they can. Day time is best visited after 10 a.m., and nighttime is best after dark, as most Moroccans stroll around between 5 p.m. and 8 p.m. at night — that is when the daily chores and work are done, and prior to the family dinner (typically tajine, a Berber dish of savory stew named for the pot in which it is prepared). But no matter when you go, the square has much to offer, and is a lively place.   
Most people don't know this, but to get a true taste of the local culture…
If you want to get the feeling of the culture, go to the markets (souks) in the medina (old and ancient city, that is surrounded by walls), and walk through its small streets, but watch out for motorcycles and donkeys!  Locals go to the souk daily to buy what they need for meals (outside of the city, souks are held weekly). If you talk with the owners of the stalls, they may invite you to drink tea with them. Drinking tea, typically a mint tea, is a tradition in Morocco. Pay attention to how the tea is poured – a good tea well served has many bubbles. You can also go to any café and sit and enjoy your time just as many locals do.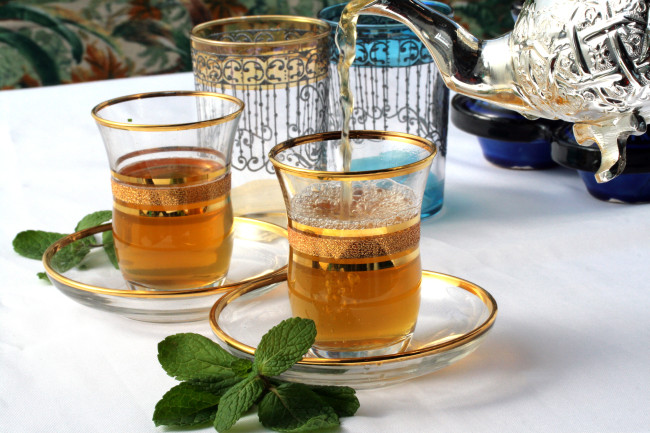 Photo of Moroccan tea via Shutterstock
For a glimpse of daily life, I recommend this form of transportation:
Most people in Marrakech take big taxis, Mercedes 240s that hold six passengers, as it's the cheapest way of transport for locals (many taxis charge foreigners much more, but it is still inexpensive). Taxis also provide quite the exciting adventure, getting you anywhere in the city usually in less than 15 minutes. Many locals have motorcycles, as they can be driven anywhere — in the new city and in the medina.  The best way to see Marrakech and get a feel for the city is in the carriages as they take you for a tour to see the gates of the medina, as well as inside the medina.
I had my best night's sleep at:
The Riad La Croix Berber, located inside the medina with its small and narrow streets (like a labyrinth). You have to remember the way you came, or you can ask the guardian at the start of the street to take you to the Riad. Many people will offer to take you to the Riad, and as typical, they will expect a tip. Locals tip around 10 dH, while the guides expect 100 dH from tourists – don't worry if they argue, they will take the regular 10 dH from you as well– even if they come back later for it! The Riad is very quiet as it is located inside the medina, a two minute walk from Djemaa El Fna Square, but far from the noise of transport. The Riad is very  pretty and calm, with a panoramic view of the medina and the square.
Riad La Croix Berber offers seven rooms, a swimming pool in the center of the patio, and a roof top terrace for breakfast or brunch. Each guest room is a different color and a Berber name to identify it, complete with decorations of Moroccan crafts. Riad de la Croix Berber offers great relaxation and calm, yet the convenience of being minutes away from Djemaa el Fna.
The meal at this local eatery had me salivating for days:
There are many great restaurants in Marrakech.  Within the medina, notice the ones where locals go in order to get a truly Moroccan meal of tajines, couscous and pastille.  Al Fassia, run by women only, serves good Moroccan food, and they offer belly dancing and Moroccan music as well.
Photo of tajines via Shutterstock 
Best place to find artisan handicrafts:
Crafts in Marrakech are rooted in tradition: each generation passes on to the next the skills to continue the art. Crafts in Morocco are one of the fundamental characteristics of Moroccan daily life — it is how many make their living. Most of the products are made locally, within the medina if you are in the souks. 
In the medina you can find leather purses, traditional clothes, scarves, tajine pots, spices, silver jewelry and other items. If you are looking for crafts from metal or argan oil, the best places to buy them are in Ourika Valley or Essaouira, respectively (1.5 – 2 hours from Marrakech).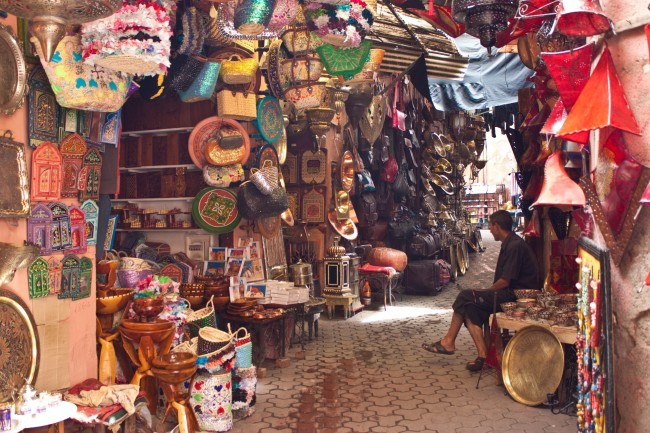 Photo of crafts via Shutterstock
Local celebrations not to be missed:
The Marrakech International Film Festival which is held yearly in Djemaa el Fna square is a must.  The square is transformed into an open-air cinema and festival. Visitors in the past have included Martin Scorsese, Francis Ford Coppola, Susan Sarandon, and David Lynch.
Favorite pastimes:
In daily life, people who live in Marrakech love to stroll in the evening, typically in one of the many gardens in the city.  A popular spot for walking is Mohammed VI Boulevard – where the center island offers many tranquil arbors and seating. The main square is also a popular place for people to wander and meet up with friends.
For a more bucolic/green setting I escape here:
In the summer, many people from Marrakech head out to Ourika Valley, with its cool air, breezes, and large streams. Cafés are abound throughout Ourika, some offering tables right in the stream to cool your feet as you enjoy tea or a meal.  Wandering up to the waterfall offers many areas to just sit and drink tea, and enjoy the shade and peacefulness outside of the hustle and bustle of the city.
Photo of Ourika Valley via Shutterstock 
The art /music scene is alive and well here:
The music scene is alive in clubs off of Mohammed VI Boulevard, where it's midnight before the clubs are full, if you are looking for dancing. Otherwise, head over to Djemaa el Fna Square in the mid-to late evening.  The square is less crowded, and the street musicians take over, typically playing drums whose rhythms are based on Gnaoua music (ancient African Islamic spiritual hymns). For art, wander the medina, as there are many hidden galleries throughout the crowded and small lanes.
Local cafes not to missed:
The Cafe de France in Djemaa el Fna  Square is where many go to people watch and to gaze at the entertainment below from its terrace.
If I only had 24 hours to explore Marrakech I would:
I would spend the entire day in Djemaa El Fna Square and the souks in the medina! The medina is the lifeblood of Marrakech, and unlike the modern city with its office buildings and stores, is where tradition carries on daily.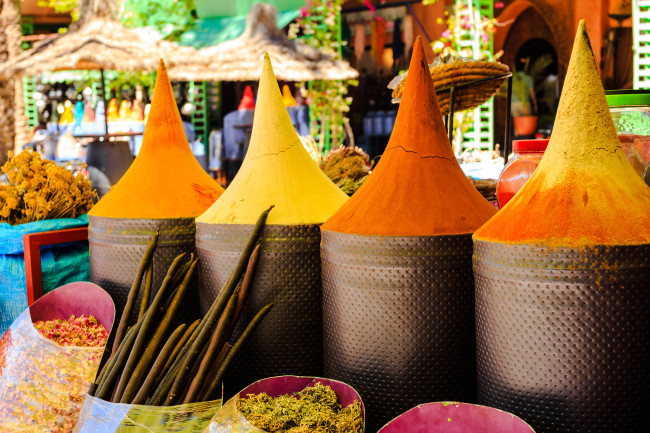 Photo of spices at the medina via Shutterstock
About Mohammed
Mohammed, known by friends as Simo, is a native Moroccan of Berber decent. He splits his time between Marrakech and Azilal, a city in the Atlas Mountains. He is the owner of Fabulous Morocco Holidays (FMH), a tour agency based in Marrakech. Mohammed offers established tours (both day trips and multiple day excursions) which include the Imperial cities, Atlas Mountains, and Sahara Desert, as well as custom trips per request. To create your own one-of-a-kind tour of Morocco with Mohammed, check out his site or contact him via email at [email protected].
Feature photo of Djemaa el Fna Square via Shutterstock