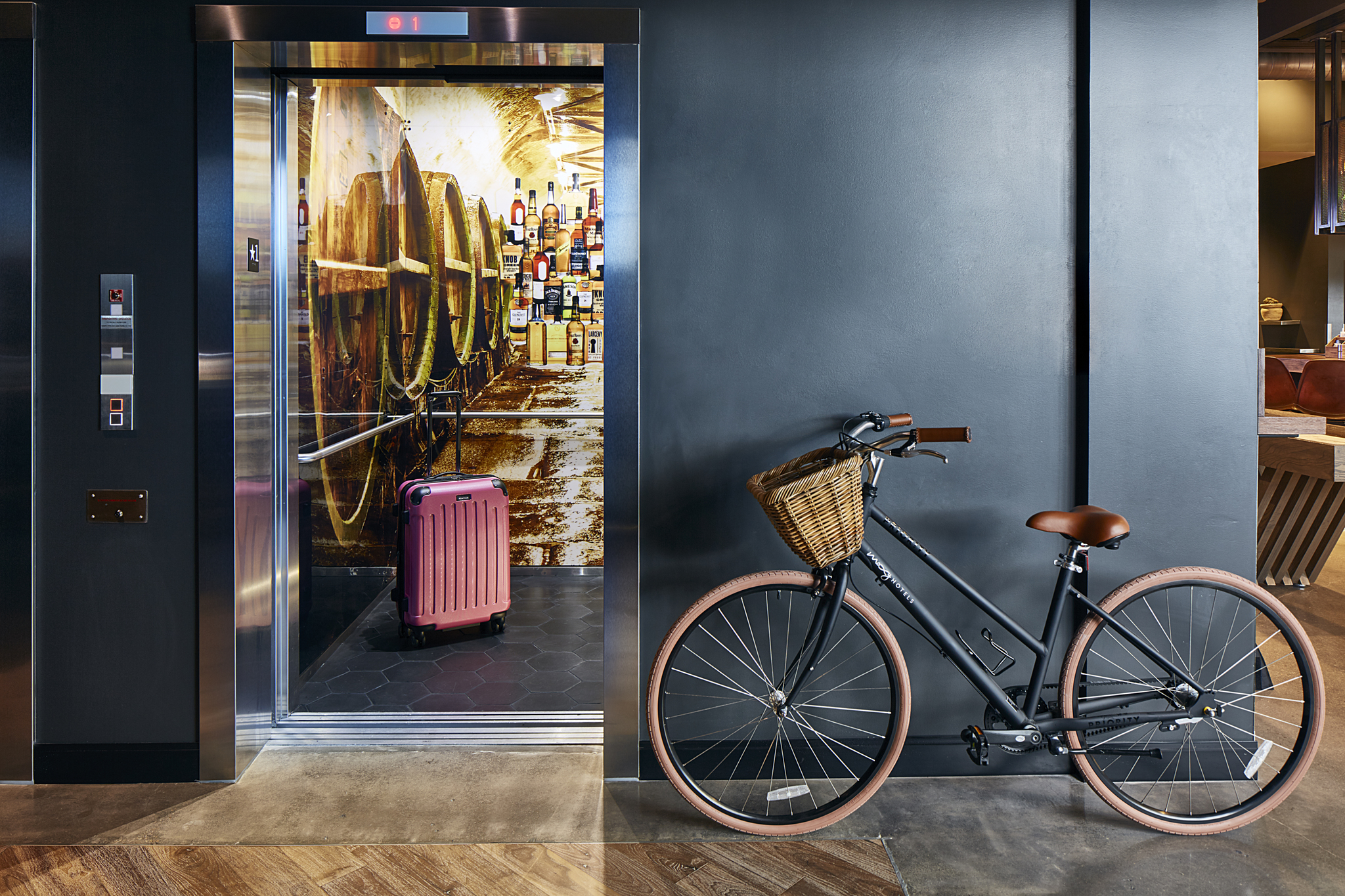 By: Madeline Weinfield

It's a sure sign of the times when even the biggest hotel brands are realizing their standard rooms with queen beds and beige color palettes, anonymous hallways and lobbies, and suit-wearing staff, aren't striking a chord with the largest growing group of travelers: millennials. More and more, studies remind us that milennails—that is, loosely speaking, the infamous group born between 1982 and 2004—value experiences above all else. We (yes, I too, am a millennial), are traveling more than ever or anyone, and spending more doing it too.
Enter Moxy, Marriott's millennial-focused answer the popularity and appeal of quirky, experience-focused boutique hotels. Now with properties all over the United States and Europe, and with a scattering in Asia as well, the Moxy offshoot brand is attempting hold its weight against the curated, stylish, hip beauty of the best urban boutique hotels.

Can it do it? I set out to find out for myself and checked into the Moxy in Colorado's fast-growing capitol, Denver.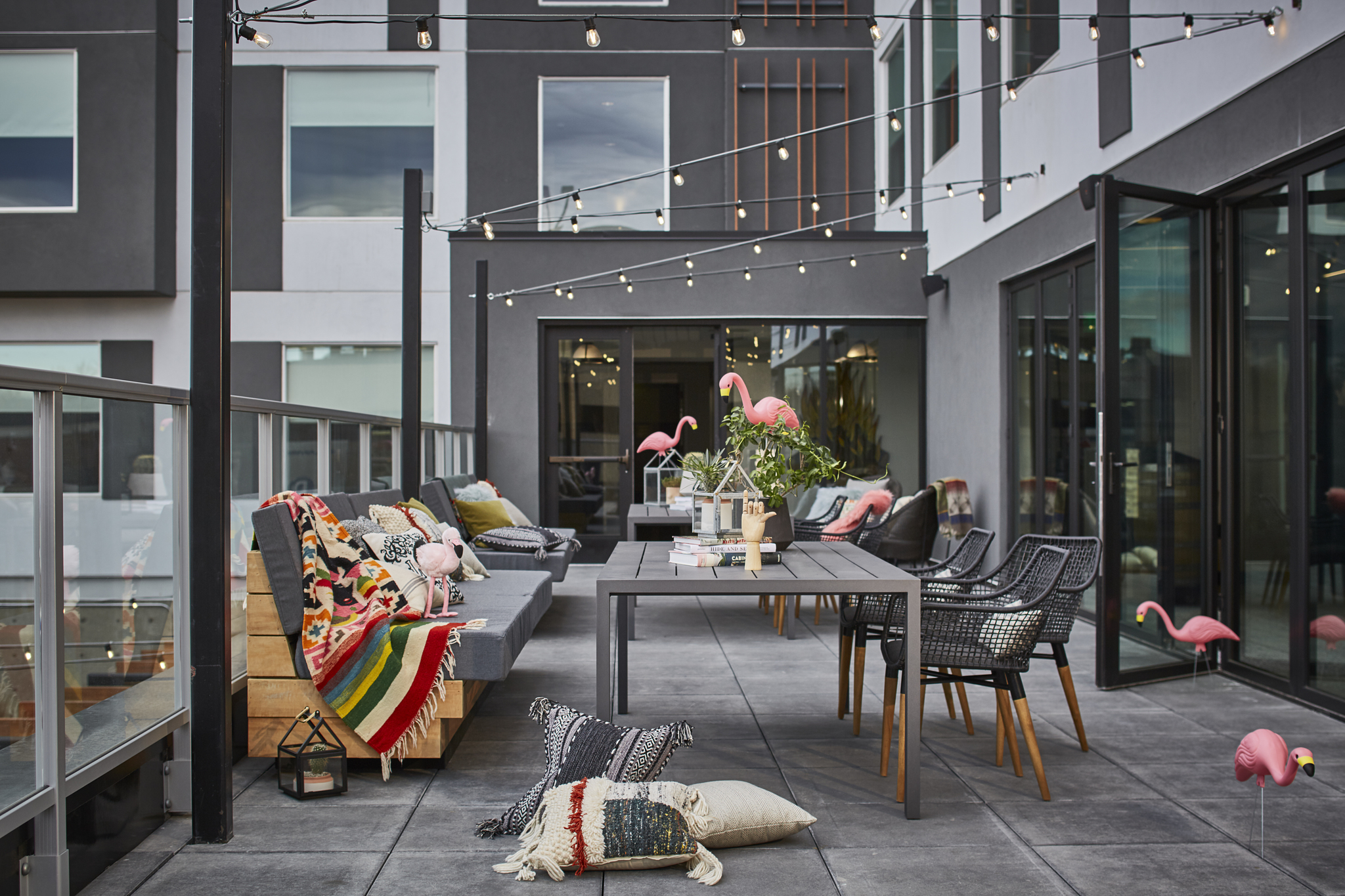 The Hotel
Denver welcomed almost 100,000 new residents last year alone and now micro-breweries and construction cranes are on just about every corner. Less a remnant of the wild west, Denver reminds you incessantly that this is very much a city of now. The Moxy fits that bill.
Set in Denver's refined, quiet, and seemingly all new Cherry Creek neighborhood, the Moxy, which opened its doors in 2017, is very much the hip new-ish kid in town. An outdoor patio and beer garden abuts the seriously chic lobby scattered with Jenga towers, shuffleboard, magnet poetry, and an eclectic mix of furniture that's far more West Elm than hotel chain. Check-in comes with a complimentary cocktail ("the Moxy," naturally) and handfuls of goldfish and skittles that will make even the most hardened traveler remember their 1990's childhood with nostalgia.
While other true boutique properties have hit Denver's scene like the Ramble and the in-train station Crawford Hotel, the combination of big brand anonymity with the Moxy's real attention to details of staying there, from the decor, to its shared bikes, and communal fire pits, won me over.
The Rooms

Compact, function, and comfortable, the 170 rooms at the Moxy are reminiscent of a tiny home, or an urban cabin, or even the most stylish camper van you've seen. A small table and two chairs hang on pegs on the wall, while built-in couches are snugly and smartly installed in corners. In other words, no space is wasted. The TVs are equipped with Netflix, Amazon, and other streaming services, so even laptop-only owning guests (hello!) will find comfort and some welcomed luxury in settling into bed with a large screen perfectly distanced from the pillow.

My only quibble is the perhaps too-close-to-camping bathroom, which while beautiful is separated from the bedroom with translucent glass that can easily take the romance out of a stay rather quickly. The shower and toiletries (no wasteful one-time plastic here) make up for this lack.
What Else

A popular place for parties—both a wedding and a bat mitzvah were underway during my stay—due to its nicely sized event space, the Moxy has a general air of festivity about it. That being said, I couldn't decide if I loved or hated to communal ironing room but found it charming all the same. Complimentary cruiser bikes are available for touring the city or rolling along the nearby 30 mile long Cherry Creek Trail. A 24-hour menu, hip bar, and impressive art collection set up the hotel to be as much a gathering space as a place to lay one's head.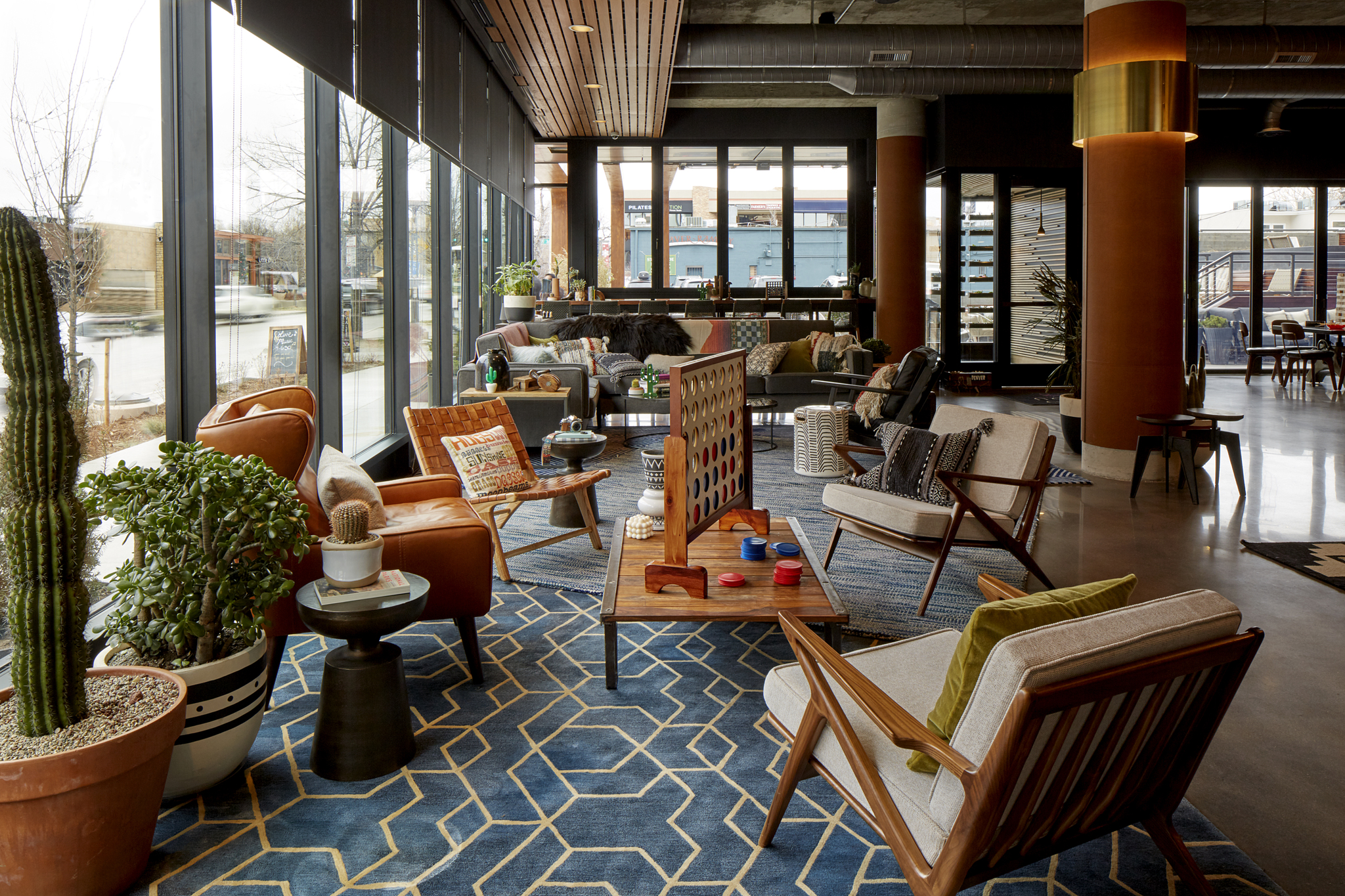 Life Beyond the Hotel

Denver is an extremely bike-able city and that is how you should explore it. Easy stops off the Cherry Creek Trail include the beautifully restored 1881 Union Station and the Denver Art Museum which is about to launch an impressive exhibition of Monet paintings. Bike further into the hip River North Art District (RiNo) neighborhood and explore the city's many food halls (I favored the Denver Central Market) and plethora of breweries. Put on a beenie and a grab a brew and settle in to the perpetually sunny weather.

How Do I Get There?

It is Colorado, after all, so rent a car at the airport and drive the 45 minutes into Denver. Alternatively, take the tram from the airport to Union Station. From there grab an Uber or Lyft, or hop on one of the city bikes ($9/day).
About the author: Madeline Weinfield is a contributing editor for The Culture-ist. Follow her adventures @madolionw.