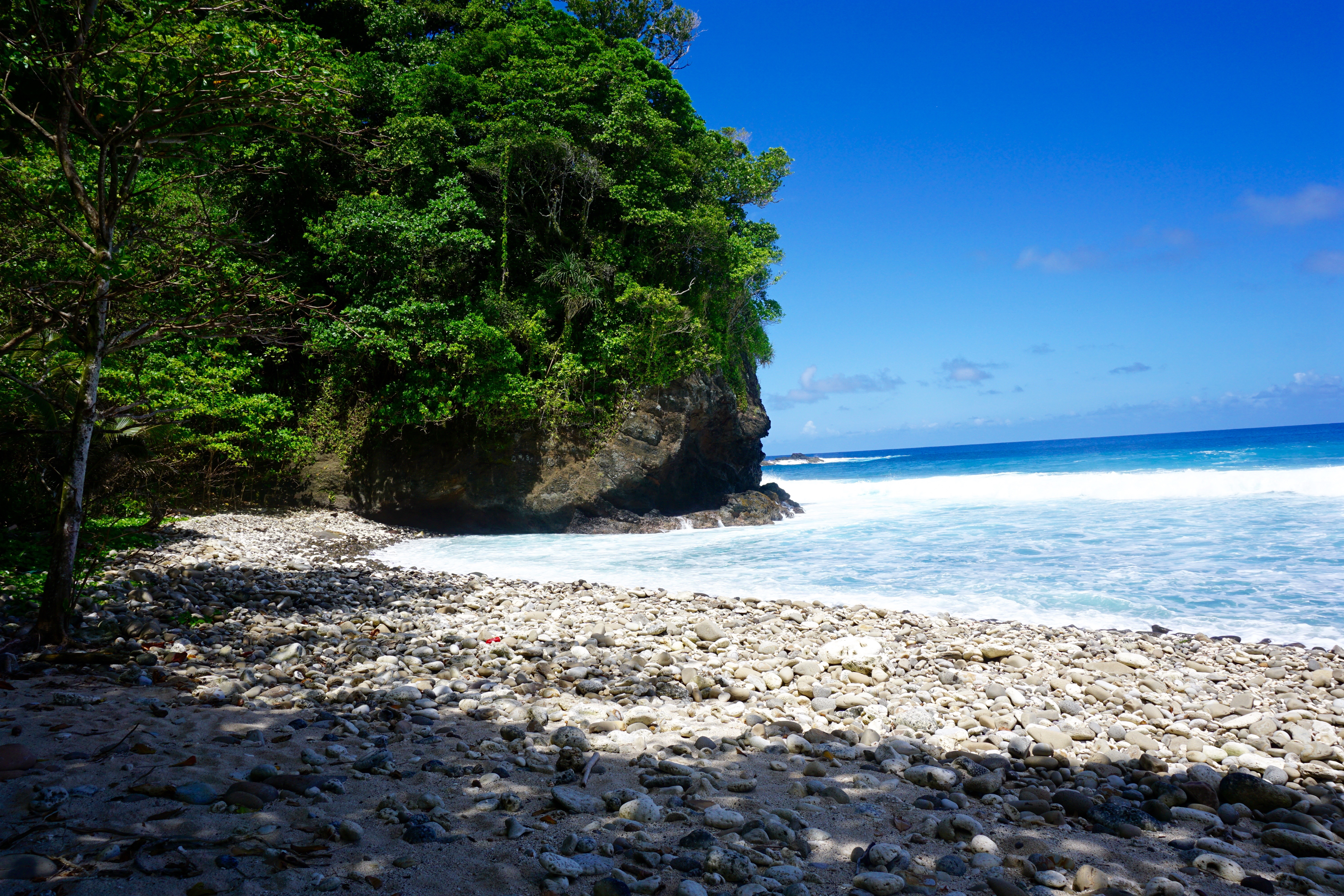 By Maureen Kellett
The U.S. national parks represent many quintessential American ideals. The family vacation. Road trips. Camping under the stars. When we think of the National Park Service, which is celebrating its centennial this year, famous and frequented destinations like Grand Canyon, Yosemite and Yellowstone likely come to mind.
But what about the parks that don't make it onto your typical trip? Aside from treating you to smaller crowds and more remote locations, these hidden gems provide a glimpse into the mission of the National Park Service, one that combines ecological concerns with "cultural resource conservation." Getting there is no small feat. And their physical beauty is only half the story.
****
Deep in the South Pacific and bordering the International Date Line lies the National Park of American Samoa, a 13,500-acre tropical park spanning three islands and boasting rainforests, coral reefs and volcanic mountains. The only national park south of the equator, it received just 13,892 visitors in 2015, 0.02 percent of all national park visits. But it embodies the spirit of the National Park Service through its protection of precious land—and the lifestyle on that land.
Unlike other national parks, the U.S. government does not own any of the land; instead it is leased from American Samoans, who are considered U.S. nationals and whose culture is central to the park's mission. While many parks seek to preserve and remember the history and culture of the land, in American Samoa, history meets the present.
"Cultural resources here are living and breathing," said Scott Burch, superintendent of the National Park of American Samoa.
According to Burch, about 95 percent of the staff at the park are Samoan. Most of the visitors are as well. The park serves 8,000 children a year in school programs, educating young locals on their own heritage and traditions in a time when, as Burch put it, "Western influence is degrading Samoan culture."
"It's a challenge here for the younger generation of Samoans to really value and protect their traditional ways. There are so many distractions. Modern life is filled with distractions and commercialism and consumerism, and those things are frankly contrary to traditional Samoan culture," said Burch.
The remote location keeps visitation numbers low but makes for an adventure lover's dream. From Hawaii, flights to Pago Pago run only twice a week and at a steep cost, but those who make the effort are rewarded with solitude among pristine beaches, isolated trails and blue ocean water.
"It's totally your island to explore," said Darius Nabors, who recently completed a 59-week tour of all 59 national parks on August 25, the day of the National Park Service's centennial. He said he didn't see any others hikers outside of his group during his visit.
While its solitary trails set this landscape apart, so do its accommodations. Lodging on the islands is sparse and camping is not allowed. But a unique "homestay" program pairs visitors with host families, who provide housing and an intimate view of island life.
Nabors stayed with a Samoan family who showed him traditional Samoan dance and taught him about their community. "You get to see the beautifulness of the park, but then you also get to see this beautiful culture as well," said Nabors. "It's much more than a park experience. It's a cultural experience as well."
Beyond celebrating the past and the present, the park looks ahead to the future and is actively aiding research endeavors. Researchers are studying the area's coral reef, which has been able to withstand warm ocean temperatures. "We do a lot to try to help those researchers be successful in their work so then they can get the word out about the significance of these resources," said Burch.
****
Photo of Isle Royale National Park by Trevor Kemp
Roughly 6,500 miles away from American Samoa is the archipelago of Isle Royale National Park. Located in Lake Superior and a stone's-throw away from Canada, it is certainly not a park where you can make a pit stop during your family road trip—if only because you must take a boat or seaplane to get there.
Isle Royale closes for the winter season every year owing to the harsh conditions, keeping the annual visitation numbers low, at 18,684 in 2015. But the low numbers are not for lack of things to do. The length of the average stay is measured in days, versus hours for the national parks as a whole.
"One of the interesting things about the park is that their visitation is really low, but their return visitors are really high. So people that go to Isle Royale love it and keep going back, which I think says something about what it has to offer," said Nabors.
With no roads and almost all of the land designated as wilderness, Isle Royale provides travelers an experience in solitude. Visitors are treated with the vastness of the park to go backpacking, boating, hiking, fishing and more.
For three of the four nights Nabors spent in the backcountry, he didn't see other hikers. "We did 40 miles of hiking, and the only time that we saw people was the last night camping at the Huginnin Cove on the northwestern side of the island and then when we were in Windigo, which is one of the visitor centers. So in that sense it was awesome just to be in nature," said Nabors.
Photo of Isle Royale National Park by Darius Nabors
Despite its isolation and wilderness classification, Isle Royale is rich in human history dating back to prehistoric times. The park, in its preservation efforts, must manage both cultural and wilderness concerns.
The park is working on its Cultural Resources Management Plan and expects to have a draft of the plan ready by next spring or summer, according to Liz Valencia, chief of interpretation and cultural resources at Isle Royale.
"We have just such a wealth of cultural resources," said Valencia. The island is home to historic structures, lighthouses, commercial fisheries, archaeological sites and copper mining sites.
"We're working through our plan in thinking of ways to represent the human history so people know those human stories," said Valencia. This all must be done "without violating any of the wilderness policy or being disrespectful to the wilderness, because wilderness is really such an important feature of Isle Royale."
****
Photo of Gates of the Arctic National Park and Preserve by Trevor Kemp
Even farther north, Alaska is home to eight of the country's 59 national parks, including the least-visited national park in 2015, Gates of the Arctic, with only 10,745 visitors. When you think of the low visitation and the large land areas, the true isolation of these parks is hard to ignore.
"The Alaska parks are just massive," said Nabors. To put it into perspective, the mountainous Wrangell-St. Elias National Park and Preserve, at 13.2 million acres, is larger than Switzerland. "You can't see everything there, and the access to them is so difficult in many cases," he said.
These protected lands are home to large animals, glaciers, volcanoes and mountain ranges. Katmai National Park and Preserve, where an estimated 2,200 brown bears roam the land, also boasts the Valley of Ten Thousand Smokes, the result of a little-known but enormous volcanic eruption, the largest of the 20th century. "You would assume that people have heard of it, but nobody has. It's 30 times larger than Mount St. Helens," said Nabors.
Preparation is key when visiting remote spots in Alaska. You are very much on your own. "The risk element is definitely higher in those places, but the reward is I think infinitely higher than other ones," said Nabors.
Photo of Wrangell-St. Elias National Park and Preserve by Trevor Kemp
Seven of the state's parks became so in 1980 under the Alaska National Interest Lands Conservation Act during the last months of the Carter administration. The legislation doesn't just protect the land's value; it also protects a way of life for many of Alaska's natives, making allowances for the perpetuation of indigenous lifestyles. For example, the act allows for the continuation of subsistence on the land by rural people. Human history in the land of many of these parks dates back thousands of years, with subsistence a crucial aspect. Efforts are also underway in Lake Clark National Park and Preserve to manage cultural history and archaeological sites.
The Alaska parks are also forward-thinking. Research efforts about the interaction between bears and marine invertebrates, for example, are ongoing in Lake Clark and Katmai. And many Alaska parks are conducting research about climate change—national parks must not only protect the relics and ways of life of the past; they must also prepare for the future.
****
These are just a few U.S. national parks that are often overlooked—and hard to get to. But what they lack in visitation numbers they make up for in wide open spaces. "It's not that they have less to offer," said Nabors. "They have different things to offer."
ABOUT THE AUTHOR
Maureen Kellett is pursuing her M.A. in publishing and writing at Emerson College and has several years of editing experience. An avid runner and hiker, she enjoys traveling to new places, especially where she can enjoy the outdoors. Follow her @MoKellett.


Lead photo of the National Park of American Samoa by Darius Nabors