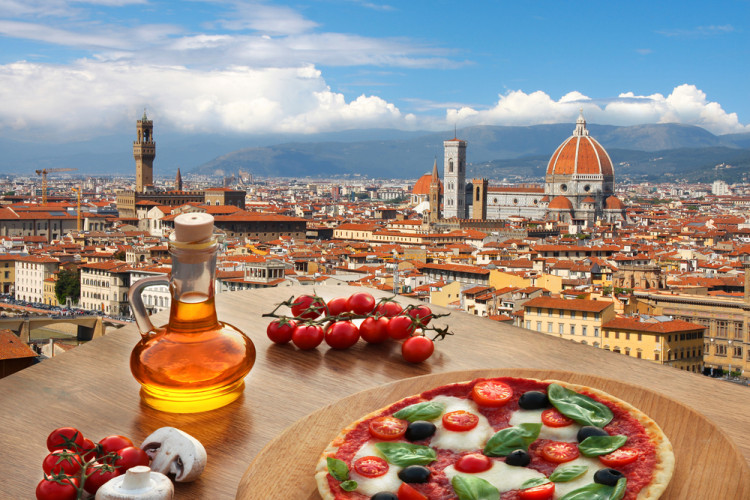 BY STEPHANIE KASHETA
Ah, Firenze, the birthplace of the Renaissance, Dante, Petrarch, Boccaccio, Machiavelli, and home to Michelangelo, da Vinci and countless others. The city can seem overwhelming to a tourist without the right guide. Everyone knows to visit the Bargello, the Uffizi and the Palazzo Medici, but where to dine and shop? Here are few wonderful places frequented by locals. Florence follows the De' Medici code: Red numbered placards mark commercial businesses (hence the R following the numbers in addresses), while black numbered houses signify residential homes— though some exceptions to this rule do pop up from time to time.
PAPERBACK EXCHANGE
Via Delle Oche 4R
Opened in 1979, this bookstore is a great fixture in the English speaking community. In addition to selling new books, they also sell second hand books, host poetry readings, community events literary discussions and children's hour. It offers an extensive collection of books in English and also supplies textbooks for many students studying abroad.
OFICINA PROFUMO FARMACEUTICA DI SANTA MARIA NOVELLA
Via della Scala, 16
In this former Dominican church (completed in 1385), the friars established one of the world's oldest pharmacies in an infirmary on the premises. There are early mentions of the infirmary, but it isn't until 1609 that the friars are noted as herbalists. In 1612 the friars opened a public pharmaceutical workshop using medicinal herbs grown in their gardens. The ancient traditions and machinery are still utilized today, in products made according to ancient formulas that include: "a whole series of Eau de Colognes, essences and triple extracts ranging from the sweetest iris, rose and gardenia scents to the more astringent verbena and vetiver oils or the delightful Acqua di Sicilia. The essences are also used in the production of almond pasta, hand moisturizing cream, Polvere per biancare le carni (exfoliating powder), a cleansing milk and a tonico, the Officina also produces a range of restructuring shampoos and conditioners. For its younger patrons, The Officina offers a wide range of specially-created products scented with a delicate rose perfume for little girls and a slightly more masculine fragrance for little boys."
MERCATO DELLE PULCHI
Piazza Dei Ciompi
This quaint flea market is home to twenty-four different shops which run the gamut from vintage accessories to light fixtures. If you happen to be around on the last Sunday of the month, the market fills with over a hundred vendors.
I DUE FRATELLINI
Via dei Cimatori 38R
At this hole in the wall, visitors can sample over 27 kinds of paninis made with the freshest local ingredients and sip chianti for only a few euros. You can't beat the prices or the lively atmosphere.
RESISTORANTE DA MIMMO
Via San Gallo 57/59R
Here, guests can dine in a former theater under a frescoed ceiling dating to the 17th century. For lunch, a wide range of pastas, large salads and main courses are offered, but the full menu is rolled out at night. Depending on what you order, Mimmo himself may slice it at your table.
CIBREO TEATRO DEL SALE
Via De'Macci 111R
Via De'Macci housed in a fourteenth century convent and is run by visionary chef Fabio Picchi. The restaurant features live music at diner and a shop stocked with the chef's own marmalades and preserved foods. For around thirty euros you can get unlimited food, wine and dining tips from the chef himself.
This post would not have been possible without Louise Fili & Lise Apatoff's wonderful guide book The Cognoscenti's Guide to Florence: Shop and Eat Like a Florentine
ABOUT THE WRITER
Stephanie Kasheta is a graduate of
the
 University of Nevada Las Vegas, where she majored in English with an emphasis in Creative Writing. She is currently finishing up her MFA in Fiction at Emerson College in Boston. She is a Las Vegas native who recently relocated to Cape Cod with her husband, a veteran of the US Air Force an father to a seven-year old future writer named Olivia. She is an assistant/editor to Jacquelyn Mitchard at Merit Press and on Saturdays can be found blowing glass at the Sandwich Glass Museum. Follow her on 
Twitter
Feature image of My View in Florence via Shutterstock