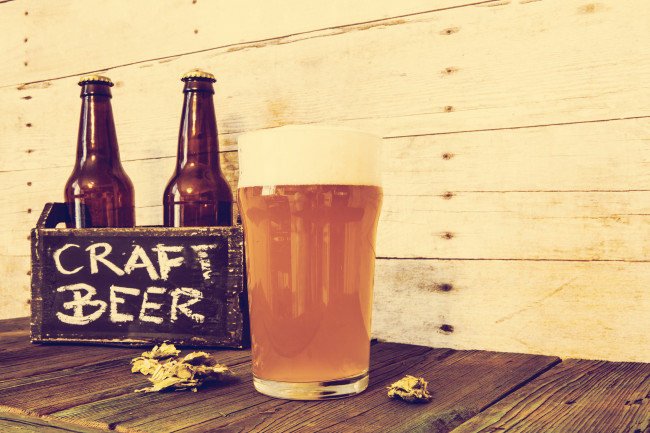 In 2013 the Brewers Association reported that the US had a total of 2,768 microbreweries, brewpubs, and regional craft breweries. While it may surprise you to learn that the total number of craft breweries grew by 15.3 percent between 2012 and 2013, more surprising may be the fact that a large number of those companies also operate environmentally friendly production models. Here is a small list of America's best sustainable craft breweries.
While most breweries use 6 to 8 gallons of water to produce a single gallon of beer, Full Sail Brewing has knocked their usage to only 2.5 meaning they're conserving up to 4.1 million gallons of water a year. They are also very proud of the fact that their brews are made from only four natural ingredients; water, malt, hops and yeast. That means no additives, artificial colors, sugars, syrups, preservatives or fluoride. Full Sail supports its community by donating all spent grains and yeast solids—a combined 5,408 tons annually— to feed Northwest dairy cows. They also recycle all biosolids (which have been treated in their own plant) to local farmers to be used as fertilizer. The recently organic certified company also stands behind other neighborhood businesses by selling local breads, dairy products, free-range meats, coffees and greens in their tasting room.
New Belgium Brewing Company's beers are known for being quite hoppy and the fact of the matter is that it takes a good amount of water to make a hoppy beer. The company currently uses 3.96 gallons of water to make 1 gallon of beer but they have a goal to reduce that to 3.5 by the end of 2015. This past year the brewery managed to divert 99.9 percent of waste from the landfill by intensifying their recycling process and this year they hope to become a certified Zero Waste facility. As for greenhouse gas emissions—you know, those gases we create when we drive our cars and brew our beers— New Belgium is working towards cutting their CO2 emissions by 25 percent. The company also runs the Beer Scouts, an interdepartmental volunteer group which sponsors community events and service projects.   
The Alaskan Brewing Company operates under a zero-net negative effect mission. This means that they reclaim and reuse as much waste and emissions as they produce. One way that they attain that is through their CO2 reclamation system. In 1998 they became the first brewery to harness the byproduct for use in packaging their beer, preventing the release of more than one million pounds of CO2 into the atmosphere each year. Though there are no local farmers in Juneau for the company to send their spent grains to, they do dry them and ship them to farmers and ranchers in the Pacific Northwest.
The Brooklyn Brewery was the first New York business to use entirely wind-generated power. Sustainability efforts also include the recycling of all paper, plastic and bottles, as well as spent grains which are sent to New Jersey to be used as pig feed. Their storage warehouse is equipped with solar panels that provide roughly a third of their total power and they're working to capture and reuse their naturally produced CO2. While they have yet to fully realize that initiative, they have installed a new, highly efficient brewhouse which reuses heat vapors, recycles hot water, and uses less heat to get to the requisite brewing temperature.
In 2012 Mayor Thomas Menino presented Harpoon Brewery the Boston Green Business Award in recognition of all of their environmentally friendly practices. The brewery has a Sustainability Committee made up of staff from all different departments to ensure that every aspect of the business is held up to their sustainability standards. They have installed motion activated lights so no lights are left on at night, they have a new energy efficient chiller, and like most of the other breweries, they also donate all spent grains to local farmers. One initiative that separates them from the pack is that they encourage their employees and visitors to bike to the brewery.
In 2010 Bison Organic Beer was the very first brewery in the world to become B Corp certified. What does that mean, you ask? Simply put, it means that they are dedicated to using only socially and environmentally responsible practices to run their business and they have met the accountability and transparency standards set by the B Corps. Bison hopes that their consumers will see the value in buying organic as they provide this eyeopening fact; "A restaurant or bar choosing to buy and sell one 15.5 gallon keg (or 7 cases) of organic beer a week creates demand for a farmer to convert one football field of farmland from conventional to organic agriculture."
Like most other breweries on this list, Brewery Vivant also boasts its very own "first." In 2012 Vivant was the first brewery in the US to become LEED Certified. One way that the company decided to give back to its community was by trying to limit all of their purchases to the Great Lakes region in order to boost the local economy—last year they managed 64 percent. They have also set a goal for their employees to complete 200 hours of community service per year. While their staff is out taking care of their community, know that Vivant is looking out for them as well. Rather than paying their employees minimum wage, they pay living wage.  

About the Writer
Chelsea Stuart is currently finishing up her degree in Writing, Literature & Publishing at Emerson College in Boston. After living on a ship for four months and visiting 15 countries with the study abroad program Semester at Sea, she's presently dealing with some intense wanderlust. Aside from travel, she enjoys reading, writing, photography, thrifting, and drinking an absurd amount of coffee. She hopes to one day (soon) pursue a career in publishing and try her luck in The City that Never Sleeps.
Feature photo via Shutterstock