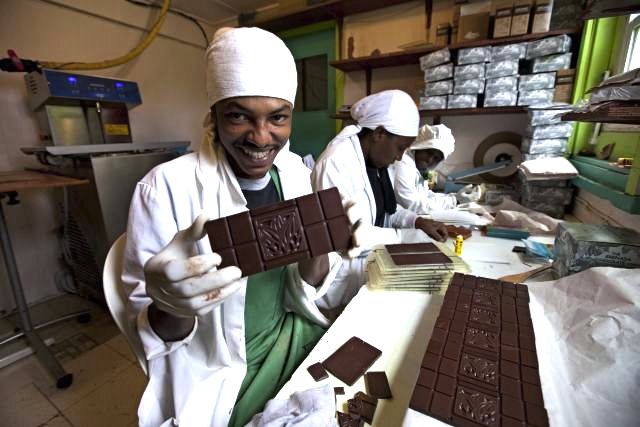 A few months ago, we covered Madécasse, a company that produces chocolate — from bean to bar — in Madagascar. Madécasse's story is unique and its chocolate superb, but it was not the first to build an operation that kept both sourcing and production in the country of origin. That accomplishment belongs to a small factory on the island of  Grenanda known as the Grenada Chocolate Company.
Founded in 1999 by Edmond Brown, Doug Browne and Mott Green, the Grenada Chocolate Company was established based on the philosophy that to have dominion over one's life is a basic and essential human right. The three partners wanted to create a sustainable company that produced an organic, local product and compensated farmers with decent living wages.
Their idea was kicked into high gear at Browne's renovated barn in Oregon where he and Green spent months building all the necessary equipment to run a chocolate factory. Once the machines were up and running, an all-out chocolate-tasting mission consumed the partners' lives. Finally in March of 2000, the machines proved to be ready for production in Grenada. The two shipped their precious cargo over to the "Spice Island" and a year and a half later Green, Browne and Brown were making delicious single-origin, organic dark chocolate.
Today, the partners own 150 acres of organic cocoa farms, a cocoa fermentry located one mile from their little factory, and an army of solar-electrically powered antique machines. (In the early 1900's, quality had precedence over quantity in chocolate-making.) The company is a rarity among a monopolized world of candy conglomerates, producing small batches of dark chocolate infused with raw organic sugar and whole organic vanilla beans grown biodynamically in Costa Rica.
It's no wonder that the Grenada Chocolate Company has won international acclaim — it's delicious, fair, eco-friendly and passionate — an honest product amidst a market of refined Mars and Hershey bars.
"The original impetus and principle of our cooperative company is to revolutionize the cocoa-chocolate system that typically keeps cocoa production separate from chocolate-making and therefore takes advantage of cocoa farmers.We believe that the cocoa farmers should benefit as much as the chocolate-makers" — Grenada Chocolate Company.
*For another delicious dose of culture check out our piece on Madécasse
Photo: Grenada Chocolate Company